In order to create impeccable, mistake-free content, one must possess exceptional writing skills, which is not always feasible. However, there is an alternative.
By using AI-powered software such as Quillbot and Grammarly, you can create top-notch content with minimal or no errors.
Although these tools cannot guarantee absolute perfection, they significantly assist in enhancing writing skills.
Quillbot and Grammarly provide features like paraphrasing, proofreading, and punctuation assistance, which not only expedite the writing process but also reduce the likelihood of errors creeping into your work.
In this QuillBot Vs Grammarly article, I have come up with a comprehensive comparison of both of them and will help find out which one is the best for you.
What Is QuillBot?
Quillbot is an innovative writing tool that harnesses the power of artificial intelligence. Developed by QuillBot Inc.
it serves as a valuable resource for writers seeking to enhance their work through rephrasing and rewriting.
By employing advanced algorithms for natural language processing, QuillBot intelligently examines the text within its context and offers suggestions for editing.
This versatile tool finds applications across various domains, including business, education, content creation, and more.
Please take the time to read our comprehensive Quillbot review, in which I cover all you need to know about the product.
What Is Grammarly?
Grammarly is an incredible online writing assistant tool that offers valuable assistance in writing.
Its primary objective is to aid users in rectifying spelling and grammar errors across a diverse range of online platforms and applications, including Gmail, Facebook, Google Docs, LinkedIn, and many others.
As you type, it consistently monitors and evaluates your text, providing suggestions for improvement throughout the process.
This exceptional tool is compatible with numerous programs, including web browsers, Microsoft Word, and Google Documents.
What differentiates Grammarly from other tools is its capacity to surpass mere grammar corrections.
Over the years, it has become my preferred writing companion as it provides valuable guidance in enhancing tone, vocabulary, and overall writing style.
Based on my extensive experience, I wholeheartedly recommend Grammarly for effective grammar, spelling, and even plagiarism checks.
By opting for the paid version of Grammarly, you gain access to a plethora of additional features, such as a plagiarism checker, vocabulary enhancement suggestions, and a more comprehensive grammar check.
It has earned immense popularity among students, professionals, and authors from various backgrounds who are eager to enhance their writing and communication skills.
Its user-friendly interface and powerful features make it an indispensable tool for anyone looking to elevate their writing to the next level.
If you want to know everything about Grammarly, read our in-depth Grammarly review.
QuillBot Vs Grammarly: What Are The Key Differences
Quillbot and Grammarly are two AI-powered writing tools that can significantly enhance the quality of your articles.
However, there are some differences between these of two, which I have listed below:
User-Interface: Firstly, in terms of the user interface, Quillbot offers a simple and intuitive experience. You can effortlessly copy and paste text, select a method of alteration, and promptly view the results. Furthermore, Quillbot provides a browser add-on that allows you to modify text on any website. On the contrary, Grammarly boasts a more polished user interface and seamlessly integrates with web browsers as well as popular desktop programs like Microsoft Word and Google Documents. As you type, Grammarly offers real-time suggestions and highlights errors to ensure accurate writing.
Accuracy & Performance: Regarding accuracy and performance, Quillbot generally provides valuable and correct information, yet it may occasionally overlook subtleties present in the original text. It may struggle when attempting to paraphrase complex or technical content. Conversely, Grammarly has earned a stellar reputation for its exceptional precision and functionality. It can swiftly detect and rectify mistakes in real-time, while also suggesting improvements based on the contextual nuances in which errors occur.
Focus & Features: As for focus and features, Quillbot primarily functions as a tool to rephrase text, allowing you to express the same idea in a different manner. It might even propose alternative phrasings or offer creative sentence structures to inspire your thinking. On the other hand, Grammarly is a comprehensive writing tool equipped with robust capabilities. It diligently checks for grammar, spelling, punctuation, and style errors, ensuring your writing adheres to high standards.
Overall, both Quillbot and Grammarly offer invaluable assistance in enhancing your writing, but their unique attributes make them suitable for different purposes and preferences.
Quillbot and Grammarly are two examples of AI-powered writing tools that can help you produce better articles. However, there are significant distinctions between the two resources.
QuillBot Vs Grammarly: Pros & Cons
QuillBot Pros & Cons
| | |
| --- | --- |
| Pros | Cons |
| Easy-to-use interface | No GPT-3 AI-free writing |
| Provides free grammar checker | Free and premium plans limit characters |
| Can use MS Word, Google Docs, or Chrome extensions | |
| Provides a tool for making video captions | |
| Free version available | |
| 100% refundable | |
Grammarly Pros & Cons
| | |
| --- | --- |
| Pros | Cons |
| Quick & easy to use | Works with only the internet |
| The free version has a lot of great features | Expensive |
| Powerful AI-writing tool | |
| Corrects more mistakes as free grammar checkers | |
| Faster, more accurate than opponents | |
QuillBot Vs Grammarly: Features Comparison
Quillbot and Grammarly are both well-known writing tools that can assist you in making you're writing better in a variety of ways.
A comparison of their features is as follows:
1. Paraphrasing
Quillbot is excellent at paraphrasing, and it can rewrite any passage quickly and easily. Users of Quillbot can also choose the tone they want for their writing.
Grammarly, on the other hand, can only change individual weak sentences, not the whole passage.
Quillbot is better than Grammarly when it comes to how complete and powerful the tool is. So, if you want an effective tool for rephrasing, Quillbot is the best choice.
2. Ease Of Use
When it comes to software for paraphrasing and proofreading, Quillbot and Grammarly are considered the leading choices due to their user-friendly interfaces.
In contrast, Wordtune and Ginger, which are also available in the market, don't quite measure up in terms of ease of use.
Both tools are remarkably user-friendly, requiring only a few minutes to set up an account and providing a tutorial on how to utilize them effectively.
By using Google Chrome extensions, you can conveniently utilize Quillbot and Grammarly to review your work in real-time while typing.
However, Grammarly takes it a step further by providing an app and an add-on that allow you to easily accept its suggestions with just a single click of the mouse.
3. Grammar Checker
It's no wonder that Grammarly excels as a grammar checker. When it comes to reviewing various types of writing, be it blog posts or academic essays, Grammarly proves to be highly effective at catching grammatical errors.
It goes beyond mere typo detection by offering suggestions on how to enhance your writing, such as eliminating unnecessary repetition.
In comparison, Quillbot's grammar check isn't as comprehensive as Grammarly's.
If you're looking to uncover those elusive errors that are challenging to detect, Grammarly is undoubtedly your best option.
4. Plagiarism Checking
Grammarly is the most popular and widely used plagiarism checker because it has been around for a long time and has a large group of loyal users.
The goal of this program is to find duplicate content and come up with creative ways to fix it. Once a user upgrades to the premium plan, they can run as many checks as they want.
On the other hand, Quillbot's ability to rewrite the repetitious text in a way that is completely unique to you is very helpful for academic papers.
The premium plan is too bad because it only lets users check 20 pages per month. This is probably not enough for students and researchers.
Both ways work to find and fix content that has been stolen. But if you need to check more than 20 pages a month, Grammarly is the better choice.
5. Citation Generator
The Quillbot offers a valuable citation generator that assists users in generating accurate citations for various sources, including research papers, documents, and other references.
This particular feature greatly simplifies the process of formatting papers, saving considerable time and effort.
It proves especially beneficial for academics and essayists who frequently rely on information from multiple sources.
By simply pasting a link to the desired source into Quillbot's citation ge, users can obtain properly formatted citations.
This capability spares them from countless hours of laborious work.
In contrast, Grammarly, a well-known writing tool, lacks this feature, rendering it unable to provide its users with the efficiency and time-saving advantages offered by Quillbot's citation manager.
QuillBot Vs Grammarly: Pricing Plans
QuillBot Pricing Options:
Price: Quillbot's premium version has three different pricing options, and the free version can only do some of the features the premium version can provide.
1. Free Plan: $0
Key features of the free plan:
There are 125 words in the tool
The modes are Standard and Fluency
3 synonym options
1 Freeze word or phrase
The Summarizer has 1200 words
2. Premium plan
Monthly Plan: $9.95 per month(if you are billed monthly)
Semi-Annual Plan: $6.66 per month(if you are billed for six months)
Annual Plan: $4.17 per month(if you are billed yearly)
Key features of the premium plan
There are no word limits on the Paraphraser
There are modes called Standard, Fluency, Expand, Shorten, Formal, Simple, and Creative
4 ways to say the same thing
Unlimited words and phrases that can be frozen
The Summarizer has 6000 words
Getting things done faster
Changes to advanced grammar
Compare Modes (Desktop only)
Plagiarism Checker
Tone detection
Writer of History
Grammarly Pricing Plans
Grammarly has different pricing plans:
You can buy Grammarly's premium version with one of three different payment plans:
1. Free Plan: $0
Grammarly is a free plan that evaluates your writing for fundamental errors in grammar, spelling, and punctuation.
In addition to that, it offers suggestions for bettering one's vocabulary and sentence style.
Key features of the free plan:
Grammar
Punctuation
Spelling
Conciseness
Tone detection
2. Premium Plan: $12/month
The premium plan costs $12 per month. People often call a paid membership service with more bells and whistles than the free or basic tier a "Premium Plan."
Software and service providers, like streaming sites, web hosts, and online universities, often offer their customers these kinds of packages.
Key features of the premium plan:
Everything in Free
Full-sentence rewrites
Tone suggestions
Everything in Free
Word choice
Citations
3. Business Plan: $15/month
Grammarly costs $15 per month. Grammarly has a business plan that is meant to help businesses improve how they write.
The plan has tools to check for mistakes in grammar, spelling, and punctuation, as well as suggestions for improving your style and expanding your vocabulary.
Key features of a business plan:
Everything in Premium
Analytics dashboard
Account roles and permissions
Snippets
Style guide
Brand tones
SAML single sign-on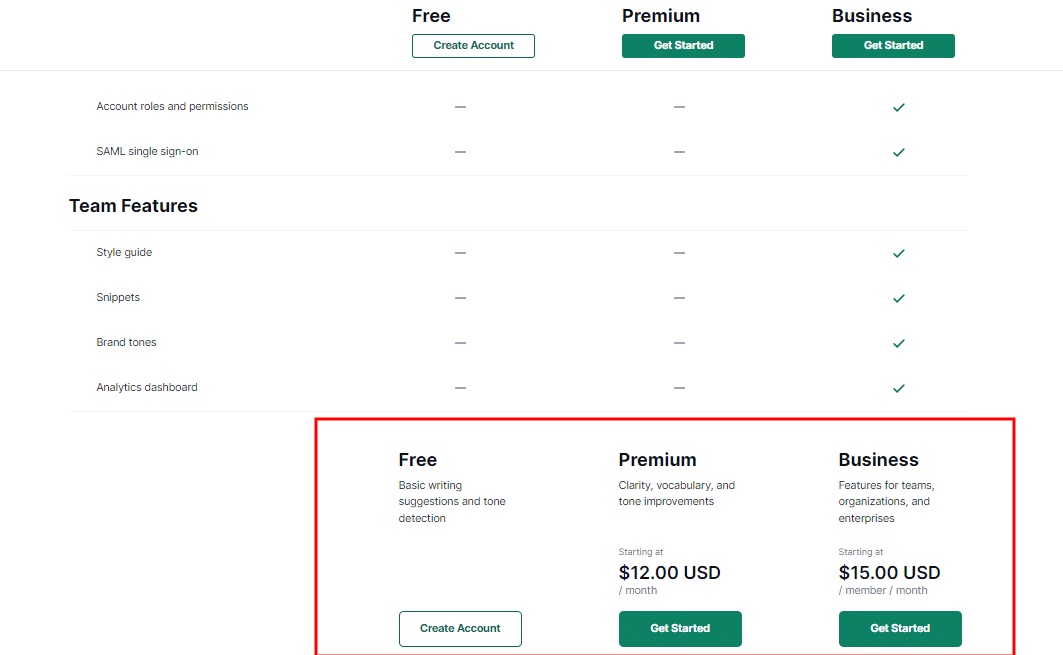 Conclusion: QuillBot Vs Grammarly
There is no substitute for a human editor, but tools like Quillbot and Grammarly make editing our own work much easier.
These aides to writing are excellent at spotting typos and confusing passages and providing advice on how to fix them.
It's wise to put money into both tools because they help you to improve your writing and cut down on editing time.
After years of using both, I can recommend Grammarly as the better tool without hesitation.
It's an indispensable tool for freelance writers, content marketers, and business owners because of its sophisticated features and accurate spell checkers and plagiarism checkers.
Frequently Asked Questions
Is QuillBot good for grammar checks?
Yes, The QuillBot Grammar Checker also functions as a spell checker, enabling you to write confidently with the knowledge that every component of every phrase you compose will be checked for accuracy.
Should I pay for QuillBot?
QuillBot Premium is worth the money if you need to check your work for plagiarism, but it can add up if you write more than 20 pages a month! If you have trouble keeping your writing short and to the point, the premium paraphrasing tools can help.
Is Grammarly really worth it?
Whether or not you should pay for Grammarly depends on what you need it for. If all you want is to improve your writing, then the free plan should be enough. But Grammarly Premium is a must-have if you are a professional writer or run a business that values clean, consistent writing.
Does Grammarly really improve writing?
Yes, it does. Grammarly is capable of checking your spelling and rescuing you from making errors in grammar and punctuation. Even your written work is subjected to an additional round of editing and proofreading thanks to this feature. So, you've started writing already.
How to use QuillBot without paying?
Once you've accessed the QuillBot webpage, you may immediately begin typing. It's literally that easy. Our tools are all free to use, but if you want more out of them, you can pay for a Premium subscription and have access to even more.