Plagiarism poses a significant concern for writers, students, and teachers due to its potential repercussions, including legal or professional penalties.
To address this issue, plagiarism checkers play a crucial role as they effectively detect instances of copied content across diverse writing styles.
The best plagiarism checkers not only excel at identifying plagiarism but also offer valuable grammar and linguistic suggestions.
In this article, I will highlight which one is the best plagiarism checker and how plagiarism checkers are important, and many others.
What Is Plagiarism Checker Tool?
Plagiarism checker tools have been specifically developed to identify instances where individuals have replicated the work of others.
Plagiarism occurs when you utilize someone else's ideas or content as your own without acknowledging their contribution.
These tools perform checks by comparing the submitted text with an extensive database of previously published works.
Students, educators, and professionals from various fields can employ these tools to verify the originality of their work and ensure they are not inadvertently plagiarizing.
Both free and paid options for plagiarism detection tools are available.
Ultimately, employing plagiarism checkers is a commendable approach to safeguarding one's academic and professional reputation.
Why Should I Use A Plagiarism Checker?
A writer, researcher, or student must ensure that their work is original before presenting it. Plagiarism of any kind, whether intentional or unintentional, can have disastrous effects.
An online plagiarism detector can assist you in finding any instances of plagiarism by comparing your writing to a sizable database of previously published works.
By doing this, you can be sure that your work is entirely original and free of any form of plagiarism.
Beyond preserving your reputation as an original thinker, a plagiarism detector can help you improve your writing.
Reviewing written content for grammatical, syntactical, and spelling errors helps with self-improvement.
How To Choose The Best Plagiarism Checker?
Choosing the best plagiarism tool to make sure your work is original and not copied from other sources. When picking a plagiarism checker, here are some key points to think about:
Cost of the Tool: Think about the price of the software to detect plagiarism. There are paid subscription services as well as standalone tools available. Choose a tool that is within your financial limitations.
Ease of Access: Whatever plagiarism checker you use, the tool should not necessitate a high level of technical knowledge. When shopping for a plagiarism checker, make sure you prioritize ease of use and clear instructions.
Accuracy: The plagiarism checker's accuracy is key. Make sure the program you select is capable of identifying even the tiniest signs of plagiarism. To find out how accurate the tool is, look for user reviews and ratings.
What Are The Best Plagiarism checker?
Here I've put together a list of the best plagiarism checkers for students, teachers, and writers.
These tools are good enough for finding and analyzing duplicated content, which can help reduce the chance of accidental copying before content is turned in.
1. Grammarly
Grammarly is often the first tool people think of when they want to write plagiarism-free content.
This AI-powered writing assistant greatly enhances people's communication skills and fosters business growth.
With Grammarly, users can accelerate their output, maintain consistent communication, and enhance overall customer satisfaction.
Top schools like the University of Michigan and Stanford University hold Grammarly in high regard due to its ability to automatically proofread and detect plagiarism.
With access to a vast database of over 16 billion web pages and databases from ProQuest, Grammarly becomes an ideal choice for professionals seeking to identify plagiarism in their content or papers.
Grammarly diligently searches for unintentional plagiarism across various types of documents, including business, academic, medical, and artistic writing.
If you wish to know more about Grammarly, you may read our comprehensive Grammarly review article.
Grammarly Key Features
Correcting Punctuation and Grammar
Consistency Enhancer
Plagiarism Detector
Clarity & Readability Enhancer
2. Copyscape
Copyscape users can employ it to combat plagiarism, which is a growing and serious issue.
.
In addition to superficial similarities, the program is able to detect subtle ones.
It's a web-based application that detects and prevents plagiarism after the user pastes in the source material or URL.
Copyscape is a popular tool among content creators and webmasters and it detects plagiarism, prevents plagiarized work, and locates stolen material.
To detect instances of content duplication, users of the premium edition of Copyscape can either upload a file or paste text directly into the search bar.
When users try to make a copy of the weekly or daily content, Copysentry stops them.
To further safeguard their blogs or content, websites can employ the Copyscape banner to notify potential plagiarists.
Copyscape Key features
Plagiarism Detection
Full-Text Search
Collaboration Tools
Problem Area Alerts
3. Duplichecker
Duplichecker is a useful tool to find instances of duplicate content.
It scans your website for instances of duplicate text before offering links to pages with the same or similar text.
Users can utilize the plagiarism detector on the website Duplichecker to find instances of similar material.
The program calculates a percentage of similarity between the given text and other online content and displays it.
Although Duplichecker is a useful tool for spotting copied information, it's important to keep in mind that no software is error-free.
Duplichecker may fail to detect some instances of plagiarism or misclassify some information as having been copied.
It is also essential to take the context of the work into consideration when deciding if comparisons are coincidental or deliberate.
As a result, even though Duplichecker is helpful, you shouldn't use it as your only tool to check for plagiarism.
Still, it is the obligation of the individual to ensure the accuracy of their work and become familiar with the guidelines for giving credit where credit is due.
Duplichecker Key features
Supports various languages
Checking information is 100% secure and safe
integrates with other popular tools and websites
Super fast to find and scan deeply
4. iThenticate
iThenticate is a well-known tool that researchers, scholars, and authors use to check for plagiarism.
The software suggests parts of the text that have been copied or need to be changed, giving complete results.
Professionals who want to find copied content prefer this software as it has an unmatched, huge database, making it the best choice.
The iThenticate similarity report features provide reliable and clear information, ensuring the authenticity of the content.
The tool examines a variety of sources, making it easier for judges to review the work. Additionally, it highlights the most important problems, which is a crucial aspect of result evaluation.
Key Features Of IThenticate
Identify critical issues
Collaboration Tools
Content Library
Document Management
5. Scribbr
Scribbr is highly regarded as a top choice among authors and students who seek a reliable solution for identifying instances of plagiarism.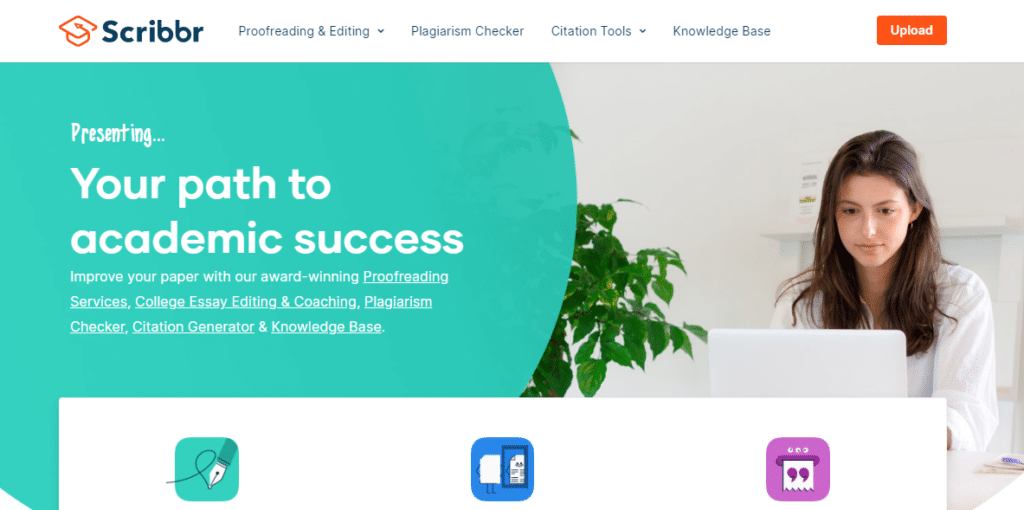 Thanks to its partnership with Turnitin, the software possesses the remarkable ability to swiftly detect instances of synonym wrapping and word matching.
What sets Scribbr apart is its extensive content databases, which encompass a staggering 90 billion web pages, along with 69 magazines and support for 20 different languages.
This internet-based plagiarism detection tool offers a unique advantage by allowing users to compare unpublished works against uploaded cited sources, assignments, essays, and papers.
These are often challenging to evaluate through other means. In addition to detecting plagiarism, Scribbr provides valuable assistance to students in crafting well-written papers and essays.
It also cross-references content with published works, generates comprehensive reports on instances of plagiarism, and ensures the utmost confidentiality throughout the process.
Scribbr Key Features
Work on texts that have been modified or plagiarized
Report of plagiarized content that is both precise and thorough
Plagiarism report available for download
Allows for a variety of file types
6. Quetext
Quetext uses a technique called DeepSearch to detect instances of plagiarism.
To improve the results of a plagiarism check, this system makes use of contextual analysis, deep learning, and strategic placement of words.
This versatile program can scan not only academic papers but also news articles, blogs, and web pages for instances of copied content.
It's user-friendly and uses a color-coding scheme to flag potentially plagiarized words or phrases, with bolder hues for more serious errors.
The plagiarized text can be easily traced back thanks to the functionality that displays both sources side by side. At the end of the procedure, content is rated based on how well it is performed.
Quetext's open pricing structure is another selling point. If you need more than two hundred and fifty thousand words checked, you'll need to spring for the more expensive Plus plan.
Companies should select the Organization setting. The best aspect is that there are no extra fees and all features are included with every purchase.
7. PlagScan
PlagScan is an excellent plagiarism detection program that is used by organizations to automatically evaluate the validity of papers.
It can examine the content in all formats and create a full plagiarism report for both online and printable papers. PlagScan additionally provides security against unwanted data access.
The web tool is outfitted with modern algorithms and sources that allow for efficient document analysis.
It also has essential features such as analytics, author metrics, document management, and an API, making it a handy tool for authors.
8. Unicheck
Unicheck offers a user-friendly interface and utilizes advanced technology to ensure the authenticity of similar content.
This online tool is designed to combat plagiarism with ease, featuring a clear layout and a comprehensive set of practical tools.
The software seamlessly handles 99% of bulk uploads and file formats, generating detailed plagiarism reports that leave no stone unturned.
Furthermore, it offers convenient Google add-ons that enable users to check for duplicate information.
These versatile tools are compatible with all major Learning Management Systems (LMSs), simplifying the process of detecting copying across archived pages, 91B pages, and libraries.
Uncheck's meticulous analysis effectively thwarts cheating in contracts, identifies text alterations, and swiftly detects similarities.
It is adept at uncovering deceptive or dishonest tactics employed to modify online content, effectively resolving such issues.
The originality report boasts built-in tools that ensure plagiarism avoidance without the need for additional manuals, training, or complicated setup processes.
This online program to stop plagiarism is easy to use and has a clear layout and a very real set of tools.
The software works with 99% of bulk uploads and file formats and makes thorough reports on plagiarism.
It also has Google add-ons that let you check for duplicate information. These tools can be used with all of the major LMSs, making it easy to look for copying on archived pages, 91B pages, and libraries.
Uncheck's thorough analysis stops cheating on contracts, finds when text has been changed, and finds similarities fast.
It can solve problems and find shady or dishonest ways to change the text that is done online.
The originality report has built-in tools to avoid plagiarism that don't need any extra manuals, training, or setup.
9. PrePost SEO
Prepostseo is a well-known and highly regarded plagiarism checker software. The PrePostSEO also offers a wide range of free SEO tools.
Bloggers, teachers, and content creators can access over 95 useful tools for free on Prepostseo. These tools enable users to create content that is favored by search engines.
The package includes a plagiarizer, a keyword density analysis tool, an article rewriter, and various other helpful tools.
The website organizes its most valuable sections into different areas, each addressing different challenges related to writing for the web or improving website functionality.
10. Copyleaks
Copyleaks uses cutting-edge AI algorithms to detect instances of plagiarism, similar wording, and paraphrased information with ease.
This secure online resource supports more than a hundred languages, ensuring that professionals can locate the information they need.
Copyleaks also checks for the use of white ink and character substitution, so you know your work is original.
The tool's SSL connection and 256-bit military-grade encryption make it ideal for scanning sensitive data.
Copyleaks is all-inclusive anti-plagiarism software because it scans not just text but also documents and API connections.
The main goal of Copyleaks is to make sure that authors, publishers, agencies, businesses, and students don't have any major problems.
It may discover common faults in the content by spotting resemblance categories such as paraphrased, similar, and identical words.
11. PlagiarismCheck.org
PlagiarismCheck.org, an automated tool, simplifies the process of checking for copied content by identifying similarities and generating reports.
Users such as students, teachers, journalists, and writers frequently rely on this tool due to its extensive library and sophisticated algorithms, which ensure accurate results.
The tool provides seamless connections, maintains strict privacy, and presents interactive results that enable users to download reports and access advanced algorithms.
With a database containing over 380,000 documents, this tool excels at detecting even minor resemblances in text.
By employing intelligent algorithms, it thoroughly examines every aspect of the writing, including word alterations, sentence reordering, and sentence changes, in order to identify duplicated content.
Its primary objective is to ensure the quality and uniqueness of the work.
12. Plagramme
Plagramme has a wide variety of options not seen in many other anti-plagiarism programs.
In addition to analyzing and flagging potential plagiarism across billions of sources, it also exposes paraphrased passages and poorly attributed sources.
Its simple scoring system allows for a rapid assessment of an article's potential danger. The technique used by Plagramme can recognize problems in multiple languages.
Plagramme provides an authenticity service, for an additional cost, where its editors review and fix papers manually for accuracy.
However, Plagramme also provides a free plagiarism detector for individuals on a tighter budget.
However, the free version does not include the comprehensive reports or database access found in the paid version.
After signing up for an account with Plagramme, users have access to all of the platform's features for a nominal price.
You can buy credits that can be used for any of Plagramme's services, however, this may not be the best option for large enterprises.
Plagramme, on the other hand, is ideal for sole proprietors and small businesses.
13. ProWritingAid
ProWritingAid is an online tool, that functions as a valuable style editor, language checker, writing guide, and plagiarism checker.
Its user-friendly layout presents writers with clear steps for creating and sharing content. The tool proves beneficial for various types of writing, including school, creative, and business writing.
By utilizing detailed reports, quizzes, videos, articles, and ideas, this tool can effectively identify instances of plagiarism.
It ensures security through 256-bit bank-level encryption and GDPR compliance, guaranteeing the safety and confidentiality of information.
The primary objective of ProWritingAid is to enhance writing skills, reduce errors, and maintain brand image and consistency.
The free version of ProWritingAid offers 19 writing reports, a summary report highlighting essential points, and the ability to modify up to 500 words.
The paid version of the tool seamlessly integrates with Google Docs, Microsoft Word, Scrivener, and Chrome.
Additionally, it provides a desktop version, unlimited word count, and all the advantages of the free version.
For students, ProWritingAidPremium+ is an ideal choice as it encompasses all the features of the free version, along with 50 plagiarism checks.
14. Plagium
Plagium serves as a valuable tool for writers, providing assistance in various aspects of the writing process.
One notable feature of Plagium is its ability to seamlessly integrate with Google Drive, allowing users to compare their content with related documents effortlessly.
Moreover, Plagium offers an API that automates text identification, score calculation, and document comparison.
This API proves particularly useful when comparing two text documents, as it streamlines the process and provides accurate results.
An innovative aspect of Plagium lies in its patented technology, which involves breaking down the input text into smaller "snippets."
These snippets are then efficiently compared to web content, and the matching results are scored, ultimately determining the documents that closely match the provided text.
This unique approach improves the accuracy and efficiency of plagiarism detection, making Plagium a reliable tool for writers and researchers alike.
15. Viper
Viper is a specialized program created to find plagiarism in student assignments, corporate reports, and academic writings.
The phrase "Biting Hard on Plagiarism" served as the inspiration for its name.
Viper is a powerful tool that makes use of a sizable database of over 10 billion sources, including journals, essays, and a wide range of other internet resources, despite its snappy motto.
Viper is simple and quick to use once you've made an account. However, because the website is known by the domain name scanmyessay.com, it could be difficult to locate it at first.
But rest assured that if you need a plagiarism detection program, you are in the proper place.
Conclusion: The Best Plagiarism Checker
In sum, above article, I have described the best Plagiarism checker.
Several criteria are there to select the top plagiarism checkers, including whether or not the tool was part of a suite, the size of its content database, its citation-checking skills, and its ability to integrate with third-party apps.
Additionally, the user interface, learning curve, algorithm for detecting plagiarism, price plans, and ideal customer type were taken into account.
For search engine optimization purposes, it is imperative that a website provide unique information that has not been copied from another source.
These tools can help with this difficulty.
Frequently Asked Questions
Is Turnitin a better plagiarism checker than Grammarly?
If you're a student seeking the most reliable plagiarism detector, for instance, Turnitin has a larger database and thus a higher success rate. If you're a freelance writer looking to hone your craft and in need of a reliable writing companion and plagiarism scanner, go no further than Grammarly.
How do you check plagiarism in Plagramme?
Customers can use the service by clicking on the "Free Plagiarism Check" button. Our only request is that you let other people know about our service to check for plagiarism on your online sites. Different ways to get a free originality report: Send an email to your friends telling them about our service that checks for copying.
Is Viper a good plagiarism checker?
In fact, Viper is so good at detecting plagiarism that we use it to check the writing of our own authors. All submissions from our essay writers are compared using Viper to databases of essays, scholarly publications, and other published works.
Is Grammarly 100% accurate?
The answer is yes, it is accurate for faults in fundamental spelling and grammar. In addition to this, its ideas are more accurate than those offered by competing writing apps. It is able to correct such things as passive voice, diction, writing style, and the placement of commas.
Can I use Copyleaks for free?
Yes, Copyleaks provides you with a free trial that checks up to 20 pages for duplicate material. As the next section will show, it has plans for both schooling and business.
What is the use of DupliChecker?
DupliChecker.com looks at your work to see if it sounds like something already on the internet. It goes over everything carefully, sentence by sentence, to make sure nothing is missed. The app can be used for free, but users who plan to use it more than once a day will have to sign up.
Is 0% plagiarism good?
If you get a score of 0%, it means that there were no matches detected, however, if you get a score of 100%, it means that every single piece of text was a match. Note that there is a possibility that the matched text will include correctly referred and quoted content in addition to text that has not been referenced at all.
Is Enago plagiarism checker free?
Enago Plagiarism Checker with Auto Grammar Check begins at just US $12 and employs the most advanced algorithms to actively detect plagiarism against 91+ billion current and archived web pages.
What is the most accurate plagiarism checker?
After conducting extensive research, we have found that Grammarly and Scribbr stand out as the most precise plagiarism checker. Unlike numerous free alternatives, it excels in detecting all forms of plagiarism and avoids raising false alarms. These plagiarism checkers operate by employing sophisticated database software, which meticulously scans your text and compares it with existing textual content, seeking out any matches.