If you ask about my favorite plugin while writing, my answer is the Grammarly Chrome extension.
No.., I'm not just saying it because Grammarly is so popular but because this extension deserves recognition.
Whether you need it for your blog posts, your academic writing, or your email proposal, the Chrome extension points out and corrects every minor mistake!
I have shared the details in my Grammarly Review further!
There's a lot that I can boast about but here's a quick verdict of Grammarly For Chrome.
Bottom Line: The best thing about Grammarly for Chrome is its compatibility with all platforms. Grammarly extension works with every app like Gmail, Google Docs, WordPress, LinkedIn, Twitter, Microsoft 365, and even blogging platforms like WordPress.

The free version of this extension makes it even a more viable choice. And when you go premium, you can correct sentence structures, and get advanced grammatical suggestions.
Read this article further as I will uncover the benefits of using Grammarly for Chrome and its features.
How Do I Add Grammarly to Chrome?
In this particular section of the article, I have provided a series of detailed instructions on how to add Grammarly to your Chrome browser.
You can visit the Chrome Web Store to discover the Grammarly browser extension, which is available as a free add-on that you can download.
To get Chrome for free, simply click on "Add to Chrome."
This will initiate the downloading process. If you encounter a pop-up requesting permission to add an extension, select "Yes."
In order to use Grammarly, you will first need to set up an account.
Proceed to create a free account by providing your email address and selecting a password.
Additionally, you will be required to answer a few questions in order to personalize Grammarly's features.
How To Use Grammarly To Check Your Grammar & Spelling?
Grammarly has a main app that you can access through web browsers. To use it, you simply type or copy and paste your text into the app, and you receive feedback in the same window.
If you install the Grammarly Chrome extension, it expands the app's functionality to cover the entire web.
It automatically detects and highlights your errors as you type, no matter where you are on the web, as long as you're using Chrome.
Once you've successfully installed the extension, you can open its options by clicking on the Grammarly "G" favicon in the extensions bar of Chrome.
When you do that, you should see the following: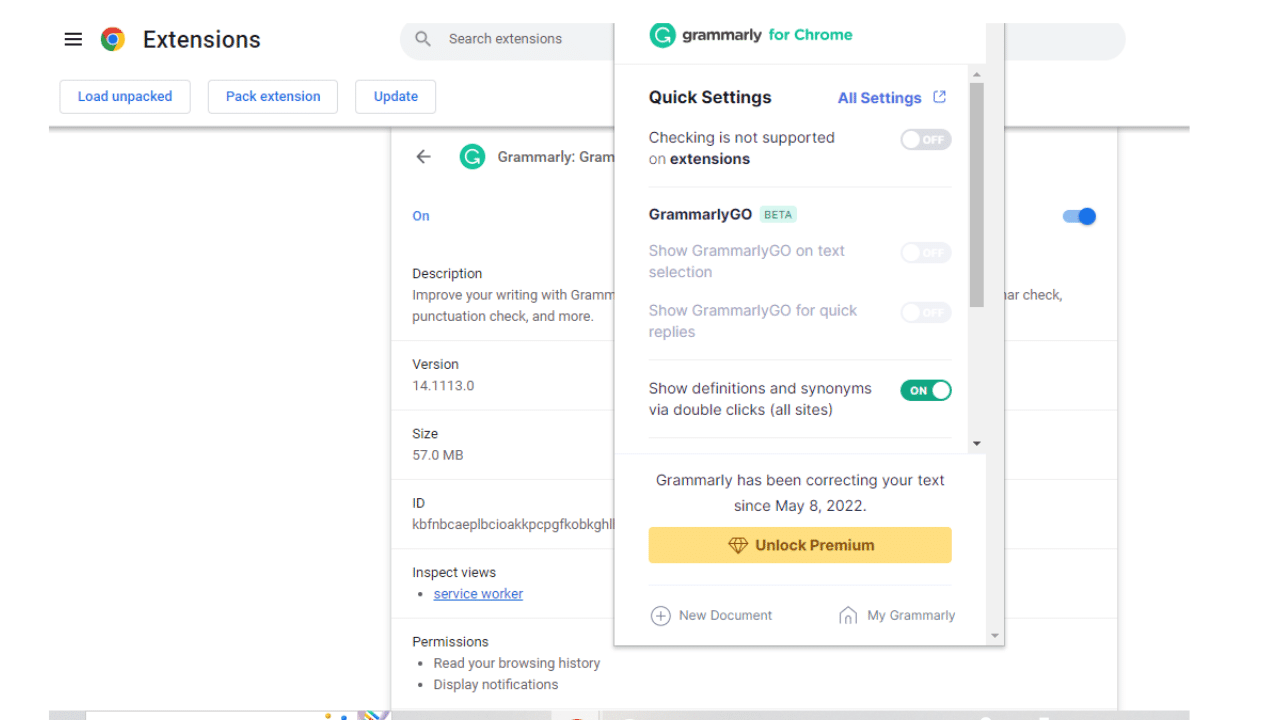 Without navigating to the Grammarly website, you can use this Chrome extension on any editor.
When I use Grammarly, it helps me find mistakes in my writing by underlining them in red. If I hover over the underlined parts, it explains what's wrong and offers suggestions to fix it.
The good thing is there are different color codes for each type of correction. For instance, the spelling mistakes are highlighted in red.
Similarly, wordy sentences, passive and active voice issues, or unclear sentences are highlighted in yellow color.
The blue line under the word or sentence reflects that you can use a better word or reword the sentence.
What does Grammarly for Chrome do?
The Chrome extension for Grammarly offers immense benefits and provides various features accustomed to every user. The reason why I love Grammarly is because it offers so many features to use on almost every platform.
Let's look at these features:
Error-Free Writing:
Enhanced Vocabulary and Style:
Easy-To-Use Grammar And Spell Checker
Plagiarism Detection:
Language Learning and Improvement:
Error-Free Writing:
Grammarly for Chrome acts as a reliable virtual writing assistant, constantly scanning your text for grammar, spelling, and punctuation errors.
After you have completed the writing, you will be tempted to run the error detector test and you can make changes in real time.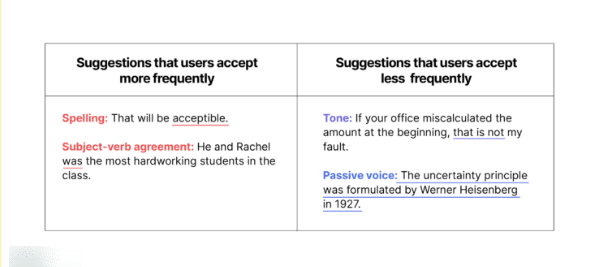 Enhanced Vocabulary and Style:
Grammarly's extensive database provides word suggestions, helping you diversify your vocabulary and avoid repetition. I'm not an English graduate, and I obviously need better sentences for my complex writing.
Grammarly offers style suggestions, ensuring consistency and coherence throughout your writing.
By expanding your vocabulary and refining your writing style, Grammarly empowers you to express your thoughts more effectively.
Easy-To-Use Grammar And Spell Checker
I would say Grammarly is a pretty straightforward and user-friendly tool for checking grammar and spelling. The tool is a real no-brainer when you set it up and start using it.
It's like having a magic extension that instantly boosts your intelligence by 10 IQ points with just two clicks. It goes beyond mere grammar and spell-checking.
Whether you're a blogger, student, marketer, journalist, or anyone else, Grammarly will prove to be more valuable than an oil change after driving 3,000 miles.
Plagiarism Detection:
I was longing for a legit plagiarism detector tool. My hunt finally ended when Grammarly launched its plagiarism detector tool last year. (You won't get it with the extension, though!)
The plagiarism checker compares your text against a vast database of published works, ensuring that your content is entirely original.
It highlights any sections that may require citation or paraphrasing, protecting you from unintentional plagiarism and potential consequences.
By using this feature, you can maintain your integrity as a writer and uphold academic and professional standards.
Language Learning and Improvement:
Grammarly for Chrome not only identifies errors but also explains the grammar rules behind them.
It provides detailed explanations and suggestions to help you learn from your mistakes, gradually improving your writing skills over time.
By consistently using Grammarly, you can develop a better understanding of grammar and language nuances, enhancing your overall proficiency in writing.
Using Grammarly For Chrome In Google Docs
In October 2018, Grammarly introduced beta support for Docs. To use Grammarly in Docs, you need to have the Chrome browser extension installed.
Unfortunately, it is only available for use in Chrome.
Once you have installed and activated the Chrome extension, simply open a Doc, and Grammarly will be accessible.
It works similarly to how it works on other websites: words and phrases that Grammarly identifies as potentially incorrect will be underlined in red.
By clicking on these underlined portions, you can view suggested corrections. Additionally, you can double-click on any word to see a list of Grammarly synonyms.
However, it's important to note that Grammarly for Chrome is not fully stable at the moment, and many users have reported issues with its functionality.
It can sometimes conflict with the spellchecker already present in Docs.
Grammarly For Chrome in Medium
I have been using Grammarly on Medium since its inception in September 2018.
I access Grammarly for Medium through the Chrome extension, and it works exactly like Grammarly does on other platforms. I can also use premium features, such as paragraphing and advanced tone checking.
Conclusion
If you ask me my verdict on the Grammarly Chrome extension, I would say it is a perfect place to end your writing woes. I have scaled my writing from 80 to 100 using this add-on.
It goes beyond that by offering support with identifying plagiarism, refining writing style, and optimizing audience engagement.
Undeniably, Grammarly stands out as the leading grammar correction tool available for the English language.
Though there are some loopholes but works anyway when you have got such a presence of Grammarly in Spanish, French, German, Mandarin, and Arabic brings forth the immense potential for aiding countless individuals worldwide, considering these languages' widespread usage alongside English.
Frequently Asked Questions
Is Grammarly extension free?
The free version of Grammarly offers essential writing suggestions to assist you in creating polished, error-free content. It includes a grammar checker, a spelling checker, and a punctuation checker, all aimed at enhancing the quality of your writing.
Why is the Grammarly extension not showing in Chrome?
To accomplish this, go to the upper-right corner of your Google Chrome window and locate the three dots. Click on them to reveal a drop-down menu, then navigate to "More Tools" and select "Extensions." Look for the Grammarly extension and ensure that it is enabled. In case it is disabled, switch it on and refresh the page.
Can I Change the Language of the Grammarly Plugin?
There are certain boundaries that should be considered. The Grammarly plugin provides choices for UK, US, and Canadian English. Therefore, if you're aiming to write in a language other than English, it may not be the best option. However, if your focus is on writing in English, then Grammarly can be highly beneficial.