Here in this article, I have covered details about Grammarly pricing, and which is the best pricing plan for you.
I have been using Grammarly for quite some time now, and from my own experience, I must say it is truly the finest tool out there when it comes to enhancing my writing abilities.
It offers users two distinct pricing choices: the free version and the premium version.
So, let's find out complete details about pricing options for Grammarly.
How Grammarly's Pricing Works?
Grammarly Premium and Grammarly Business are both subscription-based services that offer a range of features.
Grammarly Premium is especially for writers, editors, and entrepreneurs, providing a comprehensive set of tools.
With this subscription, users can benefit from grammar & spelling suggestions, advanced plagiarism detection (unavailable in the free version), tone review, and vocabulary enhancement.
On the other hand, Grammarly Business not only includes all the features of Grammarly Premium but also offers additional functionalities, making it an excellent choice for businesses with a team of writers.
| | | | |
| --- | --- | --- | --- |
| Grammarly Plans | Grammarly Pricing | Quarterly Plan | Annual Plan |
| Original Package | $30 | $60 | $144 |
| Discounted Package | $22.5 | $45 | $108 |
| Savings | $7.5 | $15 | $36 |
Alongside the features provided by Grammarly Premium, users of Grammarly Business can access analytics, establish company style guides, and assign account roles and permissions.
How Much Does Grammarly Cost?
Grammarly has a free plan that you can use at any time. You can easily sign up for Grammarly's free version here.
It helps you with basic spelling, punctuation, pronoun, and subject-verb agreement checks. But that's all there is to it-basic corrections.
This is enough if you only use it to check your copy for day-to-day things like social media posts.
But if you're writing a copy for business, online sales, school work, or job applications, among other things, you might want to access and unlock the app's advanced features.
There are different tiers of paid subscription plans that you can buy.
Grammarly premium paid plan is expensive to have but here you can avail of a 20% Grammarly discount for students which huge boost for you.
Additionally, Grammarly offers a 20% military discount, and individuals opting for a Grammarly premium subscription can enjoy the highest possible discount.
Here are some ways you can choose to pay:
1. Individual Plan
Individual users can only pay for the plan for as long as they use it. The discount is bigger the longer the subscription is,
Monthly– This is $30/month. Since you pay monthly, you only pay for paid features while you utilize them. You can use it to proofread resumes and cover letters, academic reports, and freelance writing before submission.
Quarterly– This costs $20/month. It's billed as a one-time payment of $59.95. This is good for users who need to use the app for a long time because they can save up to $29.90 for 3 months.
Annually– This costs $20/month. It is billed as a one-time payment for a total of $139.95. If you go for the annual plan, you get the biggest discount. It is recommended for users who need to write professional-quality copy, such as writers, editors, and journalism students.
Key features of Individual plan
Tone adjustments
Plagiarism check
Tips for the more experienced
When giving suggestions for rewriting sentences, the focus was on clarity
Formatting
Checks to see how formal the tone is
Checks how well you can use the language
Use language that includes everyone
2. Team Plan
Grammarly provides a Team plan designed to help businesses manage their content.
The plan aims to enhance team collaboration by facilitating informal communication through emails and documents.
The application also takes care of the onboarding process.
It includes monitoring tools for effectively managing subscriptions and engagements.
Moreover, there is a unified billing system in place to optimize quick expense tracking and payment methods.
Additionally, the plan offers exclusive administrative and user management controls tailored for enterprise use.
The cost of the Grammarly Business plan is $10 per month for each member, with payment billed annually.
To sign up for this service, a minimum of 3 members (as users) is required.
Key features of the Team plan
Priority Help with email and chat
Style guide to keeping things the same
The tone of the Voice
Dashboard for analytics
Snippet is a feature that lets you make short text snippets for questions you answer over and over again
Billing in one place
Control over who gets what job
Control over how permissions are managed
3. Education Plan
Grammarly presents an education plan designed to assist schools in enhancing their writing capabilities.
This plan caters to students in K-12 and higher education, aiming to improve their writing skills, cultivate effective revision habits, and prevent plagiarism.
In addition to aiding with writing and research, Grammarly provides students with access to grammar tutorials and assistance in revising papers via the library's website.
This versatile plan is suitable for implementation in middle schools, high schools, colleges, universities, and professional schools.
With a one-year subscription, users can utilize the Grammarly app across multiple sites without limitations.
The Grammarly EDU plan starts at $700 per year for 10 users, while the costs are $1,000 per year for 20 users, and for 50 users, it is $1,700 per year.
Institutions with more than 50 users, can reach out to Grammarly for a personalized quote.
Key features of the Education plan
Rewriting sentences to make them clearer
Tone adjustments
Word selection
Level of formality
Fluency
More tips for advanced learners
What Do You Get With Grammarly Subscriptions? Premium Vs Free Vs Business
Grammarly's free plan offers a comprehensive set of features that make it an ideal grammar checker.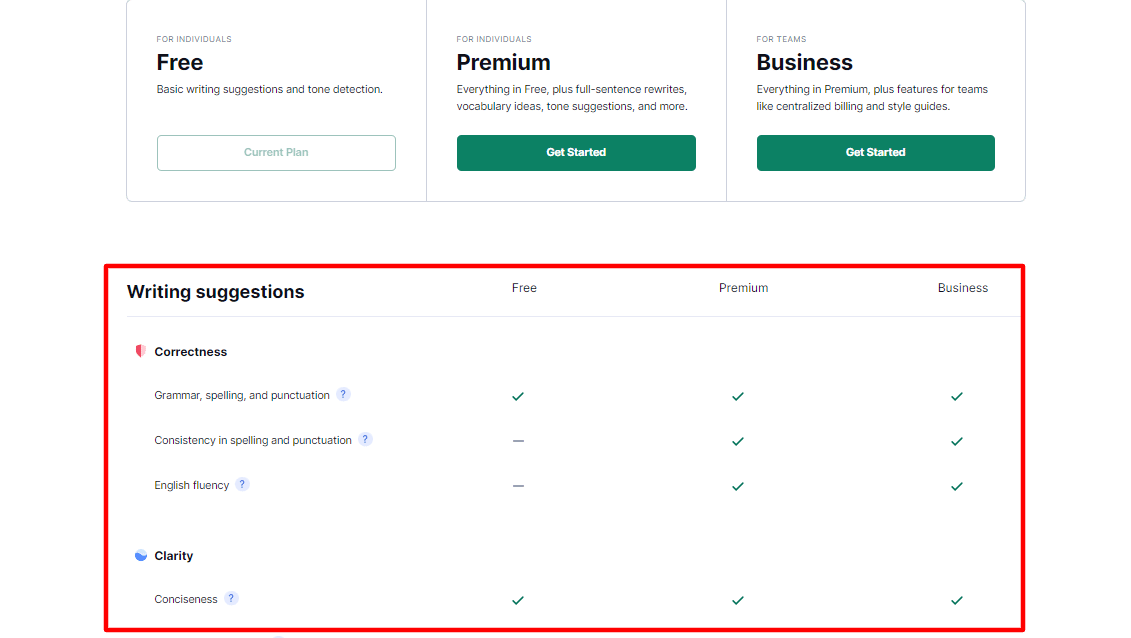 Whether you require a plagiarism checker, tone suggestions, or word choices, the free plan has got you covered.
However, for content teams consisting of three members or more, Grammarly Business is the recommended subscription plan.
It not only provides all the features of Grammarly Premium but also offers additional benefits tailored specifically for teams.
With Grammarly Business, you gain access to custom user roles and permissions, a style guide, and analytics, making it a cost-effective solution for collaborative writing and content management.
So, whether you're an individual looking for basic grammar assistance or a content team in need of advanced writing tools and team management features, Grammarly has the right plan to meet your needs.
| Key Feature | Grammarly Free Plan | Grammarly Premium Plan | Grammarly Business Plan |
| --- | --- | --- | --- |
| Basic grammar and spelling checks | ✔️ | ✔️ | ✔️ |
| Clarity and conciseness suggestions | ❌ | ✔️ | ✔️ |
| Vocabulary enhancement suggestions | ❌ | ✔️ | ✔️ |
| Genre-specific writing style checks | ❌ | ✔️ | ✔️ |
| Plagiarism checker | ❌ | ✔️ | ✔️ |
| Advanced punctuation, grammar, and sentence structure checks | ❌ | ✔️ | ✔️ |
| Personalized writing insights and suggestions | ❌ | ✔️ | ✔️ |
| Microsoft Word and Outlook integration | ❌ | ✔️ | ✔️ |
| Mobile app | ❌ | ✔️ | ✔️ |
| Premium customer support | ❌ | ✔️ | ✔️ |
Grammarly Premium Plan
Grammarly Premium goes beyond the free version with its wide range of key features. Here are some notable aspects of the Grammarly Premium plan:
1. Advanced Grammar and Spelling Checks
Grammarly Premium offers in-depth grammar and spelling checks to help you identify and rectify complex grammatical errors, contextual spelling mistakes, punctuation errors, and more.
It provides improvement suggestions, ensuring your writing is polished and free of errors.
2. Vocabulary Enhancement
This feature helps you enrich your vocabulary by suggesting more advanced and diverse word choices.
It provides synonyms and alternative words to make your writing more precise, engaging, and impactful.
3. Style and Tone Adjustments
Grammarly Premium aids in maintaining a consistent style and tone throughout your writing.
It suggests adjustments to match the desired audience or purpose of your text, ensuring effective communication of your message.
4. Clarity and Conciseness Improvements
This feature helps you enhance the clarity and conciseness of your writing by identifying wordy or convoluted sentences and suggesting more concise alternatives.
It assists you in expressing your ideas effectively and efficiently.
5. Plagiarism Detection
Grammarly Premium includes a plagiarism checker that scans your text for similarities with billions of web pages, ensuring your work is original.
It helps you avoid unintentional plagiarism and uphold academic integrity.
6. Integration with Multiple Platforms
Grammarly Premium seamlessly integrates with various platforms, including web browsers, Microsoft Office applications (Word, Outlook), Google Docs, and more.
You can directly access Grammarly's advanced features and suggestions within these platforms.
7. Personalized Writing Insights
Grammarly Premium provides personalized insights and statistics about your writing.
It offers improvement suggestions based on your writing habits, such as word count, sentence length, readability, and more.
Grammarly Business Plan
1. Advanced Grammar and Spelling Checks
Grammarly Business Plan provides comprehensive grammar and spelling checks to ensure that your team's written communication is error-free.
It helps detect and correct grammatical mistakes, punctuation errors, and spelling issues.
2. Style and Tone Suggestions
This feature helps maintain a consistent and professional writing style across your team by providing suggestions on sentence structure, word choice, and tone.
It ensures that your business communication reflects your brand and conveys the intended message effectively.
3. Plagiarism Detection
Grammarly Business Plan includes a powerful plagiarism detection tool that scans your content against a vast database of web pages and academic papers.
It helps identify potential instances of plagiarism, ensuring your team's work is original and properly cited.
4. Writing Goals and Performance Insights
Grammarly Business Plan allows you to set writing goals for your team, such as word count targets, readability scores, or tone requirements.
It provides performance insights and progress tracking, helping individuals improve their writing skills and meet their objectives.
5. Team Collaboration and Sharing
With Grammarly Business Plan, you can easily collaborate with your team members on shared documents.
It enables real-time editing, commenting, and feedback, promoting seamless collaboration and enhancing the overall writing quality.
6. Customized Style Guides
You can create and enforce customized style guides within Grammarly Business Plan.
This feature helps ensure consistent writing conventions, including preferred vocabulary, grammar rules, and tone guidelines, across your organization.
7. Integration with Multiple Platforms
Grammarly Business Plan integrates with various platforms, including Microsoft Office Suite, Google Workspace, and popular web browsers.
This allows your team to access Grammarly's writing assistance seamlessly, whether they are working on documents, emails, or online platforms.
8. Admin Controls and Usage Statistics
As an administrator, you have access to usage statistics and insights on your team's writing performance.
You can monitor the usage of Grammarly, track improvements, and provide targeted training or support to enhance the writing skills of your team.
9. Security and Privacy
Grammarly Business Plan ensures the security and privacy of your team's data.
It employs advanced encryption, and data protection measures, and complies with industry-leading privacy standards to safeguard your sensitive information.
10. Priority Support
Grammarly Business Plan offers priority support to address any technical issues or inquiries promptly.
You and your team have access to dedicated customer support, ensuring a smooth experience with the Grammarly platform.
Grammarly Free Plan
1. Grammar and Spelling Checks
Grammarly's Free Plan is designed to assist you in improving your writing by identifying and rectifying grammar and spelling errors.
It effectively highlights a wide range of mistakes, including incorrect verb forms, subject-verb agreement issues, punctuation errors, and misspelled words, among others.
2. Writing Style Improvements
Moreover, the Free Plan goes beyond simple error correction and aims to enhance your writing style.
It offers valuable suggestions to make your writing clearer, more concise, and more engaging.
These suggestions encompass areas such as sentence structure, word choice, and overall readability.
3. Personal Dictionary
To further personalize your experience, Grammarly's Free Plan allows you to create your dictionary within the tool.
This enables you to add frequently used words, including industry-specific jargon and names, to avoid flagging them as errors.
4. Basic Performance Stats
Monitoring your writing progress is made easy with the basic performance statistics offered by the Free Plan.
It presents information such as your total word count, vocabulary diversity, and the number of corrections made over time, helping you track your improvement.
5. Browser Extension
To conveniently integrate Grammarly into your writing process, the Free Plan offers a browser extension compatible with popular web browsers like Chrome, Firefox, Safari, and Edge.
This enables you to utilize Grammarly while composing emails, social media posts, or working on various online platforms.
What Are The Grammarly Payment Methods?
How can you buy the Grammarly app? The following ways can be used:
PayPal
Debit card
Credit card
Prepaid card
For the cards to be accepted, they must have the American Express, Discover, MasterCard, or Visa logo on them. They should also make it possible for the app to be used for repeat e-commerce transactions.
Meanwhile, these options are not catered to by Grammarly:
Cash
Money orders
Payments made via phone
Personally-issued checks
Debit cards with Interac, MasterCard Maestro, and Visa Electron logo
What Is Grammarly? And how does it work?
Grammarly is an excellent web-based editing tool for evaluating a wide range of written content.
It is capable of handling various types of writing, such as lengthy articles, social media posts, emails, and even creative pieces.
By using artificial intelligence, the tool carefully examines your content and provides valuable suggestions to enhance its quality.
These suggestions cover various aspects, including rectifying verb tenses, identifying spelling errors, and proposing clearer sentence structures.
As previously mentioned, Grammarly presently offers a free version that provides basic spelling and grammar checks.
Additionally, there are two paid versions available, which offer more advanced features like tone suggestions and plagiarism detection.
Is Grammarly Premium Worth It?
After discovering how much Grammarly costs, decide whether to upgrade.
In today's age of digital communication, writing holds immense importance in both our personal and professional spheres.
Whether you're composing an email, working on an academic paper, or creating a blog post, it is vital to uphold proper grammar and spelling to ensure effective communication.
Grammarly, a widely used writing assistant tool, provides users with both free and premium options.
Here in this section of the article, we will explore the features and advantages of Grammarly Premium to ascertain whether it is a worthwhile investment.
Features
Apart from expanding your dictionary, the subscription plan offers various features to enhance your writing experience.
You can use the online tool to add new terms, work with your documents across different platforms, seamlessly integrate with Microsoft Office (for Windows users), and use native desktop software available for both macOS and Windows.
Moreover, the subscription plan encompasses the following additional features:
Suggestions for vocabulary enhancement
Genre-specific writing style check
Plagiarism Detector
Advanced punctuation, grammar, and sentence structure checks
Benefits
Grammarly provides a range of tools designed to enhance your writing skills beyond mere error correction.
With their user-friendly and informative reports, Grammarly caters to individuals at all levels of proficiency, from beginners to experts.
Additionally, Grammarly Premium offers a host of additional advantages.
Genre-specific results- Custom writing checks are available for over 30 document formats, including academic essays, business emails, and social media posts.
More corrections- The subscription plan shows over 400 adjustments, compared to the basic plan's 250, providing a more in-depth look at document errors.
Plagiarism Checker- Plagiarism is a significant no-no, so avoid duplicate stuff. Grammarly offers a library of more than 16 billion online pages to check for plagiarism.
Writing skills enhancements- You're not just corrected for writing errors. You are also told your usual blunders so you know where to improve. Explains why a word or phrase doesn't fit the statement. It also suggests words to repeat and improve sentence clarity.
24/7 support- Grammarly offers 24/7 support to answer your questions.
Users
Job seekers
Professionals
Students
English language learners
Businesses
Final Thoughts
In sum, a grammar-checking program like Grammarly helps you discover grammatical and spelling problems in personal or business writing.
Grammarly has a free-forever option for individuals or businesses struggling financially due to the pandemic.
The basic plan contains spelling, grammar, and punctuation guidelines. Grammarly premium plans give style, tone, conciseness, and plagiarism detection suggestions. Choosing a premium plan depends on the sort of user you are and what functions you need.
Frequently Asked Questions
How much does Grammarly cost per month?
For the individual plan, the best deal is a one-year license. This adds up to $144, or $12 a month, over a year. But we know that not everyone has the money to make the full amount at once. The cost of the quarterly plan is $60 ($20 x 3 months).
Why is Grammarly so expensive?
Grammarly's many helpful writing tools are made possible by cutting-edge AI technology. It has a wide range of features, a natural language approach based on machine learning, and high-quality speech output. Compared to other grammar checkers on the market, this one is a little on the expensive side.
Is Grammarly premium worth it for college?
Grammarly is a good purchase for college students who have to write papers. The free version of Grammarly is much better than Word's built-in spell checker, and the premium version improves your writing in general and has a useful plagiarism checker.
Is Grammarly 100% free?
Grammarly provides a free version to identify and fix command grammar and spelling errors, however, if you are looking for an advanced grammar, spelling, punctuation, and plagiarism checker, you need to go for Grammarly's premium paid version.
Is paying for Grammarly worth it?
Subscribing for Grammarly Premium could prove to be a game-changing choice for your writing journey! This investment not only protects you from awkward errors but also improves your writing prowess & vocabulary.
Related Read: