A solid command of grammar is a crucial aspect of developing high-quality writing.
Extraordinary expertise in the English language has the ability to distinguish one's written work from that of others who lack the same level of competence.
Understanding the appropriate terminology can lead to more succinct and effective writing.
Fortunately, a plethora of excellent writing software is now widely available and very dependable.
There are numerous applications available for Mac users to identify plagiarism and grammatical mistakes.
There are also mobile apps made for Apple's iOS devices, such as the iPad and iPhone.
Here in this article, I will talk about the Best Grammar Checker For Mac, and how it helps Mac users.
So let's get started!
How To Find Your Best Grammar Checker Software For Mac
With the internet and technology advancing, you now have numerous options when searching for anything.
It requires thorough research to find the one that perfectly suits your needs, and the same goes for grammar check apps for Mac.
While there are plenty of free grammar checkers and proofreading tools available, only a few of them are compatible with Mac OS. Therefore,
I have compiled a list of expert-recommended grammar-checking software specifically designed for Mac.
But here's another challenge! How do you choose the best among these top grammar checker software options?
I'm happy to assist you by highlighting some key aspects to consider when selecting the best grammar checker for Mac.
Furthermore, some individuals may be seeking a cost-free or free grammar check for Mac, while others may be looking for the best proofreading software for Mac with advanced features.
In the midst of it all, some intermediate English writers even struggle to identify their writing assistant requirements.
When choosing a grammar checker for Mac, it is important to ensure that it offers these fundamental features:
To ensure an excellent user experience, it is necessary to offer a free version that allows users to try out the product before deciding to purchase the premium version.
The tool should thoroughly examine a wide range of spelling, grammatical, and punctuation errors.
Moreover, it should possess the capability to detect and correct writing mistakes, whether they are simple or complex.
Furthermore, the web application must not negatively affect the performance of your Mac.
Additionally, apart from providing proofreading services, it should also aid in enhancing the effectiveness of your writing.
To accommodate various preferences, it should offer flexible input options such as the ability to upload or copy-paste text.
Lastly, it is crucial for the tool to be compatible with most writing editors and web platforms.
The Best Grammar Checker For Mac
There is a variety of English grammar checker software available for the Mac, including free and paid versions.
There aren't very many free grammar checkers that are on par with the quality of the expensive Pro versions of these tools.
Do you want to limit your search to just seeing results for free grammar checks that are compatible with Macs?
I have compiled a list of all of the Mac applications that check grammar:
Antidote
1. Grammarly
Grammarly is an exceptional writing assistant application that uses an algorithm grounded in artificial intelligence.
It is used by over a million individuals to scrutinize an assortment of written works, including documents, presentations, and email drafts, for spelling and grammatical errors.
I have been using Grammarly for many years to fix my grammar and plagiarism mistakes on my Mac.
Its algorithm is capable of analyzing text and identifying a broad spectrum of writing errors, encompassing typographical errors, grammatical blunders, punctuational discrepancies, suboptimal word choices, and even cases of plagiarism.
To use Grammarly on your Mac, you may employ its desktop application, which renders the process of editing and proofreading your work much more manageable.
Furthermore, this application is compatible with numerous web browsers, including Chrome, Safari, and Firefox, among others.
Despite this, Grammarly has yet to develop an extension for Mac OS X or Microsoft Word. However, by copying and pasting your text, you may use.
If you wish you know more in-depth about Grammarly, you may read our article Grammarly Review, where I have covered each aspect of Grammarly in detail.
Grammarly Key Features
It can find and fix problems with subject-verb order, verb tense, and the correct use of pronouns, among other things.
Grammarly's spell checker will find misspelled words and suggest ways to fix them.
The style test on Grammarly looks at how you write and tells you how to make it more convincing and professional.
The tone analyzer on Grammarly can tell if your writing is official or casual and give you tips on how to make it better.
You can learn new words by offering alternatives based on the context of a sentence.
With Grammarly's Readability Checker, you'll get detailed feedback on how easy it is to understand your writing, as well as tips on how to make it even better.
By adding words to your own definition, you can stop Grammarly from marking them as mistakes in the future.
Grammarly Pros & Cons
| | |
| --- | --- |
| Pros | Cons |
| Up to 90% accuracy | Only support English |
| Highly accurate plagiarism detector | The premium version is expensive |
| 16 million database | |
| Free version available | |
| Excellent customer support | |
2. WhiteSmoke
WhiteSmoke is one the most liked Grammar checker that has several great features.
Since millions of people move to Mac OS every year, WhiteSmoke Writer was made just for them. WhiteSmoke made the Writer for Mac users so they could take advantage of the growing market.
WhiteSmoke Writing Assistant can also help you improve your writing on iOS devices like the iPhone.
Its writing assistant makes it easy to copy and paste information that has been checked for spelling and grammar. Like Ginger, WhiteSmoke Translator works with a wide range of languages.
WhiteSmoke works with most computers, like Chrome, Safari, Firefox, and so on.
Full integration between the writing tools on Windows and Mac, on the other hand, is only possible with the more expensive Premium package.
WhiteSmoke Key Features
It makes sure there are no language or spelling mistakes and that the text is easy to read.
WhiteSmoke is a style checker that looks at your work's tone and style and gives you tips on how to make it better and more interesting.
The punctuation checker on WhiteSmoke makes sure that your workflow is well by finding and fixing any wrongly used punctuation.
50+ language translation services let you easily translate your material.
The tool has a lot of writing templates to help you make papers like resumes, cover letters, business letters, and more that are smooth and successful.
It is a great tool for writers who write in languages other than their native tongue because it works with many different languages.
WhiteSmoke Pros & Cons
| | |
| --- | --- |
| Pros | Cons |
| Provides a writing style checker | The free version is not Mac OS compatible |
| Extensions for most browsers | |
| Uses cutting-edge NLP | |
| Mobile Writing Assistant | |
3. ProWritingAid
ProWritingAid is another popular choice for Mac users to check Grammar & plagiarism.
You can be sure that people will understand your work because it is correct and can find even the most complicated writing mistakes.
The ProwritingAid's proofreading feature will suggest various style changes, fix your clumsy sentence structures, and get rid of all spelling and language mistakes.
So, you may also use a dictionary and thesaurus to help you write lines and paragraphs.
ProWritingAid is a writing tool that you can use on the web. You can get to it through extensions for many web browsers.
For Mac, you need to have a premium license of ProwritingAid.
This means that you can easily get a PC app that works with Word, Scrivener, Open document files, RTF, HTML, text, and more.
This tool can be used in a lot of different ways by Mac users.
Such as with the online editor, the Google Docs add-on, browser plugins, or with downloadable Mac OS X desktop software.
Key Features Of ProWritingAid
It checks for grammar, spelling, punctuation, style, and syntax mistakes.
ProWritingAid evaluates your writing style and makes comments on sentence form, tone, and readability.
The tool provides synonyms and similar words depending on your writing, helping you communicate your ideas.
ProWritingAid analyzes your sentences for length and complexity and suggests ways to improve readability.
The tool creates extensive writing reports with a summary of main concerns and improvement suggestions.
It's easy to connect with Microsoft Word, Google Docs, Scrivener, and others.
Can set word count targets and track your progress with the tool.
ProWritingAid checks for duplicate content and plagiarism.
ProWritingAid Pros & Cons
| | |
| --- | --- |
| Pros | Cons |
| Google docs extension available | No free Mac desktop app |
| Google Docs extension available | |
| Fits writers of any level of skill | |
| Free add-ons for your browser | |
| Windows and macOS native applications | |
4. Scribens
Scribens is a perfect writing assistant software for those seeking cost-effective solutions to grammar-checking software for Mac.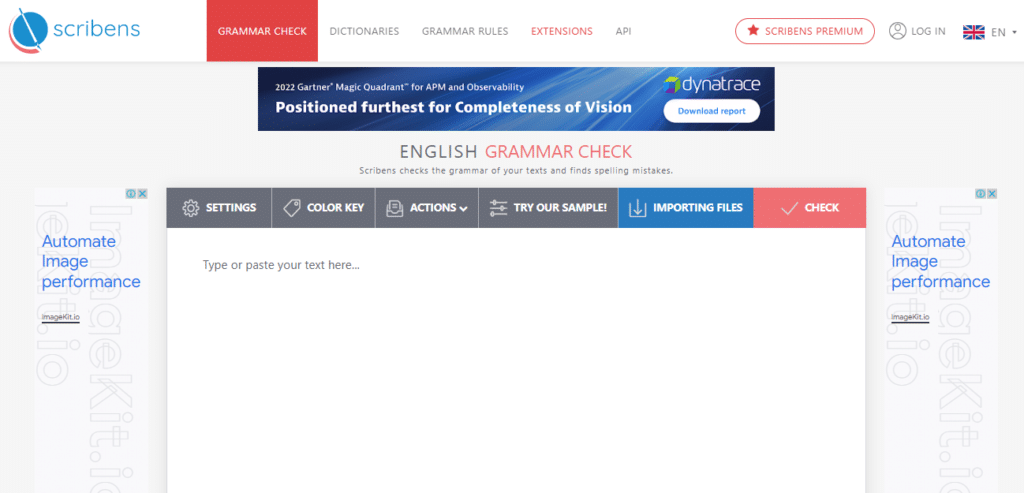 Its fundamental writing guidelines can prove to be instrumental in circumventing recurring mistakes that might impede one's writing quality.
Moreover, it is an exceedingly potent tool for MacOS enthusiasts since it can connect with various social media platforms and office suite applications such as Gmail, Facebook, Twitter, LinkedIn, and LibreOffice.
Therefore, users can refrain from repeatedly submitting their text to the Scribens online service, as they can conveniently install the extension and continue to perform uninterrupted.
Personally, in my own experience, I find Scribens' ability to identify my writing errors and offer accurate recommendations that I can implement in subsequent projects very helpful.
Key Features Of Scriben
This tool can quickly identify and highlight spelling and grammatical mistakes. It helps enhance writing by suggesting corrections.
It checks sentence structure for passive voice, difficult wording, and other issues.
Scribens compare text to a database of web sources to assure originality.
The tool also offers synonyms or alternative terms to improve text quality.
For multilingual writers, Scribens supports English, French, Spanish, and German languages.
Sribens Pros & Cons
| | |
| --- | --- |
| Pros | Cons |
| Free to use | No plagiarism-checking option |
| Easy-to-use user interface | |
| Accurate Grammar Checker | |
| Secure to use | |
| | |
5. Linguix
Linguix is one of the best grammar checker apps because the AI works well with Macs and draws on a lot of information to improve your writing.
This explains the tool's ubiquity amongst individual authors, web publishers, and collaborative teams alike.
Linguix is an online service that is accessible to anyone seeking to verify the quality of their work.
It also conducts a comprehensive analysis of your writing, regardless of whether it is an electronic message or an online manuscript, and provides valuable suggestions to enhance it.
This makes it an ideal choice for anyone looking to polish their English writing skills.
However, if you require frequent plagiarism checks, it's worth bearing in mind that every check requires the use of one of the credits you've purchased.
Linguix's elegant website reflects its exceedingly contemporary style, and you can create an account simply by entering your email address and a password.
Key Features Of Linguix
Real-time algorithms detect and repair grammatical and spelling faults.
The tools assess a writer's style and tone to improve their flow and readability.
Linguix also assists writers to improve their work by suggesting synonyms and similar words.
Authors can establish and track word count and writing frequency objectives to stay motivated.
The tool also checks for plagiarism to ensure that the writing is original.
Linguix integrates with popular platforms like Google Docs and WordPress to provide writing aid straight into the user's workflow.
Linguix Pros & Cons
| | |
| --- | --- |
| Pros | Cons |
| The flexible free version | It doesn't work with Google Docs or Word |
| Customize Linguix's style guide | |
| It offers an accurate plagiarism checker | |
| Check crucial documents in secret mode | |
6. Ginger
Ginger is one of the best ways to check for typos and other grammar and word mistakes in your writing.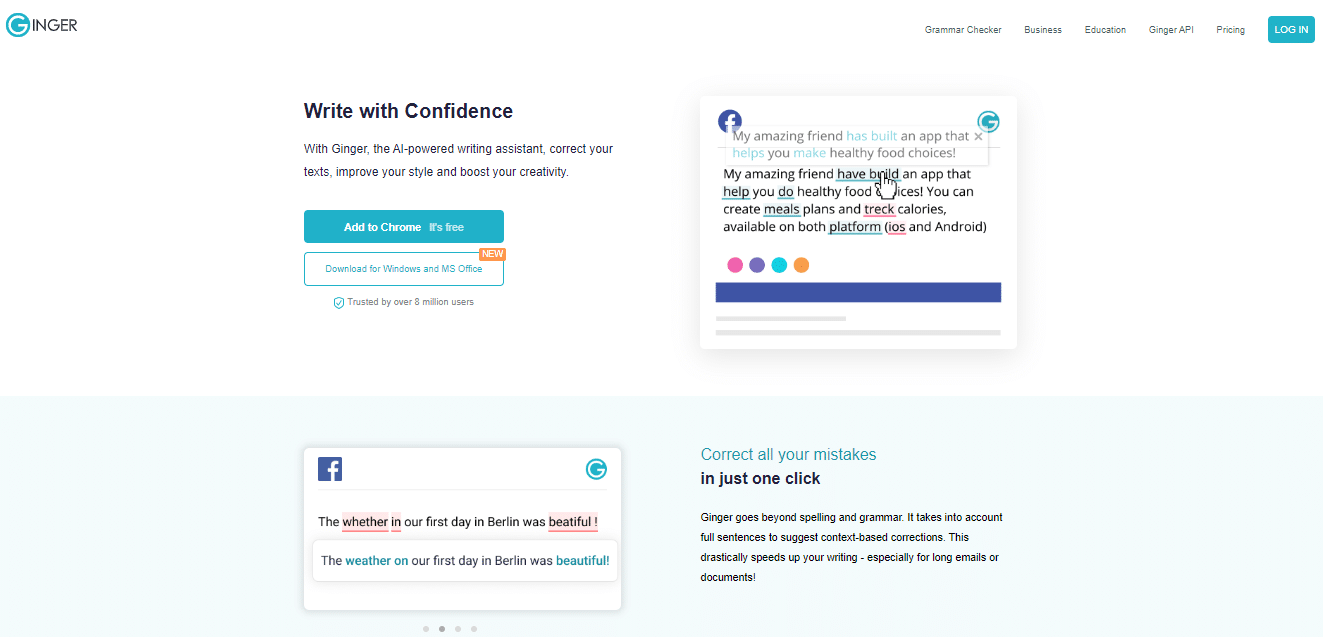 Ginger's browser extensions for Chrome and Safari work with Mac OS, but the base software doesn't.
Ginger offers a Sentence Rephraser, a Personal Trainer, a Text Reader, and many other tools. It also has a lot of bells and whistles that make it easy for any writer to get work done.
Ginger is a cheap and trustworthy alternative to tools like Grammarly and ProWritingAid which have more features. The way Ginger works is a lot like how Grammarly works.
After the browser add-ons have been set up, the Ginger Software can be used right away.
Like Grammarly, it gives you helpful inputs on your writing, such as the number of words and sentences, suggestions for replacing phrases you use too often, etc.
Ginger is as good as Grammarly in terms of how accurate it is and how many features it has. But I like Grammarly because it works well while I use it on my desktop.
Ginger Key Features
Checks for grammar and spelling mistakes using powerful algorithms. It also suggests better words for misused ones.
It modifies sentences for clarity and readability. It suggests equivalent sentence constructions.
Ginger allows to construct a personalized dictionary of commonly used words and phrases. This reduces spelling and grammar false positives.
Ginger comes with a hearing feature that corrects the grammar based on listening.
It offers 60-plus language translations.
Ginger provides contextual definitions and synonyms to help you comprehend and choose the right term for your work.
Ginger Pros & Cons
| | |
| --- | --- |
| Pros | Cons |
| Rewriting a complex sentence | No native app for Mac users |
| Review your work quickly and accurately to fix any mistakes | |
| Ginger Translator for 65 languages | |
| Easy text export to any app or social media | |
7. Quillbot
Quillbot is an AI-powered writing assistant tool. It offers valuable suggestions to improve the organization and readability of writing.
For simpler reading and comprehension, it may paraphrase, summarize, and restate the content.
Quillbot functions with any of the widely used Mac web browsers, including Safari, Chrome, Firefox, and Opera, as it is web-based. Mac users can download Quillbot's Google Chrome plugin for even more convenience.
For any student who struggles to create formatted citations, the Quillbot citation generator is there to help.
Key Features Of QuillBot
QuillBot summarizes your content and gives you a high-level outline and highlights the most important points.
With the right writing style, you can set the tone of an article, a paragraph, or a sentence.
The Quillbot suite of tools makes it easier for everyone to write by streamlining how Microsoft Word, Google Chrome, and Google Docs are used.
QuillBot's word flipper to find the best word to replace a word you don't like. This will make your writing sound more smooth and more professional.
It is great for people who have never used technology before because it is easy to use and has a clean environment.
With QuillBot's API, developers can add AI features to their own apps and websites.
Also read: Quillbot vs Grammarly
QuillBot Pros & Cons
| | |
| --- | --- |
| Pros | Cons |
| Affordable to use | Only works on the internet |
| Easy to use | |
| Excels at paraphrasing and summarizing | |
| Academic plagiarism detector | |
| Excellent writing and editing tools for one membership | |
8. Antidote
Antidote is an excellent grammar-checking tool designed to meet the demands of corporations, scholars, and academic organizations.
Its unique selling proposition surpasses that of other grammar verification tools.
Antidote is an offline application that doesn't require users to upload their documents to a cloud or use an online platform through copy-pasting.
Instead, users can install Antidote on their Macbook or iMac, and employ it sans an internet connection. This particular feature is highly advantageous for travelers, who can make necessary alterations to their work while offline.
Besides, the mobile application seamlessly synchronizes with the computer when connected to the internet.
Therefore, any changes made on the go are harmoniously integrated into the desktop version.
Antidote Key Features
The whole text field can be changed quickly and easily
Batch fixing of identical mistakes
One-click correction of all typographical errors
Clear, graded explanations
Context-based access to dictionaries
Antidote Pros & Cons
| | |
| --- | --- |
| Pros | Cons |
| It works offline | Not 100% accurate |
| It's for students and teachers both. | |
| You can check work in English and French languages | |
9. 1Checker
1Checker is a widely used, free grammar checker app for Mac OS that can instantly identify and correct spelling, grammar, and other writing errors, and suggest improvements to enhance your writing skills.
Although it was developed by the reputable Cambridge University, Grammarly's retro design is cluttered and doesn't have the same minimalist appeal as Grammarly and Ginger.
While the writing interface is effective and errors are highlighted with red underlines, the tool struggles with fixing punctuation errors as well as it does with spelling errors.
Powered by AI and NLP, 1Checker offers style evaluations, vocabulary upgrades, translation, dictionaries, and other services to improve your writing.
The tool also provides professional explanations for each fix, helping you learn and avoid similar errors in the future.
As a writing enrichment tool, 1Checker is constantly upgrading with advanced features.
1Checker Key Features
Plug-ins for Word and Outlook integrations
Desktop apps for Windows and Mac
Vocabulary improvement and style checker tools
Thesaurus and dictionary for more word choices
1Checker Pros & Cons
| | |
| --- | --- |
| Pros | Cons |
| Works online and on Windows/Mac | Poor customer service |
| Features Microsoft and Outlook plugins | |
| Provides templates for perfect document formatting | |
| Free to use | |
10. WordTune
The Wordtune amazing writing assistant software simplifies the editing process by serving as a grammar checker.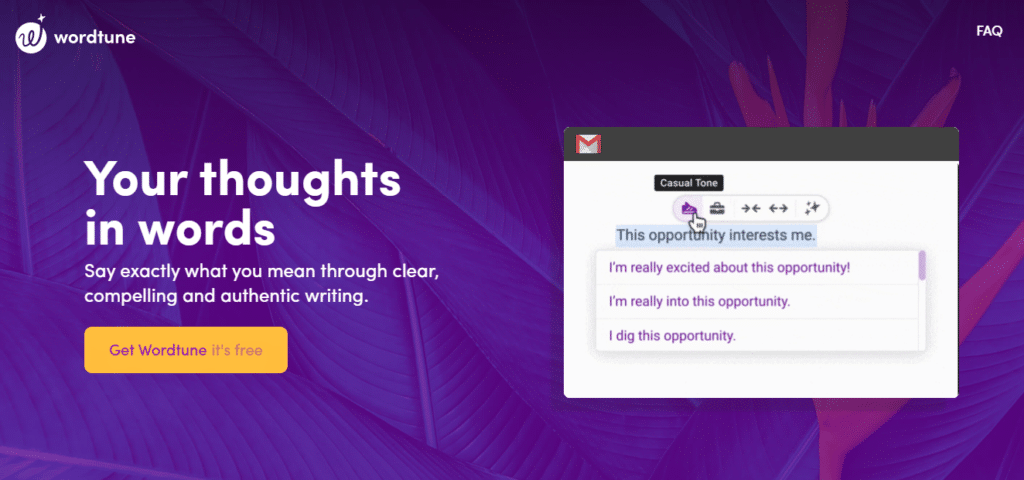 It provides recommendations to enhance the clarity and relevance of your writing for your intended readership.
Depending on the subject matter, it can suggest a more informal tone for an article about video games or a more formal approach for an article about legal services aimed at business owners.
Additionally, with the extension, you can make modifications within Microsoft Word or Gmail without the need to transfer the text to the app.
WordTune Key Features
Sentence Rephraser
Sentence formatting
Grammar Check
Engagement MetricsProvides real-time engagement metrics of the content
Plagiarism check detects if the content is duplicated without attribution of originality
WordTune Pros & Cons
| | |
| --- | --- |
| Pros | Cons |
| It integrates with Microsoft and Gmail | Limited features available on free version |
| Checks your content in multiple languages | |
| Help tailor your writing to your audience | |
| Good for helping with writer's block | |
11. PaperRater
PaperRater is a great AI grammar checker and proofreading software tool and has been around since 2009.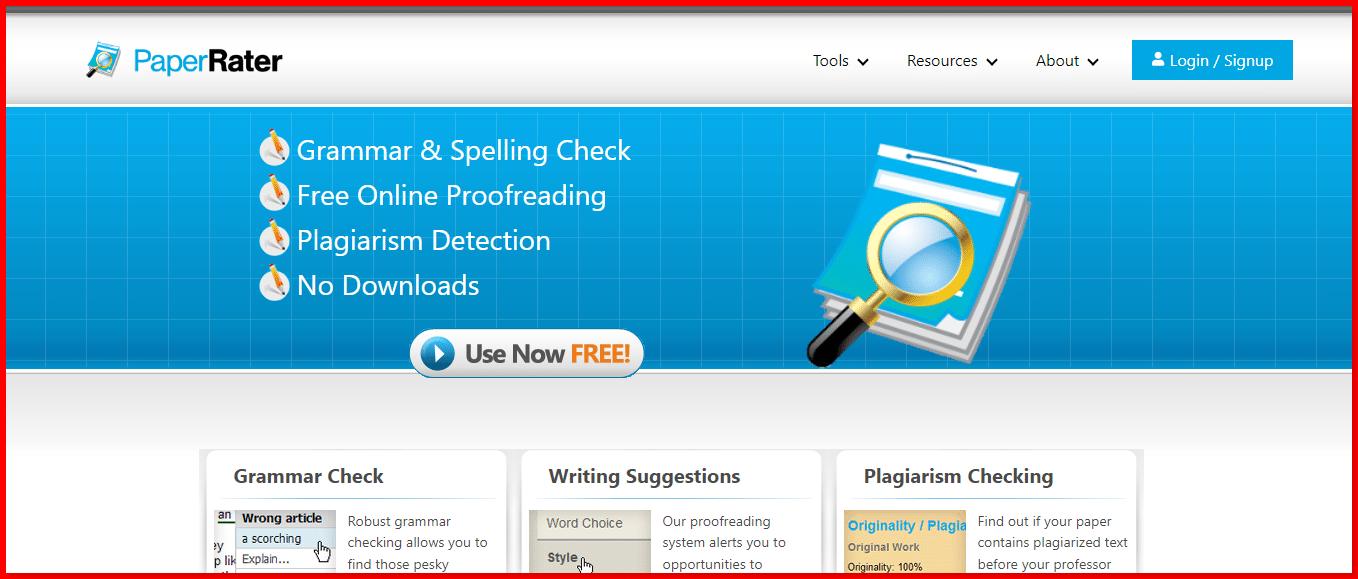 The software is mainly used for finding mistakes in writing, which helps students get better grades.
PaperRater is affordable and cheaper than similar services like ProWritingAid and Grammarly, which makes it especially appealing to students.
Also, it can be used to check plagiarism which helps students find duplicate content, which could lead to serious consequences like disciplinary hearings.
PaperRater Key Features
State-of-the-art grammar checking
Writing and feedback instruction
Plagiarism detection
Automated essay scoring
PaperRater Pros & Cons
| | |
| --- | --- |
| Pros | Cons |
| Checks for passive voice | Suitable for students only |
| Excellent tool for checking spelling, grammar, and punctuation | |
| Affordable pricing options | |
| Free version available | |
Conclusion
Grammar checker tools for Mac discussed above have their respective pros and cons. The most exceptional proofreading app must have a comprehensive range of instruments at your disposal.
Grammarly is an all-in-one software tool that fixes spelling, writing, and vocabulary mistakes.
Besides identifying duplicated material, the tool offers browser extensions, and it is conveniently accessible anytime and anywhere you write.
It functions with Google Docs, Android, and iOS devices, and there is even a PC version for Mac users who need it.
I assume Grammarly to be the best choice for a professional spelling and grammar checker on Macs because it provides a plethora of features, specifically designed for Mac OS.
is accessible for free at any Apple app store in its basic version. For more advanced features, there is an option to pay for the pro version.
Frequently Asked Questions
What is the best grammar and spelling checker on Mac?
Grammarly is our top choice because it works well with the Mac operating system, is very accurate, and is easy to use. Also, the advanced reports that ProWritingAid offers to make it a good choice for us. WhiteSmoke is a great choice for writing and editing if you want to use a grammar tool that works offline on Mac OS.
How do you check grammar on a Mac?
1. Choose Edit > Spelling and Grammar > Check Spelling to make sure Check Document Now.
2. Choose Edit > Spelling and Grammar > Check Grammar. Check Grammar With Spelling (it's on if there's a tick.
3. Ignore misspellings: Control-click a word, and then choose "Ignore Spelling."
Is Grammarly available for Mac?
You can use the free edition of Grammarly for Mac for as long as you like without having to pay anything extra. Check out Grammarly Premium if you want more in-depth writing suggestions as well as features that you can customize.
Is there any software to check grammar?
Ginger can easily find mistakes and tell you what to do about them. Try rephrasing the lines you've written and looking for synonyms to make them stand out even more.
Is Grammarly free for Apple users?
Grammarly Keyboard is free to use, and you can use it to check your basic language and spelling. But you have to pay for a Premium subscription to use extra tools like the synonym finder and tone detection. Grammarly Keyboard can be used anywhere you use a regular keyboard because it is just an add-on to your iPhone's keyboard.