If you want to improve the quality of your emails and avoid embarrassing typos and grammar errors, then Grammarly can be a writing assistant tool for you.
It can be accessed as a browser extension or Outlook add-in and is compatible with PCs, Macs, and Chromebooks.
Grammarly not only helps fix mistakes but also improves the clarity, engagement, and effectiveness of your writing.
Whether you're a professional writer, scholar, student, or someone in the workforce, this tool is invaluable.
Additionally, it allows you to easily identify and correct spelling errors within your Outlook email composition area without leaving it.
If you're keen on delving deeper into its functionalities and features, I encourage you to peruse our comprehensive Grammarly review article.
How To Install Grammarly In Outlook?
Here are the step-by-step instructions to install Grammarly in Outlook:
Step 1. Browse the official Grammarly website on your preferred browser and download the extension on your personal computer.
Step 2. Launch the program you downloaded by navigating to the Downloads folder on your personal computer.
Step 3. Choose the option to begin.
Step 4. To install Grammarly for Outlook, make sure the box next to it is checked, then click the Install button.
How To Use Grammarly In Outlook?
After installing Grammarly in Outlook, it is important to keep an eye on the Grammarly pane located on the right side of the Outlook window while composing email messages.
To access Grammarly, simply click on "Open Grammarly" under the Home tab at the top of the window. If you wish to close the Grammarly widget, you can do so by clicking on "Close Grammarly" from the stripe.
Additionally, Grammarly is available as a ribbon tab in Outlook. You can find the Ribbon Options for Grammarly here. However, most of the advanced features require a Grammarly Premium subscription, which costs $111.66 per month.
As you work, you will have a comprehensive view of the Grammarly window, displaying the entire base of Grammarly.
Grammarly provides two types of recommendations: "basics," which is included in the free version of Grammarly, and "premium" which is available with a Grammarly subscription.
If you want to determine which version is best for you, you can refer to a detailed comparison between Grammarly's free and premium offerings.
The most crucial aspects addressed by Grammarly are grammar, punctuation, and style.
By upgrading to the Premium subscription, you gain access to additional insights on readability, writing style, and language. To learn more about editing effectively, you can click on "Premium subjects."
Within the Grammarly window, you will find suggested edits displayed as annotations. These annotations indicate the specific errors in your email, allowing you to view them alongside your original text.
To review a suggestion, simply click on the corresponding issue within the email. Alternatively, you can expand the Grammarly pane by clicking on the Grammarly widget to access extra information and options.
Click on the proposal to initiate the change (highlighted green)
To reject your idea, click the garbage icon on the right. You can keep the original text
If it is a spelling recommendation, you may add the term to a custom Grammarly dictionary by clicking the Insert Dictionary icon to the right. This eliminates the need to be concerned about the idea in the future
How Do You Use The Grammarly Extension In Outlook?
Grammarly can be integrated into Microsoft Outlook once all of the processes have been performed. Open a new message window and enter your message.
Create an email priority to attract all the words that are running through your thoughts, and then use Grammarly for spelling and tip suggestions.
You can open the Grammarly tab by clicking the button. Grammarly's sidebar will display in the upper right area of the Outlook screen.
Select All Difficulties. Grammarly suggestions (outcomes) will be displayed directly in the sidebar.
After you've evaluated the content, select All Problems. The majority of issues may be resolved quickly and for free. Superior topics necessitate a Grammarly fee.
Fundamental difficulties may reveal faults that can be rectified. There are two options:
Refuse the offer
You can either add to Dictionary (technically a couple of terms, but Grammarly doesn't have that function) or hit Increase Dictionary to insert Grammarly keywords
Tone Detector
The Grammarly tab will open with the Tone Detector button. Next, the dialogue box will appear that displays the heap's range.
Style Guide
Business Users can access this design manual through Microsoft Outlook. It directs the user's actions by utilizing all of the writing styles and more.
(Style Manual is a premium Grammarly service that costs roughly $12.50 per month per subscriber.)
Grammarly For Webmail Outlook
Outlook.com provides online email assistance. Grammarly Chrome extension is available for Outlook. It covers all sites, including Webmail Outlook.
Here's A Step-By-Step Tutorial
Step 1. Download the Grammarly Chrome extension to obtain Grammarly for Outlook.
Step 2. Click on " To add to Chrome."
Step 3. In the right-hand upper corner, you can see the Grammarly Chrome plugin for your system. You can disable the four main options that operate in this manner and select English instead (British American, Australian, Australian, Canadian).
Step 4. Grammarly keeps track of your emails about the New page and guides you through the BaseBase. Grammarly emojis for Outlook
Step 5. After you've finished your email, click the Grammarly icon on the display base. As demonstrated in the program variation, this will launch the in-depth research report.
Step 6. You begin at the top and obtain a text score that indicates your writing standard (the highest score is 100).
Step 7. After that, correct one spelling or punctuation error.
Step 8. You can either expand the Dictionary or remove the suggestion.
Step 9. Last but not least, emoji is an abbreviation for Tone Detector. You can put it to the test by clicking on it.
Step 10. Grammarly Premium plans start at $12 per month and go deeper. They also add professional accents.
Step 11. Once you've resolved all of the concerns, your email will be ready for lunch. The full bundle is also available with the free version.
Click here to download Grammarly add-ins for Word and Outlook.
Step By Step Guide To Install Grammarly In Outlook
Step 1. Launch Google Chrome and navigate to the Grammarly website to download the add-in: https://www.grammarly.com/office-addin, then click 'Get It for Windows It's Free.
Step 2. Hover over the filename to open it after downloading it at the bottom.
Step 3. After the file has been opened, click -> Run.
Step 4. Once the installer has been launched, click -> to 'Get Started.'
Step 5. Select the Microsoft application you want Grammarly to install.

Click -> Check Box (Microsoft Word).
Click -> Check Box (Microsoft Outlook).

Once you're happy with your choices, click -> and wait for it to finish. You will be notified by email of the progress bar and when it is close to completion while it is being installed.
After Grammarly has finished installing, the installer will prompt you to restart any active Word or Outlook apps.
Click OK -> FINISH
Next, save all work and close Word and Outlook.
Launch Microsoft Word. Click the Home button. Locate Grammarly and choose -> Open Grammarly.
Start Microsoft Outlook. Click the Home button. Locate Grammarly and select Reply With Grammarly.
To use Grammarly, you must first create an account. This can be done using the add-in or their website. https://www.grammarly.com/signup
How To Add Grammarly To Outlook Web?
Microsoft Outlook's web version offers a wide range of features, including the capacity to connect to OneNote, To-Do, Skype, and the rest of Microsoft 365.
To assure your emails are free from typos, spelling errors, and grammar mistakes, use the Grammarly add-on for Outlook on the Web while composing them.
The Grammarly browser add-on is compatible with all popular operating systems and browsers.
By using the Grammarly browser extension, you can conveniently check the spelling and grammar on nearly any website, including Outlook.
Open the browser you like to use on your computer. As an example, we'll use Google Chrome
Broser the Chrome Web Store
Look for Grammarly and click on the info menu for the extension
Click the button that says "Add to Chrome"
From the extension bar at the top, you can see how Grammarly works. Open it
Use the information for your Grammarly account to sign in
Go to the web version of Outlook and click "New message" in the top right corner

In case, if you want to get rid of Grammarly from Outlook, then here is a complete guide on how to remove Grammarly from Outlook.
Grammarly pricing
Grammarly is a website that helps with grammar, spelling, and punctuation. It has a free version that has some simple features.
Users can get more tools, like a plagiarism checker and tips for improving sentence structure and style if they pay for a Grammarly subscription plan. The monthly rental service starts at $12 per month.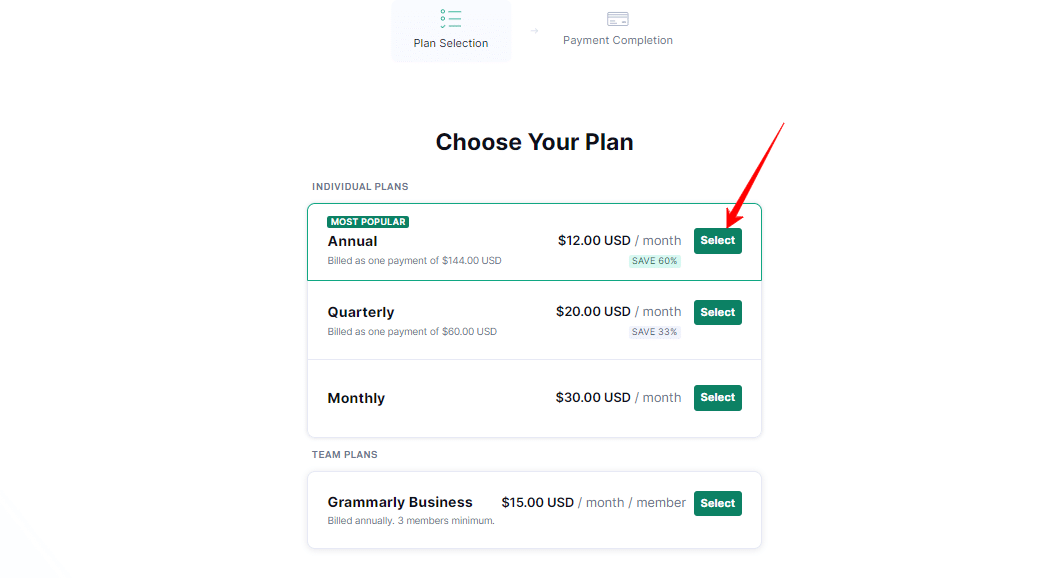 Grammarly's free version is a great tool for anyone who wants to improve their writing or check their papers, emails, and other written work for grammar and spelling mistakes.
Users with more complicated wants may choose to switch to a premium plan to get access to more features.
If you're thinking about paying for Grammarly, the comparison chart is a great place to start.
By putting the features of the free and paid forms of the tool side by side, this chart makes it easy for users to decide which plan is best for them.
Some of the things that are highlighted in the chart are a plagiarism checker, an in-depth grammar checker, and tips for making your workflow better.
Conclusion
In conclusion, installing Grammarly in Outlook is a seamless process that enhances your writing skills and ensures error-free communication.
By following a few simple steps, you can integrate Grammarly into your Outlook email client effortlessly.
This powerful combination empowers you to write with confidence, catching spelling mistakes, grammar errors, and even suggesting better word choices.
With Grammarly's robust grammar-checking capabilities at your fingertips, while composing emails, you can enhance the clarity and professionalism of your messages.
The integration streamlines your workflow, saving you time and effort in proofreading. So, take the leap, install Grammarly in Outlook, and elevate the quality of your written communication instantly.
Frequently Asked Questions
Where is my Grammarly in Outlook?
Examine the setup Open an email and compose it after you've added Grammarly to Outlook. At the top of the page, you should notice a Grammarly button. To utilize Grammarly for your emails, first, log in to your Grammarly account, then click the button.
How do I enable Grammarly in Microsoft Office?
In Word, open any text document, locate the Grammarly tab in the toolbar, and select Open Grammarly. If prompted, log in with your Grammarly credentials. On the right, you should see the Grammarly sidebar. Checking should appear first, followed by suggestions.
Why is Grammarly not working in Outlook?
Follow these steps to resolve these problems:
Click File > Options > General in Microsoft Word or Outlook.
Select Optimize for compatibility in the User Interface Options section.
If the problem persists, restart Microsoft Word or Outlook.
Does Grammarly work in Outlook?
Grammarly can help you write error-free letters almost everywhere you write them. This includes most desktop software as well as several online clients (Gmail, AOL, Yahoo) (Apple Mail, MS Outlook). Grammarly for Windows and Mac is compatible with Windows 10 and all macOS platforms beginning with Sierra (10.12).
How do I install Grammarly?
To install the Grammarly browser plugin, open Google Chrome and go to the Chrome Store. To begin the download, click Add to Chrome. Check out this page to learn more about where you may use Grammarly for Chrome. To install the Grammarly browser plugin, open Firefox and go to the Add-ons tab.
Step 1: Go to the Grammarly for Microsoft Word website.
Step 2: Download and install the Grammarly Add-In.
Step 3: Select the Finish option.
Step 4: Launch Grammarly for Microsoft Word.
Step 5: Log in or create an account with Grammarly.
Step 6: Paste the text from your PowerPoint presentation into Microsoft Word.
How do I install Grammarly on my laptop?
The Grammarly desktop client for Windows 10 can be downloaded and installed as follows: Go to the Grammarly official website and download Grammarly for Windows. Run the installer and follow the on-screen instructions until the process is completed. Log in with your credentials and start Grammarly by clicking the desktop shortcut.
Related Read: