Grammarly is widely recognized and extensively employed software that serves the purpose of scrutinizing grammar, spelling, and instances of plagiarism.
When employing Grammarly, your writing becomes impeccable, free from errors, and more comprehensible.
This tool assists you in evading common oversights such as neglecting hyphens, commas, or capitalization.
Moreover, Grammarly boasts an AI-driven writing assistant that ensures error-free composition, guiding you in crafting concise and fitting expressions.
Here We have discovered the Top 12 Best Grammarly Alternatives.
A Quick Grammarly Overview
Grammarly is a powerful writing tool that has gained immense popularity among individuals and professionals striving for impeccable written communication.
With its advanced technology and user-friendly interface, Grammarly helps users enhance their writing skills by detecting and correcting grammar, spelling, punctuation, and style errors.
One of the key features of Grammarly is its contextual spell checker, which not only identifies misspelled words but also suggests appropriate replacements based on the sentence's context.
It also offers grammar suggestions, ensuring that users can compose error-free sentences with ease.
Grammarly's intelligent algorithms analyze sentence structure, word usage, and readability, providing users with valuable insights and suggestions for improvement.
The platform's real-time feedback feature is particularly beneficial as it helps users rectify mistakes on the go, allowing for a smooth and seamless writing experience.
Additionally, Grammarly provides users with explanations and examples to help them understand the reasoning behind the suggested corrections, empowering them to become better writers.
Grammarly supports various platforms, including web browsers, Microsoft Office applications, and mobile devices, ensuring that users can access its services conveniently across multiple devices.
It offers a free version with basic writing assistance, while the premium version unlocks advanced features such as genre-specific writing style checks, plagiarism detection, and vocabulary enhancement suggestions.
Key features of Grammarly
A plagiarism checker is able to identify duplicate content, which assists in avoiding a penalty from Google.
Detects issues with tone and style in addition to grammar
Makes suggestions that, with the click of a button, can assist in correcting errors.
The analytics dashboard monitors the amount of writing done by teams to assist with writing and workflow improvements.
Limitations of Grammarly
Not 100% accurate (though no tool is, and even editors disagree among themselves). Sometimes, it will make a mistake and ask you to correct errors that do not actually exist.
fails to function properly when articles are too long.
The costs associated with the paid choices are relatively high.
Grammarly Apps
The Grammarly Chrome extension provides users with the ability to utilize Grammarly's suggestions and corrections in various web-based writing environments, including Gmail, WordPress, and more.
Additionally, Grammarly offers a desktop program specifically designed for Microsoft Windows. Users can simply upload a file into Grammarly's interface to have it checked for errors and receive suggestions for improvement.
For users of Microsoft Office, Grammarly provides a dedicated app that can be used within Word for creating documents or while composing emails in Outlook.
On the go, Grammarly offers Android and iOS apps, allowing users to proofread their texts and other written content conveniently.
Furthermore, Grammarly provides a web-based editor for individuals who prefer not to download any additional software. This option allows users to access Grammarly's features directly through their web browser.
It's important to note that Grammarly supports the English language.
Grammarly Pricing
Grammarly Offers Three Plans: Free, Premium, and Business.
1. Grammarly Free Plan
Includes grammar and spelling checker
Some suggestions to improve clarity
2. Grammarly Premium Plan
Plagiarism checker
Grammar and spelling checker
Suggestions focused on tone, word choice, and formality level
Sentence rewrites for clarity
3. Grammarly Business Plan (for teams of three or more)
Pricing depends on the number of users. Starts at $12.50/month/user
Add your brand style guide
Includes everything in the Premium plan
Team analytics dashboard
Account roles and permissions
If you wish to know in-depth about Grammarly pricing, here is my Grammarly pricing article.
Why Choose The Best Grammarly Alternative?
Grammarly offers dozens of beneficial features that have the potential to enhance your writing skills significantly.
Whether or not it is the ideal choice for you, however, hinges on your specific needs and financial circumstances.
It might be worth considering alternative options to Grammarly for the following reasons:
1. Grammarly Doesn't Rewrite (All) Your Sentences
Grammarly offers many helpful ideas, including some rewrite suggestions for wordy or ambiguous texts (in the premium version). Grammarly isn't for rewriting, though.
2. Other Options Are Less Expensive
You may only need Grammarly's free edition. However, its premium plans are expensive. Find the best deal on the features you want.
3. Grammarly Is Focused on English Only
Grammarly cannot help you write or translate content in a language other than English. It supports multiple English dialects.
4. Every Tool Has Different Integrations
Grammarly integrates with many web and desktop programs, but your business may benefit more from alternative technologies.
Try a few Grammarly alternatives on this list to discover what works
What Is The Best Alternative For Grammarly For Free?
Grammarly's top alternatives and reasons to choose them are shown below. Each tool's merits and USPs were detailed (both free and paid).
1. Grammarly vs ProWritingAid
Grammarly's top competitor is ProWritingAid. ProWritingAid's free version offers style advice as well as grammar and spelling checks. You need Premium for the complete list.
Unlike Grammarly, ProWritingAid provides you with a number of insightful reports, such as an alliteration analysis and a dialogue tag check. These are only performed on the first 500 words of your work in the free version.
It integrates with a few programs that Grammarly doesn't, like Scrivener, and provides browser extensions for Firefox, Safari, and Edge.
Key Features Of ProWritingAid
Grammar checker
Style checker
Plagiarism checker
Synonym suggestions
Integrations with Microsoft Office, Google Docs, Scrivener, and more
Chrome, Firefox, Safari, and Edge extensions
Extensive writing reports
ProWritingAid Pricing & Plans
2. Grammarly Vs Wordtune
Wordtune serves as an AI-powered writing companion, assisting you in enhancing the effectiveness of your communication by refining clarity, persuasiveness, and authenticity in your work.
Regardless of whether you are composing an email to a friend, preparing a report for a client, or engaging in online conversations with colleagues, Wordtune is capable of aiding you in conveying your thoughts more clearly and effectively.
Key Features Of Wordtune
Rewrite- Discover new channels via which you can express yourself. If you need to rephrase your text, Rewrite will provide many options for you.
Tone & Length- You have complete control over the mood and length of the rewriting ideas you offer. Do you wish to adopt a less formal manner? Shorter? It's all good! You can improve the effectiveness of your phrases by rewriting them.
Translate and Rewrite simultaneously- When you pick Rewrite, English rephrasing options will appear. The function will please non-native English speakers.
Wordtune Works Where You Do- Compatible with all operating systems! Gmail, Google Docs, Outlook (web), Facebook, WhatsApp (web), and more are all on the list. Wordtune Editor is accessible from any browser without the need for an extension.
Wordtune Pricing & Plans
Wordtune offers a free plan along with two different paid plans:
3. Grammarly Vs Sapling
Sapling is a technology that integrates with customer relationship management systems (CRMs) and messaging platforms to provide assistance to sales and support staff in the creation of customized responses.
Sapling helps you answer consumers faster by correcting grammar and style. You can quickly insert team-used text. Managers can check the team's writing scores and error reports to ensure professional contact with clients.
Sapling integrates with Zendesk, Helpshift, Freshdesk, Salesforce, Hubspot, and Mailchimp, among others. Sapling's free edition offers basic writing ideas, while the Pro and Enterprise versions have most of their unique capabilities.
Key Features Of Sapling
Focus on customer support teams
Browser extensions for Chrome, Edge, and Firefox
Integrates with many CRMs and helpdesk tools
AI learns past patterns
Sapling Pricing & Plans
4. Grammarly vs Ginger
Ginger Software's writing tool has many of Grammarly's features, as well as rephrasing.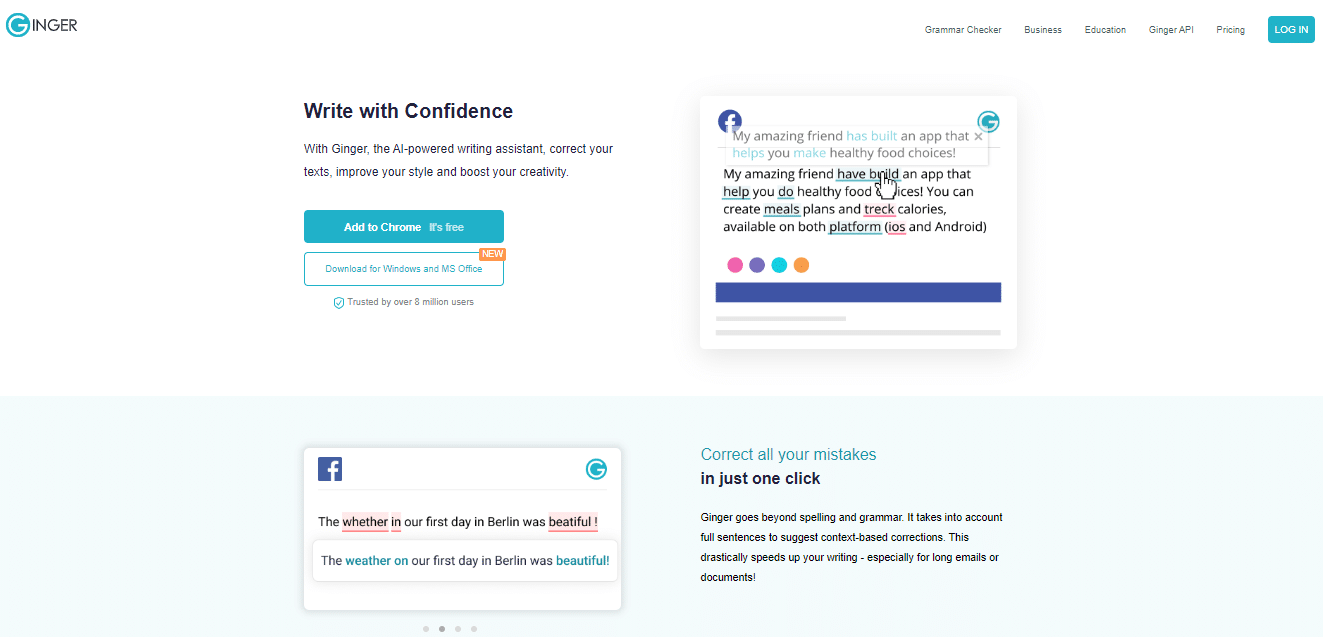 Free browser extension has a 600-character limit. It just checks grammar. However, it offers rewrite suggestions and synonyms.
The Premium plan offers more style suggestions and a 40+ language translator.
Key Features
Grammar checker
Suggested rephrasing
Dictionary lookup
Translation tools
Online Editor
Chrome extension
Desktop and mobile apps
Pricing
5. Grammarly Vs WhiteSmoke
WhiteSmoke is an advanced English writing tool that enhances the user experience and knowledge.
It uses Natural Language Processing, AI, and a range of algorithms to examine texts, identify errors, and offer suggestions.
Key Features Of WhiteSmoke
Grammar checker
Style checker
Plagiarism checker
Chrome, Safari, Opera, and Firefox browser extension
Desktop and mobile apps
Email and document templates
Translation tools
WhiteSmoke Pricing & Plans
WhiteSmoke doesn't offer any Free plan or a free trial.
Its paid plans include:
6. Grammarly Vs PaperRater
PaperRater is an online grammar and spelling checker made especially for students to use to look over their papers.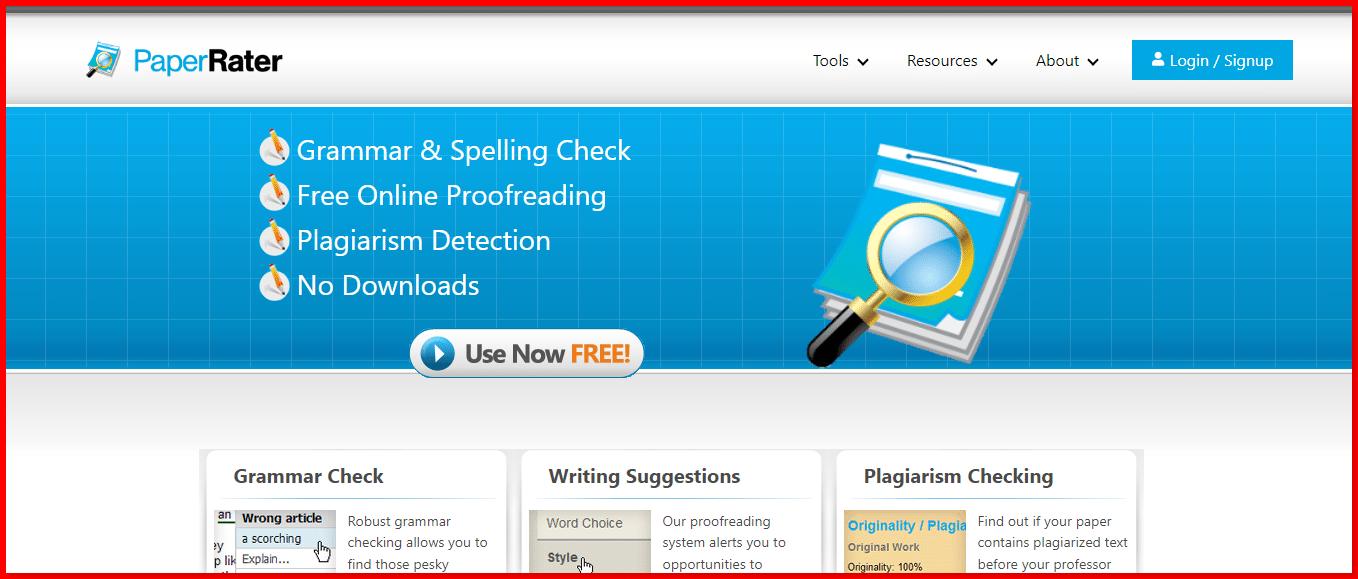 Its grammatical checking helps detect hidden faults, and its proofreading system improves writing. The app gives rapid results utilizing AI and Data Science in 5-15 seconds.
Key Features Of PaperRater
Grammar check
Plagiarism check
Essay scoring
File upload (MS Word, .txt, .rtf)
Online Editor
PaperRater Pricing & Plans
7. Grammarly Vs Reverso
Reverso is an online writing assistant platform for translation and grammar checking in 14 diverse languages, such as French, Spanish, German, Italian, and Russian, among others.
With its user-friendly interface, users can effortlessly translate words, phrases, idioms, and short passages of text from one language to another.
Powered by cutting-edge technology, Reverso ensures precise and reliable translations, making it a valuable resource for language learners seeking to expand their vocabulary.
Key Features Of Reverso
Multilingual translation
Spell checker and grammar checker in English and French
Dictionary lookup.
Rephrasing suggestions
Reverso Pricing & Plans
8. Grammarly Vs SentenceCheckup
SentenceCheckup is an invaluable tool available online that provides a comprehensive grammar and spelling check free of charge.
It delves deep into your documents, meticulously scanning for any errors and diligently assisting you in enhancing your writing abilities.
This exceptional software goes beyond merely identifying grammatical blunders; it also meticulously evaluates the sentence structure employed in your writing.
Doing so, effectively enhances the clarity and conciseness of your compositions, ensuring that your thoughts are conveyed with utmost precision.
Key Features Of SentenceCheckup
Free web tool
Highlights errors
American and British English dialects supported
SentenceCheckup Pricing & Plans
9. Grammarly Vs Hemingway App
The Hemingway App lightens your writing by highlighting wordy sentences in yellow and bad ones in red.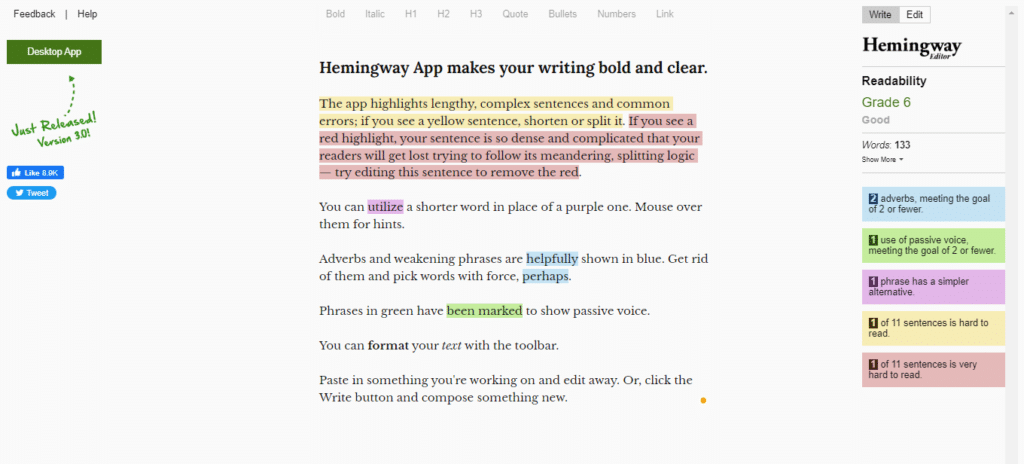 It helps you write clearly by underlining adverbs, passive voice, and complex sentences.
You can directly start writing in Hemingway editor for proofreading your writing and see where you need to focus more.
Key Features Of HemingwayApp
Readability score
Highlights lengthy and complex sentences, adverbs, and passive voice
Integrations with Medium and WordPress
Online Editor
Windows and macOS desktop apps
Export to Word or PDF
Hemingway app Pricing & Plans
10. Grammarly Vs Slick Write
Slick Write makes it easy to check your writing for flaws, whether you're a Blogger, Novel writer, SEO professional, Agency, Teacher, or Student.
It helps you check grammatical errors quickly, and it's free. No download or installation is needed.
Key Features Of Slick Write
Grammar checker
Style checker
Customized feedback
Reports and analysis
Chrome and Firefox extensions
Online Editor
Slick Write Pricing & Plans
11. Grammarly Vs LanguageTool
LanguageTool checks for grammatical, style, and spelling mistakes. It tests writing in more than 20 languages.
The tool can discover faults in English, French, German, and other languages. Its Premium plan is for students, authors, and freelancers, and Enterprise is for agencies and companies.
Key Features Of LangauageTool
Multilingual grammar and style checker
Multiple English dialects
Chrome, Safari, Edge, Opera, and Firefox extensions
Online Editor
Desktop app for Windows and macOS
Plugins for MS Word, Google Docs, OpenOffice, and LibreOffice
Email add-ons for Gmail and Thunderbird
LanguageTool Pricing & Plans
12. Grammarly Vs Readable
Readable uses methods like Flesch-Kincaid and Gunning-Fog to measure readability. Readable also checks for passive voice, cliches, and adverbs. Also checks keyword density.
Readable doesn't have a free version, but a seven-day free trial of the Content Pro plan is available.
Key Features Of Readable
Grammar checker
Style checker
Readability test
Keyword density tool
Can be used on the web, with documents, or with emails
URL Analysis
Integrations with Dropbox and Slack
Supports multiple English dialects
Readable Pricing & Plans
Conclusion On Best Grammarly Alternatives
Everybody needs a Grammar checker, Proofreader, or Plagiarism checker tool to write professional and error-free content. Such tools also help writers to increase their efficiency, save time, and be more productive. These tools also save the money required to hire an editor for proofreading.
Except for WhiteSmoke, all the other tools offer a free plan for grammar checking and correcting. You can use any of the tools for the free plan as every plan is limited. However, tools like Slick Write and SentenceCheckup are completely free with some extra features than the other tool's free plans.
For users who require advanced features, ProWritingAid, WhiteSmoke, and Ginger are the best alternatives to Grammarly.
For those, who want to perform translations and error checking in multiple languages the LanguageTool & Reverso are the best options.
This concludes our article on Best Grammarly Alternatives. We hope this article helps you find what you're looking for. Please share any questions or recommendations regarding this post in the comments below.
Frequently Asked Questions
Is Grammarly better than Quillbot?
If you're searching for a paraphrasing tool, Quillbot is the superior alternative, whereas Grammarly is the best option if you want a more robust grammar-checking AI.
Which is better Grammarly or Ginger?
Again, Grammarly triumphs, albeit this time it's not quite a rout. Ginger lacks support for a Firefox browser extension, but otherwise, the two apps have nearly identical platform compatibility. Most significantly, the Chrome plugin does not work with Google Documents.
Is it worth paying for Grammarly?
In a word, yes! However, Grammarly's price tag could be justified, depending on your requirements. If you're just looking for a means to make your writing more presentable, the free plan should be adequate. But, Grammarly Premium is an absolute must if you're a professional writer or run a business that values clean, consistent writing.
Is Grammarly the best grammar checker?
Grammarly is widely recognized as the most well-known grammar checker, and we firmly believe that it offers the best choice for most individuals.
Do schools recommend Grammarly?
Professors frequently suggest using Grammarly for its style corrections, which is highly popular among university students. Consequently, it becomes an excellent option for secondary school students too.