If you are looking for using Grammarly but, have some doubts about which one is good between the premium and free versions, then go no further.
I have been using Grammarly for a long time, I can assure you, it is the best writing assistant tool, whether you choose its free or paid premium version.
Both premium and the free version are amazing to use but have different features.
Here in this article, I have come up with a comprehensive comparison of Grammarly Free Vs Premium.
To get to know more about it, scroll down,
Let's get started!
What Is Grammarly: Free And Premium
Many writers consider Grammarly to be their ultimate guide, thanks to its valuable features that assist in finding and fixing typos, improving word choices, and improving the overall readability of text.
Grammarly offers both a free version and a premium paid version that comes with a price tag.
The free version contains basic functionalities such as grammar and spelling checks.
On the other hand, the paid version offers more advanced features, including style and tone suggestions, an expanded vocabulary aid, and recommendations tailored to specific genres of writing.
Moreover, the Grammarly premium version provides a plagiarism checker, allowing users to verify the originality of their work and avoid inadvertently copying from others.
Grammarly seamlessly integrates into various platforms, serving as a browser extension, a PC program, and a mobile application.
Users can leverage its benefits anytime and anywhere they require assistance with their writing, thanks to this flexibility.
Bottom Line: Grammarly Free provides users with a grammar checker, spell checker, and punctuation checker, while Grammarly Premium offers additional features such as a plagiarism checker, AI-powered writing assistant, and other useful tools for writers. As a blogger and content writer, I have personally used both the free and paid versions of Grammarly, and while the free version helps with common grammar and spelling errors, the premium version goes a step further by also correcting typos, misspellings, grammar issues, and identifying instances of plagiarism.
What Are Main Differences: Grammarly Free Vs Premium
There are many notable distinctions between Grammarly's free and paid premium versions.
Although the free version surpasses the accuracy of numerous spelling and grammar checkers, the premium edition offers over 400 additional writing checks that will prove beneficial to authors of all kinds.
However, the latter choice has a hefty price tag attached to it.
Check out the below table:
| Grammarly Key Feature | Grammarly Premium | Grammarly Free |
| --- | --- | --- |
| Basic grammar and spelling checks | Yes | Yes |
| Suggestions for conciseness and clarity | Yes | No |
| Vocabulary enhancement suggestions | Yes | No |
| Examines for specific writing styles by genre | Yes | No |
| Plagiarism checker | Yes | No |
| Advanced checks for language, spelling, and sentence structure | Yes | No |
| Personalized Suggestions and recommendations on writing | Yes | No |
| Microsoft Word and Outlook integration | Yes | No |
| Grammarly mobile app | Yes | No |
| Advance customer support | Yes | No |
Grammarly Free Version Key Feaures
Any errors in the English language's punctuation, grammar, or spelling? Even in this regard, the free edition of Grammarly has got you covered.
To provide further clarification, the following features are all available in the free version:
Basic AI-powered grammar checker
Automatic spell-checker
Punctuation checker
Tone detection report
Grammarly Premium Version Key Features
The premium version has more detailed data and a tool that checks for plagiarism. It also has information on advanced writing.
In more depth, the paid version of Grammarly has everything that the free version has plus:
Plagiarism Checker
Grammarly Premium's Plagiarism Checker is one of its most notable features. Grammarly Premium's intelligent AI performs admirably.
Grammarly Premium will flag any instances of intentional or inadvertent plagiarism in a matter of seconds. You read correctly. Detecting plagiarism now takes only a few seconds.
The robust plagiarism checker of Grammarly Premium will identify plagiarized text and provide direct links to the original works.
Expert Writing Assistant
Grammarly is a personalized writing assistant that improves and enriches your work.
If you need even more assistance, Grammarly Premium has you covered with expert writing assistance from humans.
It is true that real individuals are behind Grammarly Premium's expert writing assistance, eager to assist you in repairing and improving your writing problems.
Style Enhancement
The Grammarly Premium's style improvement feature is a standout function that greatly enhances the readability of your writing and assists you in selecting more suitable vocabulary.
It's worth noting that every writer possesses their own unique writing style, and artificial intelligence has the capability to discern and enhance this individual style by implementing appropriate modifications.
Performance Analysis Report
The Performance Analysis Report in Grammarly Premium is a must-have for anyone who wants to get better at writing.
This report tells you in depth about your writing skills and where you can improve.
The report is made after smart computers look at your writing for typos and other mistakes in grammar, spelling, and punctuation.
This report will help you find trends and mistakes in your writing so you can fix them and become a better writer.
Advanced Genre-Specific Suggestions
The purpose of the genre-specific features in Grammarly Premium is evident from its name.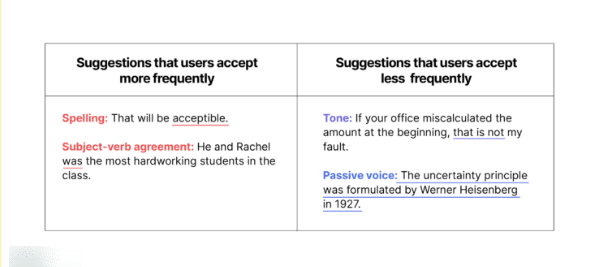 When you've finished writing a formal article, the tool thoroughly reviews it and suggests appropriate vocabulary based on the specific type of writing you're engaged in.
It especially advises using accurate and professional language while avoiding overly informal words.
Moreover, Grammarly Premium integrates smoothly with Google Sheets, allowing for convenient and real-time editing.
Grammarly Free Vs Premium: Best Suitable
Who Is For Grammarly Free?
The free edition of Grammarly is accessible to everyone who is interested in enhancing their writing abilities and avoiding common grammatical errors.
Here is the list below:
People who can't send even one text message without making a mistake are bad at texting
Students who might have trouble writing articles and other written assignments
Authors who care about how their work looks should hire reviewers
Who Is For Grammarly Premium
Grammarly Premium is a valuable tool that offers assistance in various aspects of writing. It caters to individuals who frequently require support in their writing endeavors. It proves beneficial for:
Authors, screenwriters, and marketers rely on proofreaders and editors to refine their work.
Magazine writers and journalists aim to craft captivating stories that engage readers.
Copywriters and content writers aspire to enhance the professionalism of their work.
Newbie writers seek guidance and aid to improve their writing skills.
Note: Grammarly Premium functions as a reliable resource for individuals across diverse writing professions, providing them with genre ideas, a plagiarism checker, and a style analyzer to enhance their writing proficiency.
How To Use Grammarly's Free Version?
Grammarly is an impressive tool that holds the potential to elevate your writing abilities and enable you to communicate with precision.
Although Grammarly provides a premium version encompassing advanced features, the free version remains a valuable resource in itself.
Within this comprehensive manual, we will delve into the realm of extracting maximum benefits from Grammarly's free version, thereby honing your writing skills to new heights.
If you wish to know more about Grammarly, you may read our in-depth article Grammarly review.
Proceed in the following way:
Step 1. Go to Grammarly.com
Step 2. Sign up with your Google or Facebook account or your best email address
Step 3. Get an add-on for the browser you use most
Step 4. Get the desktop app for Windows or Mac
Step 5. You can also use the web app
Step 6. You can add files or copy and paste them into the app
Step 7. If you use the browser plugin, your emails, and online documents will be scanned in real-time
Step 8. Look over the ideas quickly and decide which ones to accept and which ones to turn down
How To Use Grammarly's Premium Version?
When you feel prepared, you have the option to upgrade to Grammarly Premium either through your account settings or by clicking the button provided below.
If you only need it for a single project, you can opt for a monthly plan and cancel it afterward.
However, if you anticipate utilizing Grammarly Premium frequently, signing up for a longer duration might be cost-effective.
The paid version encompasses all the functionalities of the free version and beyond. Notably, the premium edition offers suggestions for alternative words to enhance your writing.
This valuable tool can greatly assist in improving the readability of your work.
You will be required to sign up for a paid subscription in order to access the premium edition of Grammarly. Getting started is easy; just follow these steps:
Step 1. Click "Upgrade to Premium" on the Grammarly page
Step 2. Choose a monthly, quarterly, or yearly subscription plan that works best for you
Step 3. Put in the payment information and finish the process of buying
Step 4. You can add Grammarly to your browser or open the desktop app, whichever you prefer
Step 5. Sign in to your Grammarly account and start using the premium features, such as advanced grammar, spelling, and punctuation checks, tips for improving your vocabulary, and a plagiarism checker
Step 6. To use Grammarly with other programs like Microsoft Word, all you have to do is download and turn on the Grammarly add-in for Word
Step 7. You can also use Grammarly on the go with their app, which works on both iOS and Android devices
Grammarly Free Vs Premium: Pricing & Plans
What sets Grammarly apart is the availability of both a free version and a premium option, each equipped with distinctive features and pricing choices.
Here in this section of the article, I have described Grammarly each y pricing option:
Grammarly Free Pricing: $0
The Free plan is absolutely free. The free plan not only checks for common mistakes but also gives tips for better sentence structure and vocabulary.
Grammarly Premium Plan:
The Premium plan, on the other hand, costs money but gives you access to more features. The price of the Premium plan changes based on how long you sign up for it. There are three versions of the Grammarly Premium Plan:
A monthly subscription costs $30 per month
A quarterly subscription costs $60
An annual subscription costs $144
Grammarly's premium plan is expensive compared to its competitors, So you may read our in-depth article on Why Grammarly is so expensive, In which you will get comprehensive information on why using Grammarly premium is expensive.
What Are The Advantages Of Upgrading To The Grammarly Premium Plan?
The premium tool is a miracle if you want to write professionally, get your work released more quickly, and spend less money on editors.
You can quickly fix other people's work and learn more about grammar at the same time. Always make sure to think carefully about what Grammarly says.
Most of the time, it gets it right, but sometimes it doesn't get the sense or point of a sentence.
Grammarly Premium goes above and beyond what the free version can do because it has more in-depth language and spelling checks. Errors that are more complex, like those with verb tenses, subject-verb order, and so on, are easy to spot.
Grammarly Premium will give you tips on how to improve your writing and your language.
Grammarly Premium has a built-in plagiarism checker that compares your work to billions of online papers and scholarly works to make sure it is completely original.
Grammarly Premium gives you ideas for how to change the style and tone of your writing to better engage your readers.
Integration with popular apps like Microsoft Word, Google Docs, and Outlook makes Grammarly Premium easy to use.
Grammarly Premium will give you feedback and ideas based on how you write and how often you write. This will help you improve your writing over time.
In general, moving to Grammarly Premium can improve the way you write and help you make better work.
Conclusion
In conclusion, picking whether or not the Grammarly premium version is worth it depends on your individual needs and objectives.
If you are seeking advanced features such as word suggestions, plagiarism checks, and tone detection, investing in the premium version may be beneficial.
Moreover, if you engage in frequent writing activities and desire to ensure error-free content, the paid version can serve as a valuable tool.
However, if you only write sporadically or have access to alternative resources that can assist you with language and style, the free version might suffice.
Ultimately, the most effective approach is to test both options and determine which one suits you best.
Frequently Asked Questions
Is Grammarly Premium better than free?
While Grammarly's free version does provide access to some of our tools, Grammarly Premium is the best way to guarantee that all of your online writing is engaging, accurate, and simple to read.
Is the free version of Grammarly worth it?
Whether or not you should pay for Grammarly depends on what you need it for. If all you want is a way to make your writing look better, the free plan should be good enough. On the other hand, Grammarly Premium is a must-have if you want to write professionally or work for a company that cares about polished, well-organized writing.
Is Grammarly cheaper for students?
Is Grammarly's free version enough?
Depending on your specific requirements, the decision to invest in Grammarly may vary in terms of its value. If you're primarily seeking a tool to enhance the quality of your writing, the free plan should be sufficient. However, if you are a professional writer or a company that demands impeccably polished, well-organized, and consistently accurate content, then subscribing to Grammarly Premium is absolutely essential.
Is Grammarly free for 7 days?
Yes, Grammarly currently offers a 7-day free trial for its Business plan. However, it's important to note that this trial is specifically designed for companies and enterprises. If you're interested in availing the free trial for the business plan, please refer to the guide below.
Is Grammarly better than Quillbot?
It completely depends upon your requirements. If you're specifically searching for a paraphrasing tool, Quillbot would be the preferable choice. However, if you require a comprehensive grammar-checking AI, Grammarly would be the better option. ProWritingAid offers an even more advanced level of analysis compared to both Grammarly and Quillbot.