If you run a blog and hire writers, I know your insecurity. Your major insecurity must be "What if my writers are using AI writing tools?"
Well, why not? In February 2023, Google released its major algorithm update tanking millions of sites using AI content.
With the increasing popularity of AI writing tools, it has become crucial to possess a powerful AI content detection tool to ensure the authenticity of your content.
The world is currently witnessing a significant digital transformation, where AI writing tools are being used to create and manage content.
Prominent examples include Jasper AI, Rytr, Content Bot, and many others, all of which possess remarkable AI capabilities for content creation.
However, there is an important caveat: Google has the ability to identify AI-generated content and does not view it favorably.
Consequently, if your content is solely produced by AI, Google will fade it in various scenarios, severely impacting your website's SEO and ranking.
It is better to detect the AI content yourself before Google detects it. That's why I have shared the list of the Best AI Content Detector Tools to save you from further penalties.
How Google Detects AI Content?
Watch this video to find out how Google detects AI content:
How Accurate Are AI Content Detectors?
I have always been skeptical about how accurate AI content detectors are, but my answer has gone unanswered.
I am going to let you know what I have observed from my experience about the accuracy of these AI text detectors.
You would be disappointed to know the fact that these AI Content Detectors are not 100% accurate, rather they provide service to a good extent of accuracy.
I can say that it lies between 70% to 89%.
The reason behind this lack of accuracy in the AI text detector is that AI writing tools like ChatGPT (for example) are extremely good at creating unique content.
These bots can write or generate content just like human beings.
The advancement of AI writing tools is at its peak, but you do not have to worry.
As we are moving forward with technology, more and more AI content detectors are coming with updates. These can give a one-to-one fight against AI writing tools.
Sooner or later, such tools will come which will give 100% accurate results.
List of Best AI Content Detector Tools
Here is the list of top AI content detector tools that you can start using today.
1. Originality.AI
One of the best AI content detector tools is Originality.ai. I have used this detector, and have caught many writers red-handed.
It was surprising for me to know that this detector can detect contents from tools like GPT-NEO, GPT-J, GPT-3, and more including the GPT 3.5.
These tools are advanced and it's hard to detect their content, but Originality.AI does the job very well.
Features:
You can buy this at an affordable cost
Works for Plagiarism checking also.
Supports NLP models.
Supports Multiple Team Members.
Unlimited word count.
You can run the API and Integrations.
| | |
| --- | --- |
| Pros | Cons |
| It will detect all the NLP-generated content. | There is no free trial available. |
| Chrome extension is available. | |
| You will get accurate results from this detector. | |
Pricing:
The pricing plans of Originality.AI is pretty simple. It charges $0.001 for every 100 words. You can pay $20 for a maximum of 2000 credits.
2. Writer.com
Writer.com is not known for its AI content detector tool feature, rather it serves several organizations to provide content.
But it has the AI detector tool as well which helps it to keep the contents unique and plagiarism free.
Features:
Provides catchy content for organizations.
It will detect AI content for you.
You can use the Content Strategy Automation process.
Insights on writing by reporting tools.
You can even use this for creating AI content for yourself.
| | |
| --- | --- |
| Pros | Cons |
| You can use the free trial | The accuracy of the detector is not good enough |
| User-friendly interface | So many tools and features on one platform |
| Three-in-one tool (write, detect, and AI) | |
Pricing:
It has two plans available:
The team Plan Costs $18 per month per user whereas the yearly plan will cost around $162/user/year.
There is an option for an Enterprise plan as well.
3. Content at Scale
There are some kinds of AI content writers like GPT-3, which is extremely hard to catch, but the good news is that Content at Scale can detect all such content.
Another good thing about this platform is that it also helps you create AI-generated written content.
You can use this platform for both AI content generating and detection. It has a built-in detector and natural writing skills.
Features:
Scores your content out of 100 based on human content
Predicts if Google is going to detect it or not
It will provide a breakdown of sentences
Highlights content using different colors
Pricing:
Content At Scale is a bit expensive regarding content detection tools. It charges between $0.01 to $0.018 per word. For each word, you will be charged a credit.
4. Open AI output detector aka Hugging face
The main purpose of Hugging Face was to detect the content from GPT-2. You must have heard of OpenAI.
Yes, they have developed it for the use of professionalism in AI and Machine Learning.
The best thing about this AI content detector tool is that it is free. Even though your content is self-written or AI-generated you can check for its credibility.
Features:
Made for detecting texts from GPT2
The detector is based on Roberta
| | |
| --- | --- |
| Pros | Cons |
| Available for free to use | Cannot detect the content generated from ChatGPT |
| Focused mainly on the detection of the content from GPT NLP | |
| It has a user-friendly interface | |
Pricing:
Hugging Face is free to use.
5. GLTR (Giant Language Model Test Room)
GLTR aka Giant Language Model Test Room is widely known for detecting the texts from GPT2 NLP writing tools.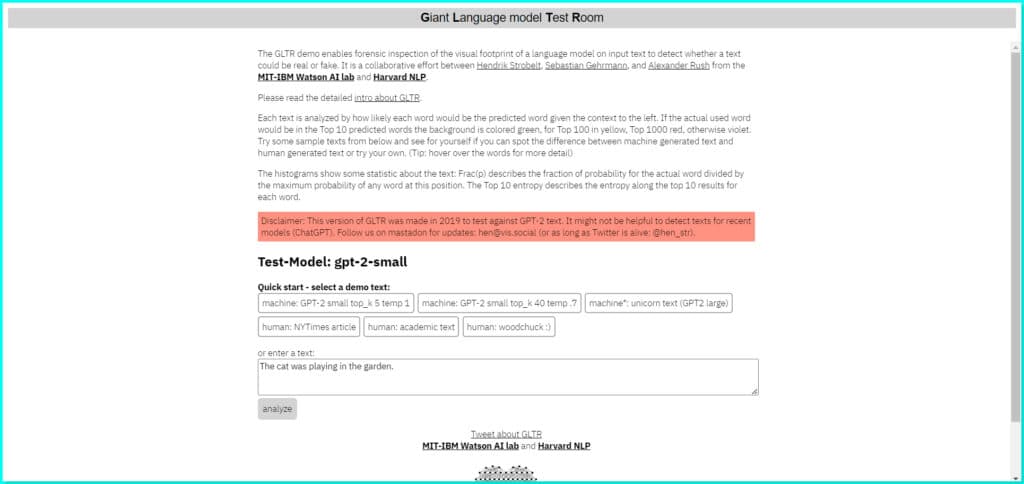 It is an open-source AI content detector tool available to all writers and website owners out there.
Do you want to know who developed GLTR? It is none other than the professional team of developers from Harvard NLP and MIT-IBM Watson AI lab.
This AI text detector has accessibility to the GPT2 and it knows the pattern of its working tools. By catching the pattern, it can detect if the writer has used the GPT2 AI writing model.
Features:
Mainly focuses on the detection of GPT2-created content.
It uses color codes to predict how likely that word will appear in a sentence.
It provides the results with all the visualizations.
| | |
| --- | --- |
| Pros | Cons |
| It has comparatively high accuracy. | Cannot detect the latest AI writing tool, called ChatGPT |
| It can also detect the content from GRE-generated content. | |
| Available for free. | |
| Get AI detection for contents in Scientific Abstract. | |
6. Kazan SEO
Kazan SEO is one of the best AI content detection tools that optimize your content for SEO.
This tool does both AI text detection and SEO optimization. But its features are not just limited to this because it has SERP overlap, keyword cluster, content optimizer, text extractor, etc.
If you are looking for something like an all-in-one pack, then this is it.
Features:
SEO optimization
It can scan multi-URL
GPT3 content can be detected
| | |
| --- | --- |
| Pros | Cons |
| User-friendly interface | Scans 400 words at a time |
| It has comparatively high accuracy | |
| Best for beginners | |
| Available for free | |
Pricing:
Kazan SEO is also free to use.
7. Sapling.AI
Sapling.ai is a remarkable writing assistant and language model that uses the power of artificial intelligence.
Its primary goal is to assist users in enhancing their writing skills by providing valuable suggestions in real-time.
With a keen eye for grammar, spelling, punctuation, and style, Sapling.ai ensures that your writing is error-free and polished.
But that's not all! Sapling.ai goes beyond simple proofreading.
It takes into account the context of your writing and offers autocomplete suggestions that can predict and complete sentences.
This feature not only saves time but also enhances the overall efficiency of the writing process.
In a nutshell, Sapling.ai is a valuable tool for anyone looking to refine their writing skills.
With its AI-powered capabilities and context-aware autocomplete, it's like having a personal writing coach by your side, assisting you in crafting flawless and engaging content.
Sapling.AI Key Features
Free Grammar and Punctuation Check
Sentence Rewriter
AI Detector
Sapling Snippets
Sapling Suggest
Sapling.AI Pros & Cons
| | |
| --- | --- |
| Pros | Cons |
| Built-in one-click responses | Expensive premium plan |
| Efficient built-in spelling and grammar checker | |
| Easy to use | |
| Free version available | |
8. Turnitin. AI
Turnitin is a well-known cloud-based service within the academic community and is widely recognized for its role as a plagiarism checker.
In the age of digital advancements, the field of education has undergone significant changes.
The easy accessibility of online information has brought about concerns regarding academic integrity.
To tackle this issue, a remarkable solution known as Turnitin has emerged.
Powered by artificial intelligence, this detection tool plays a pioneering role in addressing plagiarism challenges and upholding the authenticity of academic work.
Turnitin employs a sophisticated algorithm that compares submitted academic work with an extensive database comprising books, articles, websites, and other student submissions.
Using techniques like natural language processing, the tool analyzes the text and identifies instances of similarity, citation errors, paraphrasing, and other improper sourcing methods.
Through the implementation of AI-driven technologies, Turnitin effectively detects cases of plagiarism, thus enabling educators and institutions to preserve academic integrity.
Turnitin Pros & Cons
| | |
| --- | --- |
| Pros | Cons |
| Usage Across Other Devices | Restriction of only 5,000-character limit |
| Multilingual | |
| Plagiarism detector | |
| Affordable pricing option | |
How Do AI Detection Tools Work?
Do you know how Google search works? Like how Google finds thousands of results in milliseconds for you?
This is very subtle. Google runs through all the content on websites and searches for the keyword and phrases that you have used or something similar to that.
In the same way, an AI content detector looks for phrases, words, and sentences for the process of detection.
These tools can give scores as well on how human-written the content appears to be.
If the detectors are not able to detect the AI-written content, then there is a possibility that Google also is not being able to detect it.
These tools will rate your content on how Google will analyze it.
These detectors are usually based on the same model as AI writing tools, which is the NLP model.
The AI detector gets training for the patterns used by the writing tools, and based on the patterns, they detect if it is AI-generated.
Can Google Detect AI-Generated Content?
I have already shed some light on Google's point of view on AI-generated content, but let me talk some more about it. Google does not like websites and blogs using AI-generated content.
They take strict actions against the websites that do so.
The reason why Google does not entertain AI-generated content is that it is not readable, and lacks credibility, creativity, engagement, and relatability.
This makes the content very poor and low in quality, which Google does not like at all, and hence flags the website or blog.
On the other hand, human-written content has an emotional touch, relatability, engagement, and a sense of attachment to the content which automatically increases the credibility and quality of the human-written content.
If you search for a topic, there are high chances of spun content or AI-generated content getting a lot of traffic.
So, I cannot say that Google is very good at detecting AI-generated content but I would say that Google is working on it every day.
I have seen many websites getting banned for the same reason.
For some quick help, here's a quick tip on how to avoid getting caught by Google when using AI tools:
Final Thoughts On AI Content Detector Tools
If you are looking for something free then you can go with Hugging Face, but for better performance, I would suggest Originality.AI.
It is crucial to run the contents given by writers through these detectors so that you can save yourself from punishments by Google.
Let me tell you that Google is not bad at its job, and sooner or later, the experts are going to detect AI-generated content on your website.
I hope you found what you were looking for, if you still have any questions then do let me know in the comment section.
Frequently Asked Questions
Are AI tools free?
You can get free AI writing and detector tools. I have used the Hugging face for most of my detection process. It is also suggested to use the Deep Nostalgia AI tool in the year 2023 for picture editing features.
Is it important to use an AI content detector?
Google has mentioned this so many times that they believe content created by AI is of low quality and therefore, it is against Google's webmaster guidelines. According to Google, content produced by AI is spam. It is extremely crucial to check your content before you publish it on your website.
Does Google punish AI content users?
Yes, it bans websites or blogs that use AI-generated content.
Are AI content detector tools expensive?
You can access these tools both for free and paid versions on the internet. AI detection tools like Originality.ai and Writer are paid, but Kazan SEo and GLTR are free to use.
What AI detectors do colleges use?
Turnitin is widely recognized for its plagiarism detection capabilities and is utilized by the majority of universities and colleges. The software is specifically designed to identify instances where students have copied content from another source in their assignments.
Is GPTZero the best AI detector?
Surprisingly, GPTZero managed to accurately identify all the sentences written by AI, but it also mistakenly flagged a few sentences written by humans. In general, GPTZero is proficient at detecting AI-generated text, but it occasionally generates false-positive results as well.
Can AI detectors be wrong?
There have been concerns raised about the accuracy of the AI detectors, particularly in the case of Turnitin's software. It has been found that the software sometimes generates false positives and cannot be fully relied upon when it comes to identifying sources that involve a combination of AI-generated and human-written content.
What is the best AI right now?
The new Bing AI chatbot stands out as the top choice among chatbots. Its exceptional performance, versatility, and the fact that it is freely available make it a standout option. Powered by OpenAI's state-of-the-art GPT-4 language model, it excels in a wide range of language tasks, such as writing, summarization, translation, and engaging in conversations.