Currently, Grammarly offers a free version to everyone including students. There is no special free plan from Grammarly for students.
However, after conducting a brief search, it seems that these institutions might provide Grammarly for students at no cost. Further research could uncover a plethora of additional options!
Iowa State: "Grammarly Premium is Free for Students!"
Chapman University: "Chapman University provides Grammarly free of charge to all students, faculty, and staff."
Clemson University: "Grammarly Premium Now Available For Students And Employees"
The only potential avenue for students to access a discounted Grammarly account is by forming a group with fellow students and acquiring a business plan collectively, which offers a reduced monthly cost.
So scroll the page to know in depth about whether Is Grammarly free for students and more.
Why Is Grammarly Import For Students?
Grammarly is an important tool for students because it helps them do well in school.
It does more than just fix grammar mistakes. Grammarly helps students become better writers and communicators.
First, it checks for grammar and spelling errors, so students can find and fix mistakes that might make their work unclear or unprofessional.
Grammarly also gives suggestions for improving sentence structure, using better words, and writing more concisely. It's like having a personal writing teacher who teaches students how to communicate effectively and find their own writing style.
Also checks for plagiarism, which means copying someone else's work without permission. This helps students make sure they're being honest and not accidentally using someone else's ideas.
By using Grammarly, students can feel more confident about their writing and produce high-quality assignments, essays, and research papers.
It's not just about fixing their current work, but also about learning skills that will help them in the future, both in school and in their careers.
Grammarly Version: Overview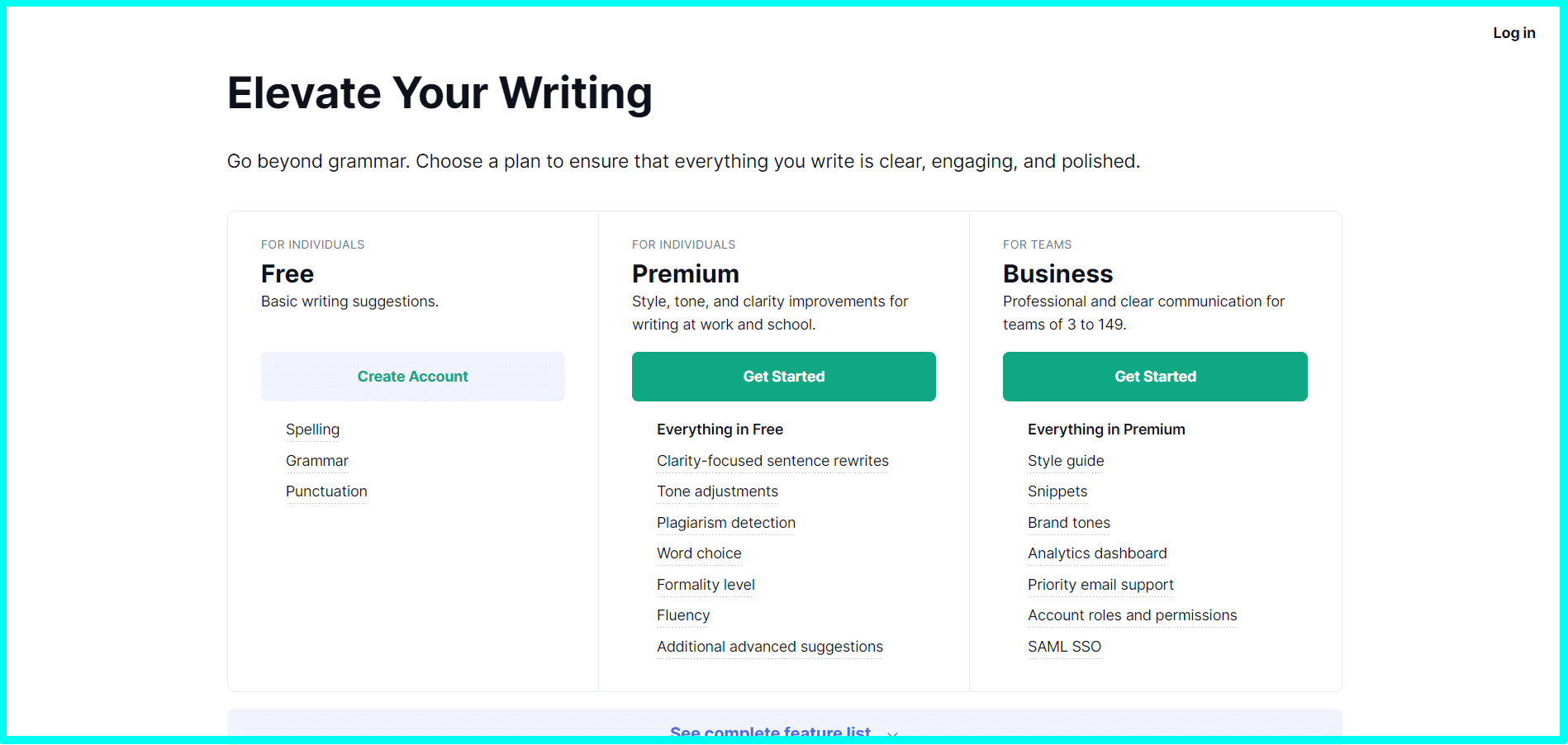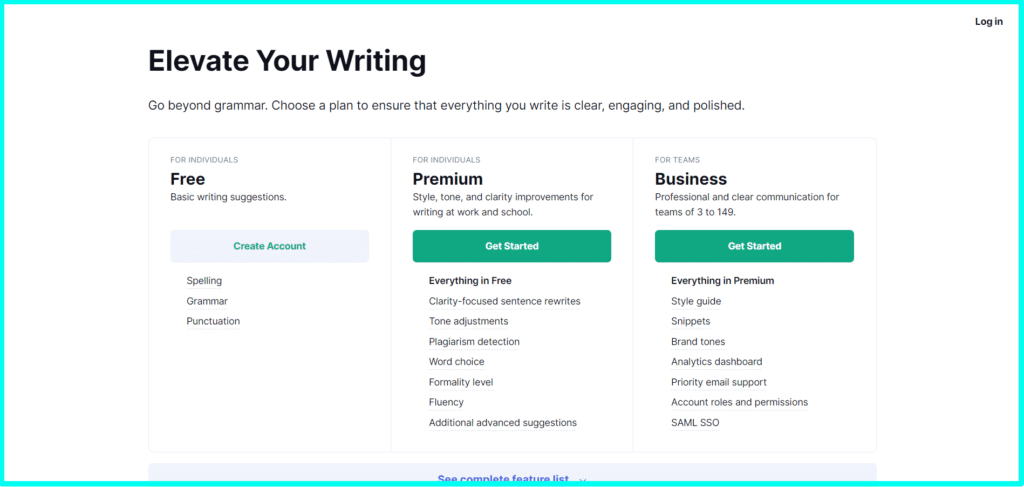 Grammarly Free Version
Grammarly's free version offers an array of essential features that can significantly enhance the quality of your writing.
It helps identify and correct grammar, spelling, punctuation, and style issues.
The tool operates seamlessly across various platforms, including web browsers, Microsoft Office, and Google Docs.
Benefits of Grammarly Free for Students
For students on a tight budget, the availability of a free version is a great advantage.
Grammarly Free can assist students in improving their writing skills by providing real-time suggestions and corrections.
It ensures that your academic papers, essays, and assignments are error-free and coherent, making a positive impression on professors and peers.
Additionally, Grammarly Free offers a personalized writing score and performance insights, giving students a clearer understanding of their writing strengths and areas for improvement.
By using Grammarly, students can develop strong writing habits and gradually enhance their proficiency.
Limitations of Grammarly Free for Students
While Grammarly Free offers valuable features, it does have some limitations.
The free version provides basic grammar and spelling corrections, but advanced writing issues, such as clarity, conciseness, and style enhancement, are only available in the premium version.
Moreover, Grammarly Free may sometimes overcorrect or miss nuanced errors, which could affect the overall quality of your writing.
It is important to use Grammarly Free as a helpful tool but not solely rely on it.
Developing your own proofreading skills and understanding grammar rules is essential for long-term improvement.
Grammarly Premium: A Worthwhile Upgrade
Grammarly Premium, the paid version of Grammarly, unlocks a wide range of advanced features and tools.
Students who choose to upgrade can access vocabulary enhancement suggestions, genre-specific writing style checks, and a plagiarism checker.
These additional functionalities can immensely benefit students looking to elevate their writing to a professional level.
While Grammarly Premium requires a subscription fee, it is often considered a worthwhile investment for serious writers, including students.
The advanced features provide comprehensive support, ensuring that your writing is not only grammatically correct but also engaging and polished.
Business Version
Lastly, the Grammarly business edition proves to be an excellent tool for teams, organizations, and enterprises.
It encompasses all the features available in the free and premium versions, while also providing additional benefits such as a style guide, snippets, brand tones, an analytics dashboard, account roles and permissions, and a SAML single sign-on for enhanced security.
When it comes to pricing, the premium version is competitively priced at just $12.00 USD per month, while the business version offers incredible value at only $15.00 USD per month per member.
Grammarly Pricing & Discounts
Depending on the selected plan, there are available discounts to consider.
Opting for the premium version grants you the opportunity to subscribe annually, making a one-time payment for the entire year.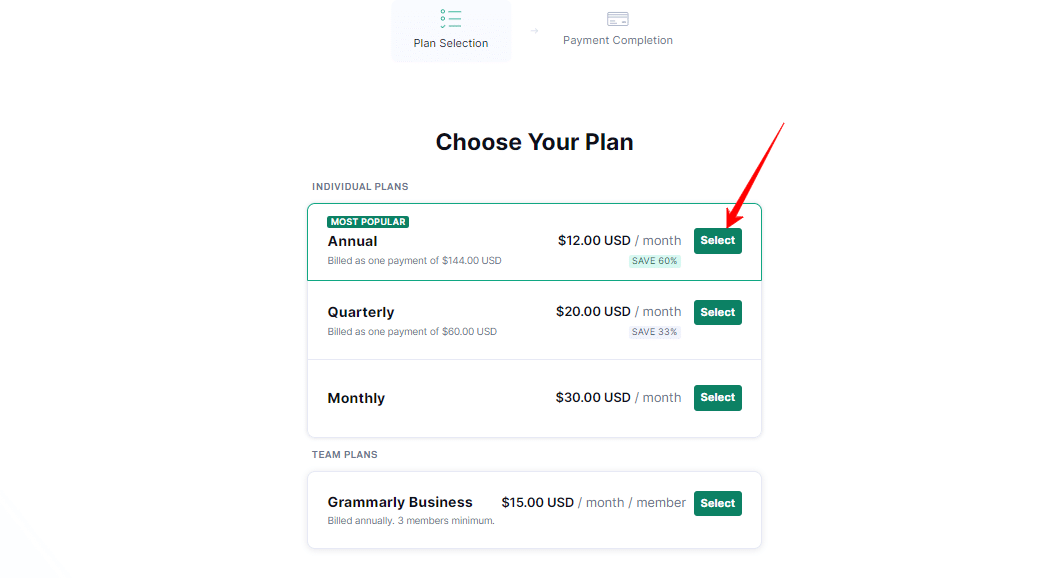 This amounts to a $144 USD bill, resulting in a breakdown of $12 USD per month, leading to remarkable savings of 60%!
Grammarly premium also presents a quarterly option where you can make a single payment of $60 USD for three months, equivalent to $20 USD per month.
This option is approximately 33% cheaper than the monthly plan. For monthly premium access to Grammarly, the cost is $30 USD per month.
Furthermore, the business option also provides discounts based on the duration of billing and the number of members within your group.
When there are 11 or more members on the plan and you choose to pay annually, discounts for the entire team come into effect.
The business plan offers the choice to purchase either annually or monthly, although the quarterly plan is not currently available.
Opting for the annual plan with three team members results in savings of about 40%, costing $45 USD per month or $15 per member per month.
With the same number of members, the monthly cost would be $75 USD per month, equivalent to $25 per month per member.
For teams comprising 11 or more members, the monthly cost is $145 USD, amounting to $14.50 per month per member. The discount increases further when the team reaches 50 members, with a cost of $625 per month or $12.50 per month per member.
Conclusion
In conclusion, Grammarly offers a free version that can be valuable for students aiming to improve their writing skills.
The free version provides basic grammar and spelling corrections, along with a personalized writing score and performance insights.
However, it is important to be aware of the limitations of the free version, as it does not cover advanced writing issues.
For students Yes, Grammarly can be used on various platforms, including web browsers, Microsoft Office, and Google Docs.
It offers seamless integration to enhance your writing experience across different devices. comprehensive support and advanced features, Grammarly Premium is recommended as a worthy upgrade.
Frequently Asked Questions
Does Grammarly offer a student discount?
Yes, Grammarly provides special discounts for students. It's worth exploring their website or contacting their support team to learn more about student discounts.
Is Grammarly free for college?
Grammarly offers different plans to cater to the needs of students and educators. With Grammarly's Free and Premium plans, individuals can enjoy their own personal Grammarly account. However, for educational institutions, Grammarly for Education presents an excellent option. This institutional license grants access to all students and faculty members, ensuring that everyone can benefit from Grammarly's valuable resources.
Is Grammarly 100% free?
Grammarly's free offering provides you with the necessary tools to identify and correct misspelled words, flawed grammar, and punctuation errors. However, Grammarly Premium goes above and beyond, offering a wide range of additional features that aim to elevate your writing from good to exceptional.
Is there a 30-day trial for Grammarly?
The Grammarly premium account does not provide a free trial option. Nevertheless, Grammarly occasionally presents individual subscribers with a chance to experience the Premium plan through a free trial. But wait, here's an interesting twist! Presently, Grammarly offers a 7-day free trial exclusively for the Business plan.
Is the first month of Grammarly free?
Grammarly occasionally provides free trials of its Premium service to individual subscribers. If a trial is currently being offered, you will find the option to sign up on our website prior to upgrading to Grammarly Premium. Additionally, Grammarly offers a free version of its product that encompasses fundamental Grammarly features.
Is Grammarly free offline?
Grammarly is an internet-based application, that necessitates a constant connection between your computer and the web. To scrutinize your text and offer recommendations, Grammarly heavily relies on a stable internet connection.