Do you ever feel like writing all alone is too much work? If yes, then I have the right solution for you. I have always felt the need for a writing assistant. There were days when I was tired and wished someone could do all the formatting, spell check, grammar check, error suggestions, and more. Soon, I came across writing assistant software that helped me in so many ways. 
In the beginning, it was hard for me to get used to the user interface and other aspects. But I made it through using my technical skills and with some learning curves. There are several factors that you need to take care of when looking for a writing assistant. It can be its pricing, premium plans, user interface, internet connection, creativity, speed, and more. 
You can find hundreds of writing assistants on the internet, but unfortunately, all of them will not meet your requirements.
Let me save you all that hassle to find the best writing software. I will take you through the best writing assistant software to give a boost to your writing career. 
In this article, I'll talk about the best writing assistant software that's out there right now And include their outline, features, pros & cons, and more.
Best Writing Assistant Software
Since I have used several writing assistant software, I can guide you with some of the best writing software below.
1. Jasper.ai
Jasper AI is an amazing writing assistant that helps you write things. This software is one of the most recommended among all the other software.
This software might finish your search if you are looking for a professional assistant for your businesses, like bloggers and online shops.
Jasper AI is one of the few software that can make SEO-friendly blog posts. The speed of generating content is faster than other software.
It can create both long and short posts within seconds. A good mix of professional and personal writing assistants is what you need when choosing a writing assistant.
Jasper suits various professions like writers, content creators, and marketing teams. This software can help you improve your creativity and allows you to work faster and make a lot of content at an increased rate. It helps you get more work done in less time.
Jasper.ai offers two pricing plans: Creator for $39/month and Teams for $99/month. Both plans offer discounts with annual billing and a 7-day free trial.
Features:
Data privacy and security features
API accessibility
Customer success stories and use cases
Industry-specific applications
Large customer base and community
Gen AI Conference and AI community engagement
Educational resources and courses
Multilingual support
Chrome extension for enhanced functionality
Business plan and pricing options.
Jasper Pros and Cons:
| | |
| --- | --- |
| Pros | Cons |
| Real-time content assistance | There is a learning curve. |
| Free tools library | |
| SEO optimization tools | |
2. Grammarly
Grammarly is one the most used writing assistant software in today's time. It is a really helpful tool for making sure your writing is error-free.
What I liked the most about Grammarly is the suggestion that it provides for certain phrases or sentences. It will point out the wrongly phrased words, longer sentences, and punctuations.
You can correct them using just a click. All of this helps to improve the overall quality of the text. 
It looks at your sentences and checks if the words and grammar are right. It can also find if you used words or sentences that someone else already wrote. Some parts of Grammarly are free, but there's also a paid version that gives you more help.
If you want to be a professional writer, the paid version of Grammarly is better. It helps with tricky things like passive sentences, how easy it is to read, and how your sentences are built. They even made something new called GrammarlyGo.
It's like having a chat with someone who helps you write better and gives you ideas using smart computer stuff.
Grammarly can be added to your web browser like Chrome and to Microsoft Word, so it's always ready to help you write better wherever you are.
Grammarly offers some of the best pricing strategies.
Firstly, the free version has basic writing suggestions and tone detection.
Secondly, the Premium version that has enhanced features, including rewrites, and vocabulary suggestions, starting at $11/month. Last but not least, a Business plan with premium features for teams, starting at $15.00 USD per member per month.
Features:
Grammar checking
Spelling checking
Punctuation checking
Sentence structure analysis
Style and tone suggestions
Vocabulary enhancement
Plagiarism detection
Active/passive voice identification
Readability analysis
Clarity suggestions
Consistency in writing style
Tone detection and adjustments
Contextual spell checking
Genre-specific writing styles
Real-time writing assistance
Mobile and desktop integration
Browser extension
Document type customization
Language and dialect preferences
Premium features and subscription plans.
Grammarly Pros and Cons
| | |
| --- | --- |
| Pros | Cons |
| Allows you to set writing goals. | Expensive premium plans. |
| Provides explanation for grammar rules. | |
| It suggests style and tone. | |
Text Metrics
Textmetrics is an exceptional AI tool designed to enhance your writing experience, establishing itself as the leading assistant for writers.
This state-of-the-art writing tool effectively eliminates any biases present in your writing by providing immediate feedback and innovative ideas.
By thoroughly analyzing your vocabulary, this software offers valuable suggestions on how to enhance it, enabling you to elevate your writing skills.
Additionally, it simplifies complex concepts, making your work more accessible and captivating for readers.
As a result, it effortlessly amplifies the visibility and recognition of your brand from the very beginning.
Textmetrics Key features
With Texmetric, writing is augmented
inclusion and diversity
Employer reputability
Examines your lexicon and tests for advances in producing great content
Texmetrics Pros & Cons
| | |
| --- | --- |
| Pros | Cons |
| Real-time suggestions | No spelling and grammatical checking |
| Making readable and robust writing | |
| Enables more inclusive writing | |
| Affordable pricing options | |
3. Scrivener
Scrivener, developed by Literature & Latte, is a widely used program among authors for enhancing their writing projects and optimizing productivity.
Compatible with both Mac OS X and Windows operating systems, Scrivener serves as an invaluable tool for writers.
One of Scrivener's key functions is aiding writers in breaking down their projects into more manageable segments, such as scenes, chapters, and parts.
This division enables authors to focus on specific elements of their writing, rather than being overwhelmed by the entire task at hand.
With Scrivener, authors can take advantage of its comprehensive features, including research, outlining, and drafting capabilities.
The software provides a research tool that streamlines the collection and organization of research materials, eliminating the need to switch between writing and research platforms.
By utilizing the outlining tool within Scrivener, authors can effortlessly keep track of their thoughts and the development of their narrative.
This feature greatly facilitates maintaining coherence and structure throughout the writing process.
Furthermore, Scrivener offers a distraction-free writing environment, ensuring writers can fully immerse themselves in their work.
Additionally, the software offers various formats to accommodate self-publishing authors.
Scrivener Key Features
It's easy to keep epiphanies
With auto-save, your work is safe
Making sure that your organization is clear
Working without being interrupted
Scrivener Pros & Cons
| | |
| --- | --- |
| Pros | Cons |
| Free templates available | Not user-friendly interface |
| Perfect for writers | |
| Customized user interface and set up | |
| Free trial available | |
4. Zoho Writer
Zoho Writer is a writing tool that combines the functionalities of Microsoft Word, Google Docs, Airtable, and Grammarly, making it a comprehensive solution for efficient writing tasks.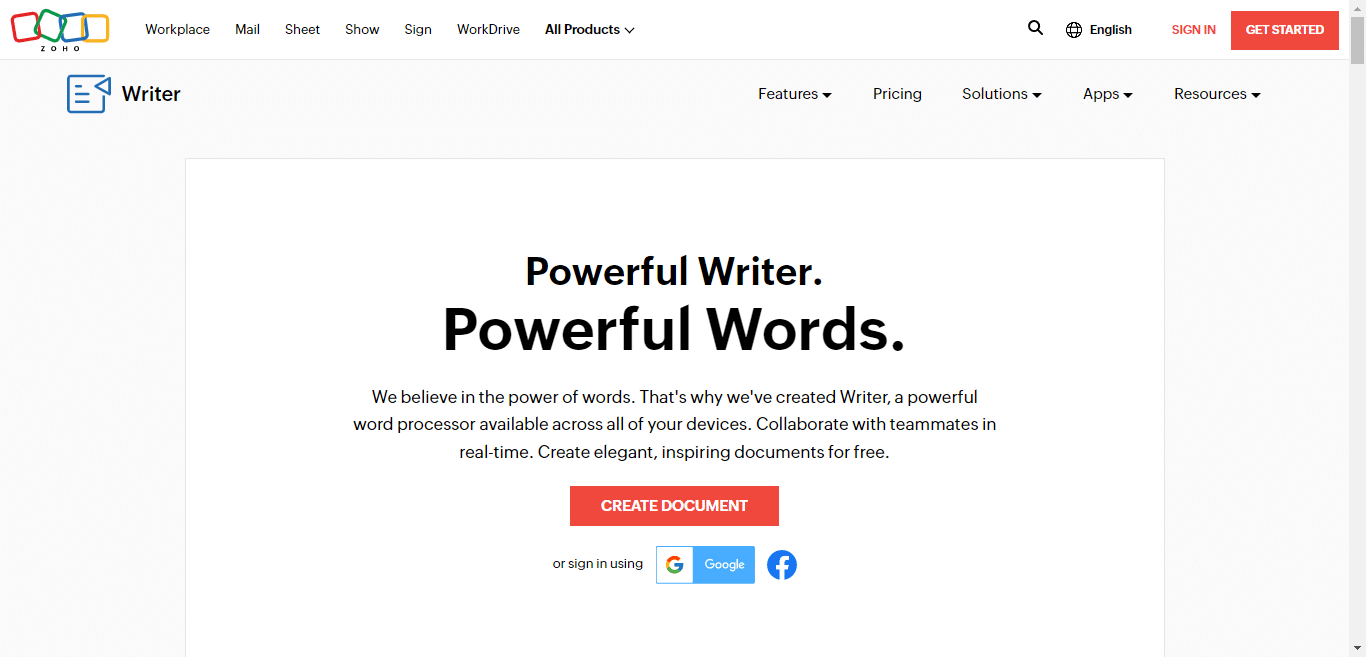 With Zoho Writer, you can collaborate with others on a single document, keeping track of each collaborator's activities and leaving private comments on drafts.
Additionally, the tool offers control and access settings, allowing you to restrict access to document comments to specific individuals.
Zoho Writer provides a wide range of document templates, saving you time by reducing the effort required to create documents from scratch.
The program also enables you to format your text effectively and express your ideas more clearly.
You can conveniently view and edit multiple pages at once, while real-time updates on a document's progress eliminate the need for constant check-ins with your team or collaborators.
Zoho Writer Key Features
Group leadership
Security regulations
Thesaurus support
Mobility Access
Shared securely
Project Management
Collaboration online
Zoho Writer Pros & Cons
| | |
| --- | --- |
| Pros | Cons |
| Simple and clean user interface | Formatting problems |
| Offline desktop and mobile app | |
| PDF and other file types can be exported | |
| Includes standard word processing tools. | |
5. ProWritingAid
ProWritingAid is a writing software that caters to writers, created by writers.
It is designed to tackle issues that hinder writers from reaching their full potential, such as structural problems, grammatical errors, and improper pronoun use.
ProWritingAid does not simply offer suggestions, it equips you with the necessary tools to comprehend the changes you are making.
It highlights and clarifies your errors, enabling you to avoid making the same mistakes in the future.
This software provides more than twelve reports that analyze different aspects of your text, such as repetitive words, transition words, and readability.
Additionally, it allows you to set customized writing and editing objectives that align with your goals and mission.
ProWritingAid offers a thorough review of your writing style, tone, and typical errors, pinpointing overused words, areas that require improvement, and the coherence of your ideas.
A comprehensive breakdown of these aspects can be found in the Summary Report, along with suggestions for enhancing your writing skills.
ProWritingAid Key Features
Spelling, grammar, and style check
Check for readability, organization, and pace
Built-in check for copying
Word checker used excessively
ProWritingAid Pros & Cons
| | |
| --- | --- |
| Pros | Cons |
| Simple and clean interface | Unnecessary tempo reports and sticky sentences |
| Great for fiction and long-form writers | |
| Cheap lifetime plan | |
| Provides contextual grammar and spelling checkers | |
6. Jasper
I think Jasper.ai stands out as an exceptional tool for enhancing writing skills. It is particularly useful for business copywriting purposes.
Powered by GPT-3 technology, this AI platform ranks among the top choices for copywriting assistance.
Jasper proves invaluable when it comes to refining website content, advertisements, blog posts, emails, social media updates, sales letters, and more.
If you are eager to advance as a writer, make sure to include Jasper in your collection of essential business tools.
One of Jasper's remarkable features is its ability to scour the internet for relevant content based on the keywords and phrases you provide.
By simply offering a brief description and a few phrases, Jasper's content generator can fill in the remaining gaps.
Moreover, apart from its basic SEO functionalities, Jasper can aid in identifying and establishing the desired tone for your written work.
For SEO, Scalenut is the best tool to look out for as compared to Jasper Ai.
To know in-depth about how both Scalenut and Jasper as SEO-helping tools, you may read our article and check out Scalenut vs Jasper AI.
Jasper Key Features
The tone of Voice Settings
Document Editor
Plagiarism Checker
Grammarly Integration
Jasper Pros & Cons
| | |
| --- | --- |
| Pros | Cons |
| Perfect for making shot copies | Not suitable for automatic long-form content |
| Easy to use interface | |
| Beginner friendly | |
| Easy-to-use interface | |
7. Language Tool
LanguageToo is one of the finest writing assistant software available.
It possesses the remarkable ability to analyze content from any website or report, accurately determine the language used, and effectively identify any grammatical or stylistic errors present.
Whether you're an employee, a writer, a teacher, or a student, LanguageTool proves to be an invaluable resource for enhancing your writing skills.
It caters to a wide range of users, offering valuable insights and suggestions to help refine your work, improve spelling, grammar, and enhance the overall style.
By using this tool, you can achieve better grades and produce written pieces that are both compelling and easy to read.
The program has been translated into approximately 25 different languages, ensuring its accessibility and usefulness to a diverse global audience.
Moreover, LanguageTool provides a convenient computer add-on feature that actively examines your writing in real time as you type online.
This feature is available for both Microsoft Word and Google Docs, adding further convenience and effectiveness to the writing process.
It's important to note that the app respects your privacy and does not monitor your online activities without your explicit consent.
Microsoft Word and Google Docs also offer their own respective add-ons, designed to assist users in improving the clarity and accuracy of their writing.
Language Tool Key Features
Spelling, grammar, and style recommendations
Multiple language support
Dictionary for yourself
Shortcuts on the keyboard
Language Tool Pros & Cons
| | |
| --- | --- |
| Pros | Cons |
| Simple and clean user interface | No plagiarism checker |
| Compatible with various web browsers | |
| Accessible in international languages | |
| Free version available | |
Conclusion
In sum, Writing software is necessary where if you are a blogger, content writer, or novel writer.
When looking for the best software to assist with writing, it is essential to take into account the individual's particular requirements.
Because everyone's requirements for online writing and campaign content production are unique, there is no one option that is universally considered to be the best.
Experimenting with a few various applications to discover which one caters to your requirements most effectively is the most effective method for locating the best writing assistance software.
Choosing a tool that is not suitable for the circumstances you are in at the moment is a surefire way to feel let down.
Frequently Asked Questions
What is writing assistant software?
Writing assistant tools are software applications designed to understand written text created by humans and produce unique content by employing machine learning and natural language generation techniques. These intelligent programs have the capability to comprehend the meaning and context of the input text, enabling them to generate original and coherent written material.
What is the best free AI writer?
Rytr stands out as an exceptional AI content generator available free of charge, serving a multitude of purposes. While there is a limit of 10,000 characters per month for writing, all other standard functions remain fully accessible, including an impressive collection of over 40 pre-designed layouts. Utilizing this remarkable tool, you gain a valuable glimpse into the capabilities of an article generator writer and the benefits it can offer.
Is Grammarly the best writing assistant?
Absolutely! When you opt for Grammarly, rest assured that your writing will be polished and devoid of errors. Grammarly reigns supreme as the ultimate AI writing companion for refining your work. This incredible tool not only saves valuable time and effort for writers and students alike but also offers a host of invaluable proofreading and editing features that come in exceptionally handy.
Do real writers use Grammarly?
Grammarly is an excellent tool. It helps to scrutinize spelling, grammar, and plagiarism. Whether you're working on your computer or on the go, this invaluable resource aids in identifying and rectifying errors with remarkable speed. It has gained immense popularity among countless writers, and rightly so, given its impressive capabilities.
How to use Jasper AI for free?
Step 1: Open the Jarvis.ai free trial page by clicking on this special link.
Step 2: You're now on their page for signing up.