Looking to get Grammarly free trial, do not worry, I have answers to all your queries.
Yes, now Grammarly offers a 7-day free trial.
Here in this article, I have done a comprehensive analysis of how to get a Grammarly free trial and the benefits of using it.
So, Let's get started!
Does Grammarly Offer A Free Trial And How Long?
Yes, Grammarly does provide a free trial option. Users can create a free account on the Grammarly website and access some of the essential features offered by the tool.
The free version includes grammar and spelling checks, as well as limited suggestions for improving writing style.
Please note that there is no free trial available specifically for Grammarly Premium. However, Grammarly occasionally offers a free trial period for the Premium plan to individual subscribers.
To enjoy additional features such as advanced grammar checks, vocabulary enhancements, and plagiarism detection, users can opt for a subscription to Grammarly Premium.
The premium version offers a more comprehensive and personalized writing experience.
Here's the interesting part! At present, Grammarly provides a 7-day free trial for the Business plan. Unfortunately, this particular free trial is intended for companies and enterprises.
Nonetheless, if you wish to claim the free trial for the business plan, scroll down below.
How To Redeem The Grammarly Business Free Trial?
Here in this section of the article, I have listed a step-by-step guide below to avail 7-day free trial on the Grammarly business plan.
Step 1. Browse the official Grammarly website.
Step 2. Access the Compare Plans option located in the menu at the top of the Grammarly window.
Step 3. It will take you to the Grammarly pricing options page and choose Grammarly business plan and click on Get Started.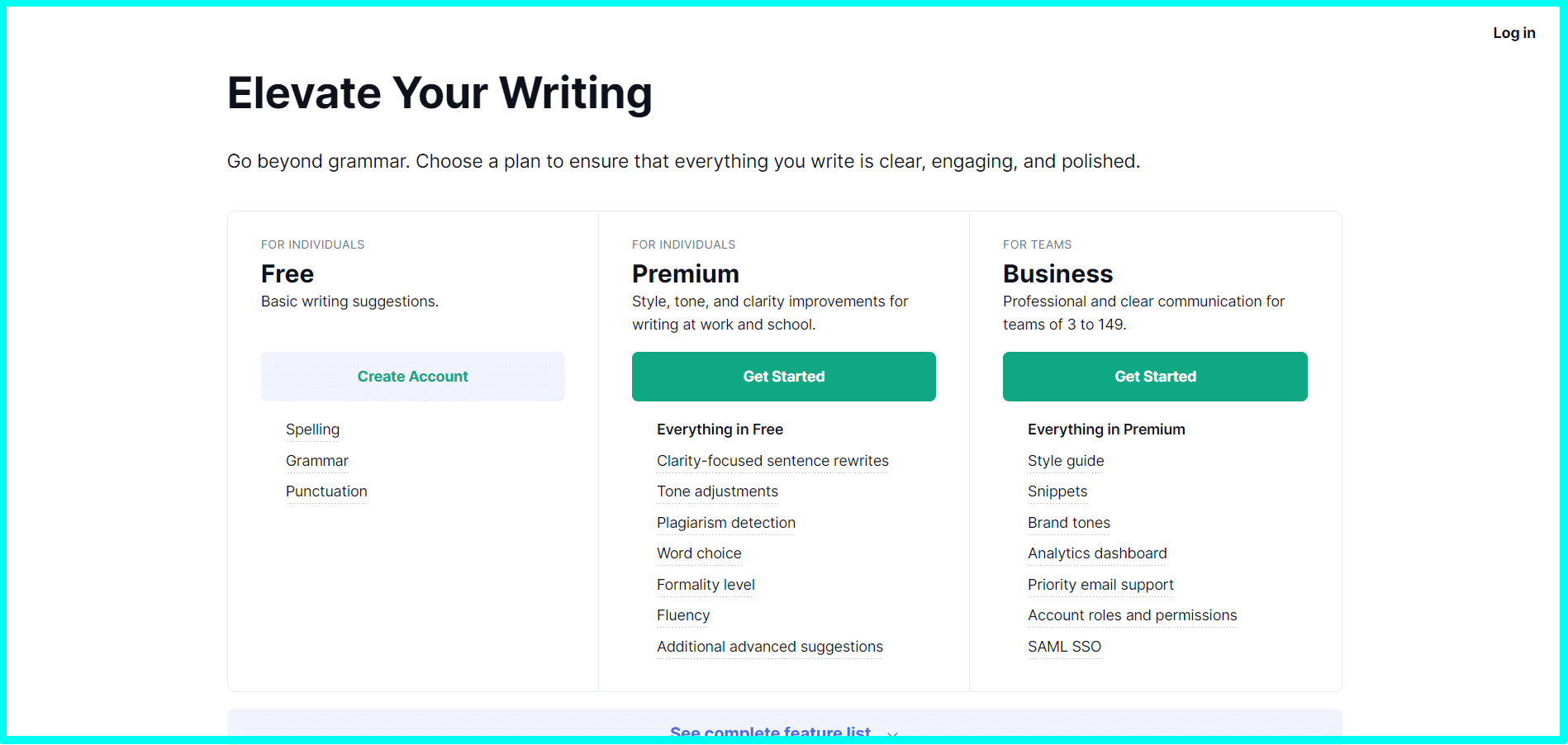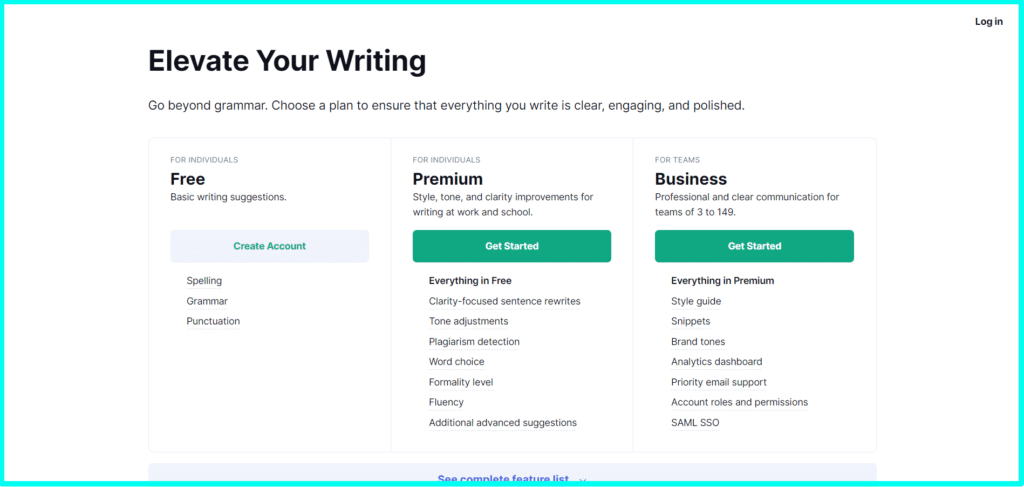 Step 4. Choose the desired number of members with whom you wish to share your account, and proceed by clicking on "Continue with the free trial."
Step 5. Now, you must sign up for a Grammarly account if you don't already have one.
After filling up all the necessary information, simply proceed by clicking on the 'Agree and Sign up' button.
If you have an existing account, please provide your email address and password, then click "Continue" to proceed.
Alternatively, you can opt to log in to your Grammarly account using other methods such as Google, Facebook, or Apple accounts.
Step 6.
Afterward, you will be directed to the payment section where you can choose to make payments either via credit card or PayPal. Kindly enter your card details to proceed.
Now, please proceed with the payment.
Congratulations! You have successfully availed of the 7day free trial of Grammarly Business.
Grammarly Pricing Plan: Get The Best Grammarly Prcing Option
Grammarly mainly offers three pricing options:
Grammarly free Version
Grammarly Premium Version
Grammarly Business Plan
| Grammarly Plan | Grammarly Pricing | Grammarly Discounted Price |
| --- | --- | --- |
| Monthly | $30/month | $24/month |
| Quarterly | $20/month | $48 |
| Annual | $12/month | $115.20 |
Is Grammarly Premium Worth To Use?
Grammarly Premium is an invaluable tool for individuals looking to enhance their writing skills and create error-free content.
Whether you're a student, professional, or casual writer, Grammarly Premium provides significant benefits.
Its advanced features, including plagiarism detection, style enhancements, and vocabulary enrichment, elevate the overall quality of your writing.
Students can greatly benefit from the platform's ability to identify grammar mistakes and provide suggestions for corrections, thereby helping them improve their academic performance.
Professionals rely on Grammarly Premium to create polished emails, reports, and presentations, impressing both clients and colleagues.
Even casual writers can depend on Grammarly Premium to elevate the quality of their personal blog posts or social media content.
With its comprehensive features, Grammarly Premium is a worthwhile investment for anyone striving for impeccable writing.
Conclusion
In summary, Grammarly does not offer a free trial specifically for their premium version. However, they do provide a 7-day free trial for their Grammarly Business plans.
It's important to remember that if you want to access the premium features of Grammarly, you can still choose their annual subscription of Grammarly Premium.
With our coupon, you can make the most of your savings on the subscription plans.
Whether you opt for the free trial of Grammarly Business or the discounted annual subscription of Grammarly Premium, both choices enable you to enhance your writing skills and elevate the quality of your written content.
Frequently Asked Questions
Is there a free version of Grammarly premium?
No, however Grammarly is available to assist you no matter where your writing takes place, and this holds true for both our free version and Grammarly Premium. These applications encompass Grammarly's desktop apps for Windows and Mac, which seamlessly operate within various applications, email clients, word processors, and browsers.
How much is Grammarly premium for one person?
If you opt for a one-year license, the individual plan offers the most affordable option. It amounts to $12 per month, with a total annual payment of $144. However, not everyone may be able to cover this cost upfront. In such cases, there are alternative payment options available: quarterly and monthly. The quarterly plan costs $20 per month, billed as $60 every three months.
How do you get the 7-day free trial on Grammarly?
If you want to experience Grammarly for a week without paying, head over to Grammarly's official website. Once you explore the pricing options for Grammarly Premium, you'll come across the free trial offer. Simply provide your information to avail yourself of the free trial.
Can you cancel Grammarly after the free trial?
Yes, you can. Click here to cancel Grammarly free trial.
Does Grammarly provide discounts and offers?
At present, Grammarly has special offers available for its yearly membership. Additionally, by utilizing our Grammarly discount code, you can enjoy a 20% discount on your chosen plan.
Is there a 30-day trial for Grammarly?
No, it does not. The Grammarly premium account does not provide a free trial option. Nevertheless, Grammarly occasionally grants individual subscribers a chance to try out the Premium plan for free.
Yes, You can use Grammarly on up to five different devices with your subscription. To use the service on a different gadget.