If you are looking for the best plagiarism checker, and have confusion about which one is appropriate for you.
For essays and, article writers, it is important to choose the right program for proofreading.
You do not have to worry at all, I have come up with a solution.
By default, both Grammarly and Turnitin can assist you in preparing your work for submission and prevent unintentional plagiarism.
Here in this Grammarly Vs Turnitin article, I have done a comprehensive comparison of these two and will help to find out which one is a better match for your needs.
So scroll down to have more details!
Grammarly Vs Turnitin: What Are The Main Differences
Grammarly and Turnitin are two of the most famous and widely used online programs that help students and professionals improve their writing.
When we look at the differences between the two, you can see the following:
Focus: Grammarly is a writing assistant that checks as you type for typos and other problems with language, punctuation, and style. It also tells you how to make your words better organized, clearer, and easier to read. On the other hand, Turnitin is a tool that checks the uploaded text for plagiarism by comparing it to a huge library of published works, academic papers, and other online sources.
Functionality: Grammarly can be used instantly when composing emails, social media posts, and other digital content as a browser extension, desktop program, or mobile app. It suggests corrections as you type and integrates with Microsoft Word and Google Docs. Turnitin is a web-based application that asks users to upload their content. It then checks for plagiarism and creates a report.
User base: Grammarly is used by and recommended by students, bloggers, and workers of all kinds. It is easy to find and use, which makes it a great tool for anyone who wants to improve their writing skills. But Turnitin is mostly used in the classroom and by students themselves because it is such an important tool for stopping cheating.
| | | | | |
| --- | --- | --- | --- | --- |
| | Availability | Pricing | Use For | Key Features |
| Grammarly | Mac, iOS, Windows, Android, and Grammarly desktop app users. | Pricing starts at $12/month | Those who're looking for a writing assistant and plagiarism checker in one. | Tone recognition, plagiarism checker, and vocabulary enhancement. |
| Turnitin | Mac, iOS, Windows, and Android users. | Your college needs to contact Turnitin for a custom price plan. | Students and teachers who want to scan for plagiarism and share feedback. | Similarity reports, feedback studios, and AI grading. |
What Is Grammarly?
Grammarly is a professional writing tool that helps in your writing, editing, and proofreading.
It makes corrections to spelling, grammar, and punctuation, and enhances vocabulary.
The premium version adds extra functionality and provides more refined recommendations than the free version.
Millions of people all over the world use Grammarly to perfect their writing, from students to businesspeople to authors.
Grammarly empowers users to confidently communicate across devices and platforms by giving AI-powered suggestions.
Over 30 million people and 50,000 teams rely on Grammarly suggestions every day to improve the accuracy, clarity, engagement, and delivery of their writing, and they're available wherever you write.
If you wish to know more in-depth about Grammarly, you may read our Grammarly review article, which you may read, in which I have covered every aspect.
What Is Turnitin?
Turnitin is an efficient software for checking student documentsfor instances of plagiarism.
The work that has been submitted is evaluated in comparison to an extensive archive of previously published publications as well as other internet resources.
At some universities, all written assignments must be submitted through Turnitin so that teachers may easily check for instances of plagiarism and adhere to the Academic Integrity policy that is in place at the university.
You can also use Turnitin to ensure academic integrity and to encourage students to be daring, fair, accountable, and respectful of one another.
Grammarly Vs Turnitin: Pros & Cons
Grammarly Pros & Cons
| | |
| --- | --- |
| Pros | Cons |
| 16+ billion databases | Only support the English language |
| Highly accurate plagiarism checker | |
| Built-in grammar and spellchecker | |
| Saves your work automatically | |
| Free version is available | |
Turnitin Pros & Cons
| | |
| --- | --- |
| Pros | Cons |
| 15+ billion databases | No grammar or spellchecking |
| Support multiple language | |
| Accurate plagiarism detector | |
| Displays source-linked originality report | |
| | |
Grammarly Vs Turnitin: Key Features Comparison
Grammarly and Turnitin are two prominent online applications that authors, students, and teachers use to improve the quality of their writing and check for instances of plagiarism respectively.
In the following section, I have done a detailed comparison of their features:
1. Ease Of Use
The best thing about Grammarly and Turnitin, both tools are simple and easy to use.
I've used both of these tools, and I can say that they're easy to pick up and use with very little of a learning curve.
"To get immediate, structured feedback on your grammar and spelling, just put your writing into the Grammarly platform through their website, desktop app, or mobile app."
Select the "Plagiarism" icon in the lower right part of the toolbar to turn on Grammarly's plagiarism checker. Soon after, you'll get a "plagiarism score."
Turnitin is another plagiarism tool that is easy to use.
Upload your work and then click the "plagiarism checker" tab at the top of the page to get a report on any cases of plagiarism.
2. Multiple Integrations
Grammarly is a versatile tool that serves as both a browser extension and an online editing platform.
It seamlessly integrates with popular web browsers such as Firefox, Chrome, Edge, and Safari, allowing users to harness its capabilities across a wide range of online platforms.
With Grammarly's browser extensions, individuals can take advantage of its powerful editing features while working on Google Docs, composing emails in Gmail, or engaging with any website that offers a text input box.
In the realm of academic writing, the use of Turnitin for submitting assignments became a requirement.
The Turnitin website served as the designated platform for students to upload their homework.
However, there have been recent developments in the learning management system, which now allows the submission of assignments through Turnitin.
This integration enables students to conveniently submit their work and receive prompt Originality Reports generated by Turnitin, providing valuable insights into the authenticity and uniqueness of their content.
3. Security
Grammarly is also known for its high level of safety and security.
It does not use, store, or sell any of the information you put in. Also, hackers are not able to get into this.
Its private cloud is run by Amazon Web Services, and the third-party proof is used to make sure that users' personal information is safe.
You have a Web Application Firewall, 256-bit AES encryption, and Transport Layer Security (TLS), so no one else will be able to get in.
Grammarly Business users, on the other hand, are safe in a different way. This release makes use of single sign-on with SAML, Team Administration, and two-factor security. It is also easier to get in touch with the security staff.
Turnitin also has a similar number of security measures as Grammarly that keep students, teachers, and others themselves safe.
Using a cloud platform that meets ISO and IEC standards, your data is kept in safe data centers.
The plagiarism checker won't keep track of what you look at on the web so that it can show you ads. Your LMS may also let you change Turnitin's settings for extra safety.
4. Plagiarism Checker
Grammarly conducts a thorough analysis by comparing the text against an extensive database of over 16 billion sources, encompassing academic papers and private documents.
In cases of plagiarism, Grammarly not only identifies the specific words or phrases but also provides direct links to the original sources.
Moreover, it provides users with an "Originality Score" to assess the uniqueness of their work, albeit with occasional instances of generating inaccurate outcomes.
Turnitin, on the other hand, leverages its text-matching software to generate an "Originality Report" that highlights the portion of the content sourced from external origins.
With access to a vast collection of 70 billion websites, Turnitin cross-references submissions from other users.
It is important to note that while Turnitin may flag certain sources and quotes as plagiarism, this does not necessarily indicate academic misconduct by the student.
Additionally, Turnitin can uncover less apparent sources and the processing time for obtaining results may span a few days.
5. Accuracy
Grammarly and Turnitin are both highly useful software tools designed to assist writers in enhancing their work and preventing accusations of plagiarism.
However, it is essential to double-check your writing to ensure accuracy and originality, as neither tool is flawless.
These tools are highly effective due to their reliability.
Grammarly used advanced algorithms to examine your writing and provide suggestions for improvement.
It has received positive feedback from reviewers for its ability to identify spelling and grammar errors and offer writing enhancement tips.
Conversely, Turnitin excels at detecting potential instances of copying by comparing your work with papers in scholarly journals, books, and other published sources.
Moreover, it can bring to attention cases of unintentional plagiarism, such as improper citation or paraphrasing of others' work.
6. Accessibility
Grammarly is a flexible writing tool that can be accessed from various platforms.
When using a desktop computer, users have the option to access Grammarly Web through a browser or download the Grammarly desktop app, compatible with Windows and Mac operating systems.
Once installed, Grammarly seamlessly integrates with most applications on the computer.
On mobile devices, users can either download the Grammarly keyboard for real-time grammar checks on the go or utilize the Grammarly Editor app to review entire documents.
The Grammarly app is available for both iOS and Android. Furthermore, Grammarly provides browser extensions for Chrome, Firefox, Safari, and Microsoft Edge, along with add-ons for select desktop applications like MS Word and Outlook.
Turnitin supports a wide range of file types, but it can only be accessed via web browsers on computers.
On mobile devices, Turnitin offers the Turnitin Feedback Studio app, which has limited functionality compared to the web version.
While Turnitin works optimally with Google Chrome as the browser, it is also compatible with Firefox, Safari, and Microsoft Edge.
The minimum system requirements for Turnitin include Windows 7 or Mac OS X Intel v10.7+ (El Capitan 10.11) operating systems.
Turnitin is enabled on all ChromeOS desktop devices. To fully utilize Turnitin's features, it is recommended to use a computer with at least 3GB of RAM, JavaScript support, and a screen size of 1024×768 pixels or higher.
7. Pricing
The Grammarly plagiarism checker is only available with a paid Premium version. It is not available in the free version.
Grammarly's Premium plan costs more than Turnitin's because it has better tools for checking language and spelling.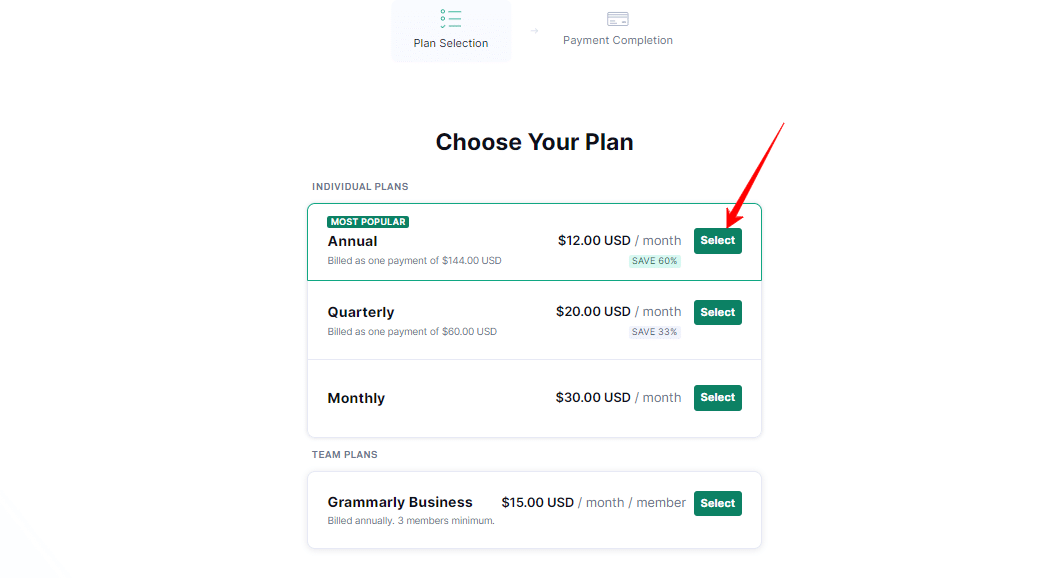 The following is a list of the different price plans for Grammarly Premium:
Grammarly allows individual users, whereas Turnitin doesn't. Instead, Turnitin markets its license to academic institutions for wider use.
Academics interested in Turnitin must contact its sales team for a price. Users say Turnitin's services start at $5000 per year, greater than Grammarly's.
Because multiple teachers and students utilize the software, this cost disparity exists.
Incorporate Turnitin's software into your university's learning management system if you work in educational technology.
Who Is For Grammarly?
Grammarly is an invaluable proofreading tool that should be used by writers, teachers, and scholars alike to rectify any spelling, grammar, or punctuation errors.
Beyond its primary functions, Grammarly offers a range of tools designed to enhance the composition and tone of sentences in various writing styles, including fiction, non-fiction, and academic writing.
It proves particularly beneficial for individuals who are not native English speakers, aiding them in improving fluency and proficiency.
Furthermore, Grammarly's plagiarism detector serves as a valuable asset for academic writers, business professionals, and students by ensuring the originality and proper attribution of their work.
Additionally, it assists in effectively expressing thoughts in one's own words.
Who Is For Turnitin?
Turnitin is a valuable tool employed by both teachers and students to combat cheating and ensure academic integrity worldwide.
Its primary function is to meticulously analyze the documents submitted, comparing them against an extensive database comprising academic papers, online sources, and previously submitted student work.
Through this meticulous process, Turnitin effectively identifies instances of plagiarism. Moreover, the software offers an array of built-in features that enable teachers to conveniently verify the originality of their students' assignments.
By employing Turnitin, educators can maintain high standards within the classroom while fostering an environment that encourages authentic and independent work from their students.
Conclusion: Grammarly Vs Turnitin
Choosing the right tool depends on your profession and specific needs.
If you're involved in fields such as copywriting, blogging, or journalism and you're seeking to enhance your writing and identify duplicate content, Grammarly is an excellent option.
Many individuals consider it the most reliable writing assistant available, although it may not be as proficient as Turnitin in detecting plagiarism.
However, Grammarly effectively fulfills its intended purpose.
Conversely, Turnitin proves to be a superior choice for individuals in the educational sphere, including students and teachers.
Its AI-powered assistant simplifies the grading process for teachers, while students can submit digital assignments and verify their originality.
Frequently Asked Questions
What is better than Turnitin?
There are many products, like Grammarly Business, PlagiarismCheck.org, Unicheck, and PlagScan, that reviewers picked as the best overall alternatives and competitors to Turnitin.
What is the main purpose of Grammarly?
Grammarly is an application for smartphones that can be used on any platform and helps people speak more clearly. Wherever you write, our thoughts, which are powered by AI, show up. They help more than 30 million people and 50,000 teams improve the correctness, clarity, engagement, and delivery of their work every day.
Is Turnitin the most accurate?
Turnitin isn't the best way to check plagiarism, and it's fair to say that it doesn't always get it right. But it's important to remember that just because it finds good results after searching through a huge database of already-published academic papers doesn't mean everything is perfect.
Is Grammarly good or bad?
Grammarly is a fantastic tool or browser plugin that monitors your writing for errors in grammar, spelling, and plagiarism while you type in Microsoft Word, WordPress, and Facebook, among other places. It's a no-cost grammatical aid that will help you express yourself in writing.
Is Grammarly free?
Yes, fortunately, count on the free edition of Grammarly to help you spot and correct a wide variety of frequent errors in your writing. This will not only help you save time, but it will also protect your credit while ensuring that your work conveys the appropriate impression. And that is not all that is being given away for free.
Is Grammarly Plagiarism Checker as Good as Turnitin?
Grammarly is superior to Turnitin because of its extra features and the opportunity to edit one's writing. It's a more all-encompassing resource because it caters to all types of writers, such as students, researchers, fiction writers, and business writers.
Why is Turnitin flagging my references?
When a document is sent to Turnitin, its algorithms look at it carefully to find any differences that make it different from other documents. When an oddity is found, it is marked for you to look at. But it's important to remember that a flag doesn't always mean there's something wrong with the document.
Does Turnitin Detect Grammarly As AI
Turnitin's AI writing detection indicator is designed to sniff out instances of plagiarized content, incorrect citation, and other sorts of academic dishonesty. On the other hand, grammar checkers like Grammarly aren't mentioned by name. Its major goal is to protect students' academic reputations by preventing plagiarism and ensuring that all work is appropriately credited to the appropriate authors.
Yes, Grammarly is bound by all HIPAA regulations pertaining to data security, privacy, and breach notification. An external auditing agency conducted an audit of Grammarly and issued an attestation report attesting to our compliance with industry standards.