Are Looking for WhiteSmoke alternatives? So you are at the right place.
WhiteSmoke is a writing assistant and has always been one of the top grammar and proofreading tools that I use, but I am aware that there is no single solution that works for everyone.
WhiteSmoke is missing numerous important functionality, such as a browser extension and desktop applications. In addition to that, there is no option for a risk-free trial.
So, people, who want to try WhiteSmoke for free before they buy it might not like this.
In this article, we will talk about the Top 8 WhiteSmoke Alternatives for 2023 that give WhiteSmoke a run for its money.
WhiteSmoke Alternatives: Why Should You Choose Them?
No Plugin or browser extension is available
No desktop app
No option to upload documents
No sentence rephrase feature
Over and above, No free trial
No worries! There are many better tools for proofreading on the web.
If you use WhiteSmoke without having looked at the other grammar checker tools, you should take a while to do so.
If you're looking for alternatives to WhiteSmoke, take some time to get a clear picture of other services and know what their most important functions are.
Once you're done, you'll have better alternatives to WhiteSmoke in terms of service, features, cost, and many others
Now it's your turn to look at some of the best alternatives to WhiteSmoke. Also, these tools can be used for more than one thing.
There are also both paid and free tools.
What's your top priority: simple spelling and grammar checks, plagiarism checks, advanced checks for writing improvement, or something else?
Choose your best alternative to WhiteSmoke based on which. In some ways, these tools may be much better than WhiteSmoke.
In other ways, they may be just as good. But, you will definitely find it easier to use than WhiteSmoke.
Bottom Line: There are many excellent grammar and plagiarism checker tools, but I recommend you try Grammarly because I have been using Grammarly for 7 years as a writer. It works fantastic as a grammar, plagiarism, and punctuation checker.
In particular, let's confer here about the Top 8 best WhiteSmoke alternatives.
Top WhiteSmoke Alternatives
Hemingway Editor
1. Grammarly
Grammarly is the best-known online grammar checker in the world, and it's free for personal use. It got our Great User Experience Award.
This powerful grammar checker software has the best grammar-checking features, but it's also more than that.
Here is the first and best alternative to WhiteSmoke, according to Grammarly. It is the best alternative to WhiteSmoke because it has the most modern features.
Plus, it can fix things faster, which puts it in the top spot.
Grammarly also gives you a detailed explanation of the mistakes you made and suggestions for how to fix them.
Grammarly review by experts gives detailed information about every part of Grammarly. Here are the main reasons why it is among the best WhiteSmoke alternatives.
Reason 1: Fast and accurate, Insights
Reason 2: Make error-free content instantly, Plagiarism check
Reason 3: Multiple platforms support
Reason 4: Social Media support
Reason 5: Extensions supporting most familiar browsers
Grammarly Pros & Cons
| | |
| --- | --- |
| Pros | Cons |
| Insights report helps us to improve our writing skills | No phone support is available |
| Word Translator | |
| 24/7 support | |
| Available for iOS and Android mobile devices | |
2. Ginger
Ginger software fights hard to stay as a second alternative to WhiteSmoke. Its fully integrated and complete English writing tools make writers want to try it and enjoy the functions.
Ginger software is a powerful and easy-to-use tool for checking grammar and figuring out how readable your content is.
Also, let's look at all the things that make it stand out and the best alternative to WhiteSmoke.
Reason 1: Correct variant types of mistakes
Reason 2: Sentence Rephraser
Reason 3: English Personal Trainer Tool
Reason 4: Translator Tool
Reason 5: User-friendly
Ginger Pros & Cons
| | |
| --- | --- |
| Pros | Cons |
| Advanced tools and features like Personal Trainer, Text Reader, Sentence Rephraser, Translator, Emoji | Limitations on the number of words to analyze in the free version |
| Mobile support (both iOS and Android) | No live chat and phone support |
| Browser extensions available for Chrome, Safari | Sometimes does not show the reason behind the errors |
| Cloud access | Not compatible with Mac OS |
3. ProwritingAid
ProwritingAid is the third close competitor in the race. It is a new alternative to WhiteSmoke. This software has advanced editing tools for first looking at the whole text and then making the reports.
The feedback on your content depends on how well you spell, use grammar, choose words, and write, how long your sentences are, and how often you use the same words or phrases.
But I'm happy to point out the reasons (comparing WhiteSmoke vs. ProWritingAid) why it stays in the race as a strong contender.
Reason 1: Readability Analysis
Reason 2: Report Generation
Reason 3: Word Explorer Feature
Reason 4: Easy to navigate and use
Reason 5: Contextual Thesaurus
ProwritingAid Pros & Cons
| | |
| --- | --- |
| Pros | Cons |
| Available for free | Browser extension for Chrome |
| Fast Editing | Not possible to retain the work as it does stores on its server. |
| Plagiarism report | |
| Microsoft Word, and Google Docs support | |
| Browser extension for chrome | |
4. JetPack
If you're a blogger or use WordPress, you should try Jetpack as a WhiteSmoke alternative.
Jetpack does a lot more than just keep WordPress sites from getting spam comments.
This plugin has been updated to make it easier for you to build your website, keep it safe, market it, and make money through it.
Even as you think about all the great things Jetpack can do, I'll tell you that it also has a Spelling and Grammar Checker built right in.
The Grammar and Spelling checker in Jetpack uses "After the Deadline" technology for proofreading. It was a separate plugin that Jetpack's main structure managed to include.
This checker works like the editor modules that come with WordPress. Once activated (wp-admin > Jetpack > Settings > Writing in your site's dashboard), it will add a spell-check feature.
The best thing about Jetpack's Grammar and Spelling checker is that you can set the rules and problems that the plugin should look for. Some rules for proofreading grammar and style are:
Bias language
Cliches
Diacritical Marks
Complex Phrases
Hidden Verbs
Double Negative Phrases
Passive Voice
Jargon Phrases
Redundant Phrases
Phrases to Avoid
The WordPress proofreading feature underlines grammar errors in green, style suggestions in blue, and spelling errors and misused words in red. Clicking an underlined word or phrase displays suggestions.
JetPack Pros & Cons
| | |
| --- | --- |
| Pros | Cons |
| It is an excellent alternative for bloggers and editors who write in the creative and casual fields. | This tool isn't as advanced as WhiteSmoke & Grammarly. |
| Available for free | Jetpack works only with WordPress blogs so this is strictly for bloggers. |
5. SpellCheckPlus
Here's the next option to WhiteSmoke with competitive features. SpellCheckPlus is great for students or second language learners.
It's great to know that this is the cheapest. Comparatively, it doesn't offer high-end features for skilled writers.
Here's why it's one of the greatest WhiteSmoke alternatives.
Reason 1: Easy and Fast Check
Reason 2: Keeping on update
Reason 3: Adjustable Editor Tool
Reason 4: Academics supportive
Reason 5: 24/7 availability
SpellCheckPlus Pros & Cons
| | |
| --- | --- |
| Pros | Cons |
| Interactive grammar exercises | You can only copy-paste the text into a text box on its site |
| Less expensive unless other tools | Not possible to access it on social media platforms |
| Synergy with Microsoft Word | Not having many advanced features like sentence rephrasing, plagiarism, report generation, and more |
| Suggestions to improve your writing | |
6. PaperRater
PaperRater is a free tool that uses artificial intelligence to help you analyze and improve your English writing.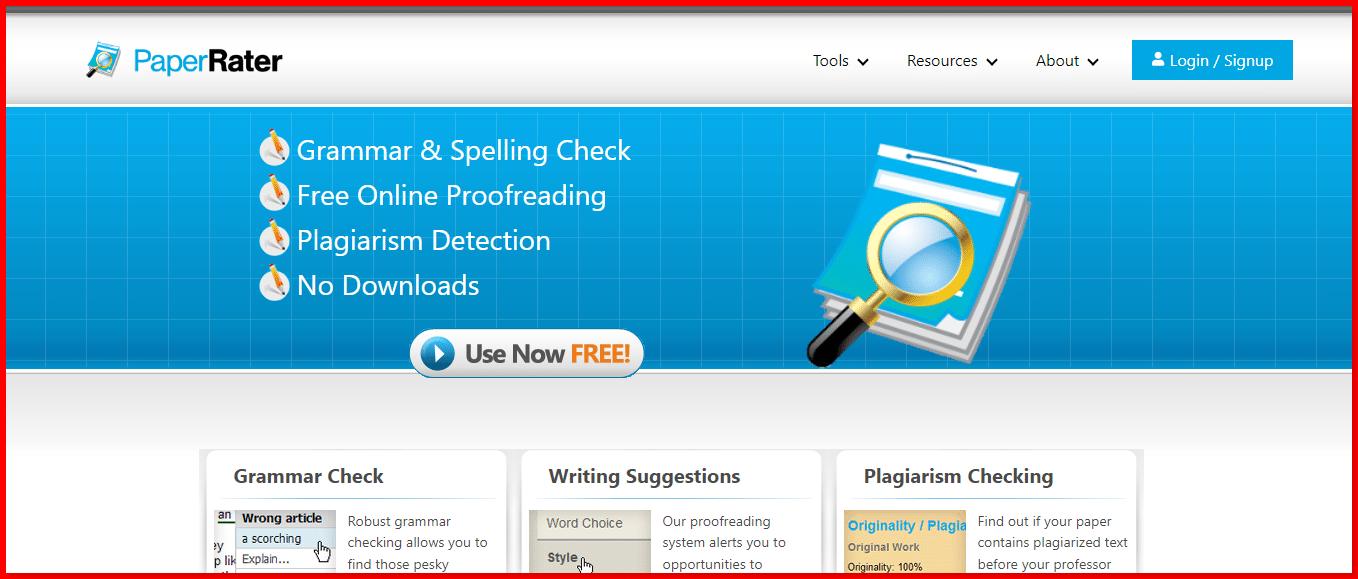 Unlike most other grammar checkers, this one is free and can be found on the web. So, if you want free alternatives to WhiteSmoke, check this out.
PaperRater may be the only free writing tool on this list that has a free plagiarism checker in addition to its free grammar and punctuation checkers.
Grendel, the algorithm that makes PaperRater work also gives you a vocabulary builder that works like the synonyms tool in MS Word.
PaperRater checks your spelling, punctuation, and writing style. The paid version removes advertisements and enables advanced features by:
Increasing the page limits per submission from 5 pages to 20 pages.
Increasing the monthly submissions from 50 to 200 per month.
Raising the monthly plagiarism checks from 10 to 25.
Gives you the ability to upload files in DOCX, DOC, RTF, and TXT.
You get more writing suggestions and additional editing modules.
Integrating the plagiarism checker into the proofreader, giving you a faster processing speed.
For basic grammar and writing solutions, PaperRater has a free plagiarism detector, a word creation, and a text proofreader. You do not need to sign up to use this tool.
You only need to copy+paste the content and must pick the author's education level and content category before submitting it for evaluation.
PaperRater identifies paper kinds, unlike Grammarly and ProWritingAid. You can select an essay, research paper, blog article, or short story from a long drop-down list.
PaperRater Pros & Cons
| | |
| --- | --- |
| Pros | Cons |
| Can use the PaperRater tool without registering | It's bad for non-corporate writing |
| Highly accurate plagiarism checker | |
| Simple and quick for result | |
7. Hemingway Editor
Hemingway Editor proves to be a prime alternative for Whitesmoke, offering an impeccable writing and editing tool for users seeking to refine their content.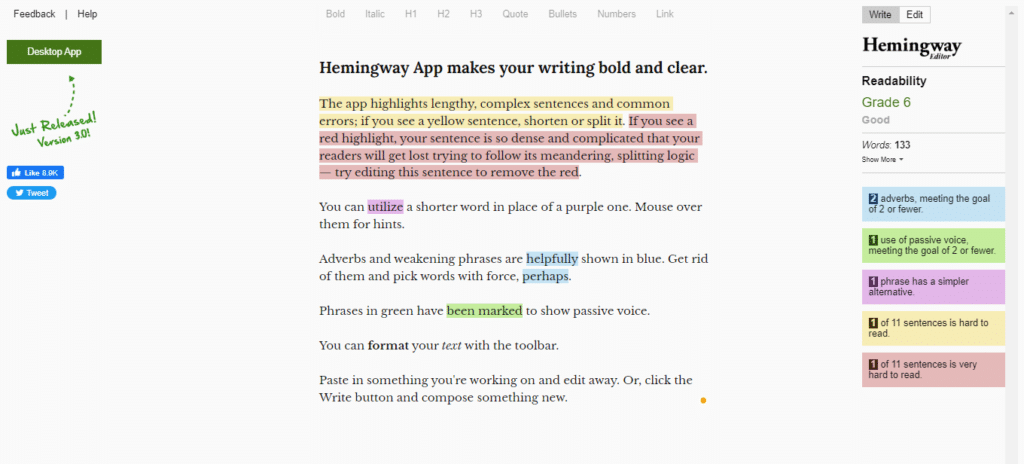 Its purpose is to refine content and grant readability, enabling the production of clear and concise writing that captivates audiences.
This piece delves into the intricacies of Hemingway Editor's features and highlights its advantages over Whitesmoke.
Hemingway Editor's primary feature comprises the identification of complex sentences, adverbs, and passive voice, which can make writing difficult to comprehend and less engaging.
Hemingway's Editor acknowledges these issues and subsequently proposes ways to refine writing. The elimination of unnecessary words and phrases results in clear and effective writing.
Below I have listed some of the key reasons to choose Hemingway Editor:
Boasts an uncomplicated and user-friendly interface, which makes it accessible to all
Hemingway Editor also identifies and underscores passive voice constructions, helping you to create a more active and captivating writing style.
It is highly customizable, allowing you to tweak the level of feedback you receive and the type of suggestions you see.
This app also checks your grammar and spelling, providing suggestions for corrections when needed.
Hemingway Editor Pros & Cons
| | |
| --- | --- |
| Pros | Cons |
| Simple and clean user interface | Limited editing |
| Easy to use | |
| Affordable to use | |
| Free version available | |
7. GrammarBase
GrammarBase is a web-based instrument that assesses composition for spelling and grammar slip-ups.
It is not extensively acknowledged, although it provides a convenient resolution for those necessitating scrutiny of their written work.
Users can easily enter or upload their content into the website's designated text box without the need to download any software.
GrammarBase has the capability of detecting and amending a plethora of inaccuracies, encompassing spelling errors, grammar blunders, punctuation errors, modifier mistakes, and many others.
Let's look at why it's one of the greatest WhiteSmoke alternatives.
Reason 1: User-friendly
Reason 2: Complex Grammar check
Reason 3: Experienced Editors and Manual Proof Reading
Reason 4: Fast and Affordable
Reason 5: Ensures document security
GrammarBase Pros & Cons
| | |
| --- | --- |
| Pros | Cons |
| Fast and accurate | You cannot use it with other 3rd party platforms |
| Manual proofreading | Not compatible with Mobile devices |
| In-depth and thorough checks | Browser extensions are not available |
| Free and no need to download any software | No specific app or add-on for Mac OS |
8. Slick Write
Slick Write, a powerful grammar checker and proofreader is freely accessible on the web to refine your written compositions.
This resource offers a simplified interface akin to most other complimentary grammar checkers, with no need to register for its benefits.
The application's use is quite simple. By pasting your text into the provided dialogue box and selecting "continue," your writing undergoes an examination, producing a summary report with highlights of areas that require enhancement.
Despite this software's usefulness, it has a noteworthy shortcoming – an inability to detect plagiarism.
Nonetheless, it remains on our roster of WhiteSmoke alternatives due to its paramount features.
Superfast grammar checking with immediate reports.
A customizable feedback system to suit your writing style.
Detailed statistical reports with sentence types, reading time, and vocabulary variety (to identify passages with the least variety).
Gives you a passive voice index, readability index, and prepositional phrase index with a beautiful graph structure.
Google Chrome and Firefox extensions.
WhiteSmoke has a way to check for duplicate content, but SlickWrite does not. So, Grammarly would be the best choice for you if you want this feature.
Slick Write Pros & Cons
| | |
| --- | --- |
| Pros | Cons |
| Real-time grammar corrections | Expensive |
| provides customized support and in-depth explanations | |
| Best grammar, style, and spelling checker | |
| Excellent customer support | |
Final Thoughts
I'm happy to provide the 8 best WhiteSmoke alternatives online. Grammar, spell check, and proofreading software are many.
Be careful! Try these tools and choose the best one for you.
Using it, I'm sure you'll improve. If you use a Mac, mobile device social media, or email threads, choose the relevant option.
Last but not least, I hope you have content that is interesting and free of mistakes so you can get more attention and promote your business well.
I strongly prefer Grammarly because I am using it and seeing how it helps me with my blog posts. Grammarly helps me make and promote my content in an effective way.
I'm happy to use Grammarly, and I think you should try it out for yourself.
Frequently Asked Questions
Which is better Whitesmoke or Grammarly?
Grammarly is far better than Whitesmoke. It has a better user experience, checks for more writing errors, and provides feedback in a way that helps you strengthen your writing skill.
Is Whitesmoke free?
Whitesmoke isn't for free. But it gives you a 50% discount coupon that lets you save a lot of money. Check out the article to find the discount coupon.
What is the best grammar checker?
Grammarly is the best grammar checker by a long shot. Grammarly finds far more spelling and grammar mistakes than any other
Can we use WhiteSmoke Offline?
No. Whitesmoke can't be used offline. It sends information to a server where AI looks for ways your content could be better. This needs to be connected to the internet.
How much does Whitesmoke cost?
The most basic annual plan for Whitesmoke costs $6.99 per month. The premium plan costs $9.99 a month, and the business plan costs $17.95 a month. But we have an exclusive discount coupon for Whitesmoke that gives you a whopping 50% off all plans.
Also Read: