If you are looking for top proofreading software in the market? Do not worry, I have covered the best proofreading software.
Being a full-time author and online content writer, I often find myself facing the daunting task of selecting the best proofreading software.
Each tool available in the market offers its own set of advantages and disadvantages, making the decision even more challenging.
By sharing my personal experience as a content writer and blogger who has extensively used these writing assistant tools, I aim to help you identify the one that will cater to your specific needs.
Scroll down the article to know more details about it:
Bottom Line: Even though built-in word checkers can find some mistakes, they are not as good as newer tools like Grammarly, ProWritingAid, Ginger, Scalenut and Hemingway app. From my personal experience after using so many proofreading tools, I suggest Grammarly is the best one among all, then you consider about ProWritingAid and Ginger.
What Is Proofreading Software In Writing?
Proofreading process of examining writing to correct spelling and language errors.
It is applicable across various forms of writing, such as essays, books, manuals, and websites.
The significance of proofreading lies in enhancing professionalism and ensuring reader comprehension.
Engaging in this process gives the work a polished appearance and makes it more accessible to the audience.
What Are The Best Proofreading Software?
There are a number of great options when it comes to proofreading software, and each has its own advantages and disadvantages.
The top proofreading software options are as follows:
1. Grammarly
Grammarly is an excellent proofreading software that writers, editors, and anyone else who works with written words should use.
This remarkable accomplishment is achieved through its robust artificial intelligence writing assistant, which enables real-time error checking, acceptance, or rejection with just a single click.
When reviewing blog posts, I rely on Gmail, the Chrome extension, and the Google Docs plugin to ensure flawless content.
For scrutinizing stories, I employ the desktop plugin designed specifically for Mac users.
Remarkably, Grammarly can be used to verify the spelling accuracy of a wide range of written material, from academic papers to professional emails.
If you happen to be a professional editor, chances are the writer or client is already using Grammarly's complimentary version.
By upgrading to Grammarly Premium, you gain the ability to create a personalized style guide and access downloadable reports for their perusal.
Furthermore, it would be highly advantageous if Grammarly were to introduce version control for proofreaders in the future.
The free version of Grammarly proves invaluable in detecting basic grammar and spelling errors. However, if you require advanced grammar and plagiarism-checking capabilities, opting for Grammarly Premium is imperative.
Additionally, on its premium plan, there is 20% off as a Grammarly student discount & enjoy the premium features.
If you wish to know more about Grammarly, then read our comprehensive Grammarly review article.
Grammarly Pros & Cons
| | |
| --- | --- |
| Pros | Cons |
| Suit your way of writing | Only for English language |
| Easy to use with many apps and websites | It expensive software |
| It works with the MS Word app for iOS and Android | |
| Excellent free version | |
2. Hemingway App
Hemingway sets itself apart from other writing tools by focusing on enhancing your writing style rather than only detecting spelling and language errors.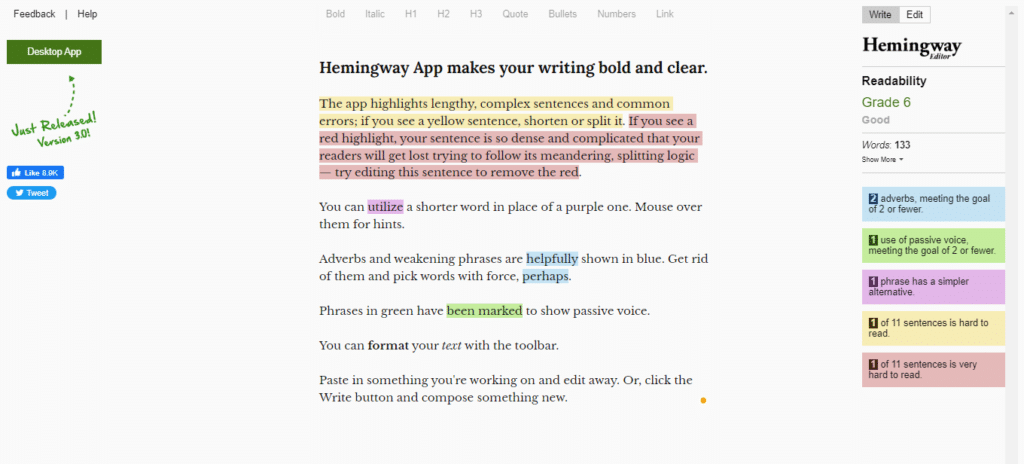 Its main intent is to help you refine your writing, making it more direct and confident, reminiscent of Ernest Hemingway's renowned style.
This software aids in steering clear of common writing pitfalls, such as excessive adjectives, passive voice, verbosity, and convoluted sentence structures that can impede understanding.
Unlike Grammarly or Ginger, Hemingway doesn't provide explicit suggestions. Instead, it identifies issues and encourages you to discover superior alternatives.
It's important to note that Hemingway won't transform mediocre writing into a masterpiece of creativity, as good writing transcends mere rules.
However, it can undoubtedly elevate the quality of your work, making it an invaluable addition to your writing toolkit.
To use Hemingway, simply copy and paste your text into the user-friendly online editor, which is free of charge and doesn't necessitate signing up or installing any software.
However, for longer pieces of writing, this process may become arduous.
If you plan on using this tool frequently or if you're working on a book, you have the option to purchase the PC app, which is compatible with both Mac and Windows operating systems.
The app allows you to import your writing, make necessary modifications, and subsequently export it in various formats, including plain text, PDF, or DOC.
Hemingway Application Pros & Cons
| | |
| --- | --- |
| Pros | Cons |
| Excellent style and formatting feedback | Free to use the online editor |
| Color-coded mistakes are easy to spot | |
| Free to use online editor | |
| Affordable pricing options | |
3. Ginger
Ginger revolutionized the field of proofreading back in 2007 and has remained an invaluable tool ever since.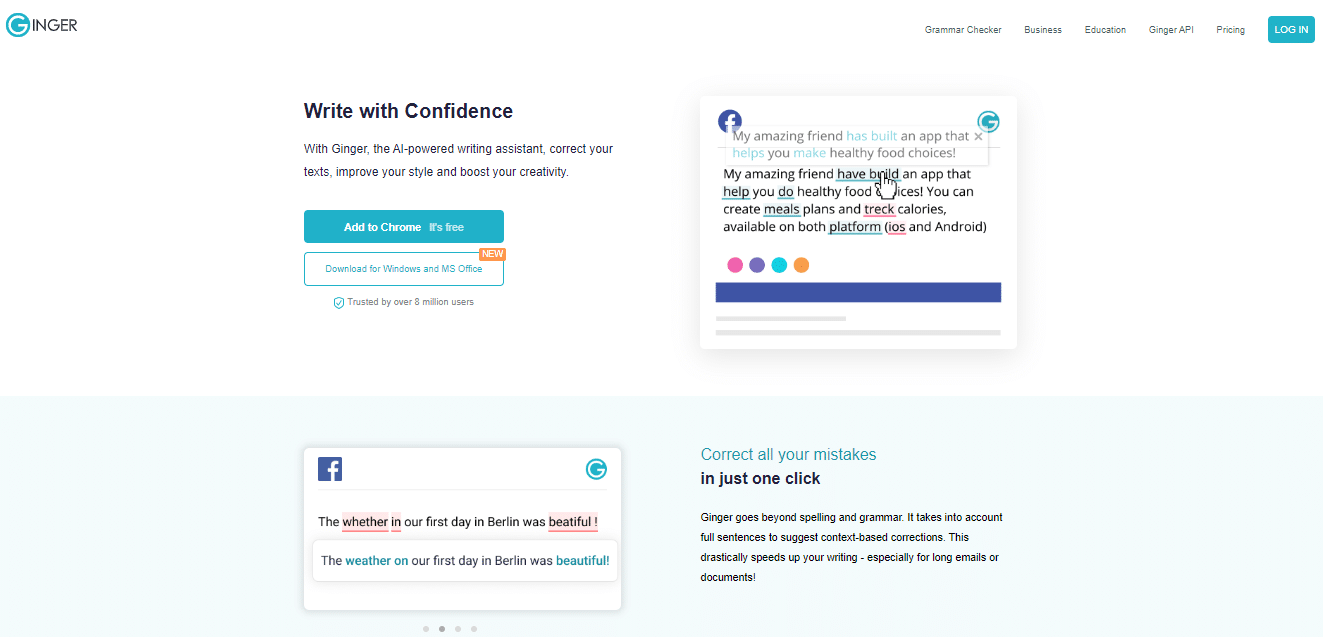 With its recent updates, it has emerged as one of the most exceptional grammar checkers on the market.
What sets Ginger apart from its competitors is its array of advanced and exclusive features, which are exclusively available in the paid version. Among these impressive tools, the text reader reigns supreme.
This remarkable function allows users to listen to their text being read aloud, not just in Microsoft Word, PowerPoint, and Outlook emails, but also on specific websites accessed through Google Chrome, Firefox, or Edge.
For writers, this feature proves to be an invaluable asset. By hearing their writing being vocalized, they gain valuable insights into the rhythm, flow, and areas where syntax or word choice can be enhanced.
Furthermore, it serves as a practical aid for multitasking, enabling users to listen to articles or blog posts while engaged in other activities such as folding clothes or exercising on a treadmill.
Another outstanding feature of Ginger Premium is its translator, capable of rendering your writing into over 60 different languages.
While this feature can assist in everyday conversations, it holds particular significance for fiction writers desiring to incorporate multiple languages into their narratives.
Should you envision a character overhearing a clandestine phone call in French or discovering an old scandalous letter penned by the protagonist's Russian grandmother, Ginger can make it a reality.
Ginger Pros & Cons
| | |
| --- | --- |
| Pros | Cons |
| Support 60+ language | Affordable pricing option |
| compatible with every device | |
| Affordable pricing opiton | |
4. ProwritingAid
ProWritingAid is an online writing tool. It makes editing and proofreading your writing much simpler than it ever has been before.
Algorithms powered by AI identify and fix issues related to spelling, grammar, punctuation, style, and structure. They play a crucial role in detecting and rectifying these errors.
When comparing ProWritingAid and Grammarly, it becomes evident that ProWritingAid serves as Grammarly's most direct competitor.
Similar to Grammarly's free version, ProWritingAid's free version offers an easily navigable interface and a basic proofreading tool.
However, the premium version of ProWritingAid stands apart from Grammarly as it goes beyond mere editing.
It provides valuable suggestions to enhance the structure, transitions, vocabulary, and overall readability of a story.
As a result, ProWritingAid proves to be a superior tool for writing narratives.
Although the monthly cost of ProWritingAid is higher, opting for the yearly payment plan enables users to save 67%. This feature makes it an excellent choice for individuals seeking the best value for their money.
ProWritingAid Pros & Cons
| | |
| --- | --- |
| Pros | Cons |
| Plagiarism checker | No Mac integration for Word |
| Helps with self-editing | |
| Affordable pricing options | |
| Free version available | |
6. ProofHQ
ProofHQ is a useful tool for companies and groups that need help with checking.
This software lets proofreaders add PDFs and Microsoft Word files, among others, and mark them up with proofreading symbols.
Live online pages can also be brought in and marked up with proofreading notes.
As an editor for a SaaS company, I found that ProofHQ helped me work with writers who were far away and give them clear comments.
But most proofreaders no longer have easy access to ProofHQ because it was bought by Adobe and is now sold through Workfront, which is a platform for bigger businesses to manage projects.
ProofHQ Pros & Cons
| | |
| --- | --- |
| Pros | Cons |
| Quick and easy to use | No grammar and plagiarism checker |
| Supports version control | |
| Built for collaboration | |
7. Slick Write
Slick Write is one of the best proofreading software that can examine your work for grammar mistakes, passive voice usage, and adverb frequency.
It is a basic version of a grammar-checking program with no further capabilities.
This writing aid tool is perfect for teachers, students, bloggers, and fiction writers who want to assess their written content.
You can use the key statistics function as a teacher to evaluate the quality of your pupils' essays.
Slick Write can help improve your writing in many ways.
It can fix your language and spelling, tell you how to improve your writing style, and help you learn new words.
Statistics can also be made about word choice, sentence organization, and how easy it is to read.
Writers, editors, students, and workers all use Slick Write to fix grammar and spelling mistakes, make their writing clearer, and give it a polished look.
It can be used for free as a simple online tool, or you can pay a fee to get access to more features.
Slick Write Pros & Cons
| | |
| --- | --- |
| Pros | Cons |
| Its word associator assists writers | Not accurate result |
| Incorporates a wide range of words | |
| Absolutely free to use | |
| | |
9. Antidote
Antidote is the most established option on this list, even if it may not be as well-known as other proofreading software. It has been in operation for more than 25 years.
Three versions are available to users: Antidote Web, Antidote Mobile, and Antidote 11. The mobile version is compatible with iOS devices, while the web version works with browsers like Chrome or Safari.
However, Antidote doesn't offer as many browser add-ons as Grammarly does.
Instead of sending your writing to the cloud, Antidote 11 can be installed immediately onto your computer and operates using local software that scans and detects grammar mistakes and other issues.
This makes it a great option for proofreaders without unlimited internet access as well as those concerned about data privacy and security.
Antidote supports the French language, unlike many other proofreading software programs.
It also gives users access to personalized dictionaries and a version made especially for educational organizations.
Antidote Pros & Cons
| | |
| --- | --- |
| Pros | Cons |
| It work both online and locally | Does not check plagiarism |
| Supports French and English | |
| Excellent on reports | |
| Affordable pricing options | |
10. Ziflow
Ziflow is a cloud-based proofreading software. Its major goal is to streamline and simplify the evaluation and approval of digital information.
It allows various stakeholders and reviewers to collaborate in real-time, resulting in speedier project completion and fewer errors.
Ziflow is a less expensive alternative to ProofHQ that provides similar functionality.
It enables users to import documents, URLs, and videos, as well as make essential modifications and amendments and support version control.
This application is great for team communication and dealing with complicated information such as movies, web pages, and documents that require approval before being published.
Nonetheless, it is the proofreader's obligation, not the software's, to discover and correct errors.
Ziflow Pros & Cons
| | |
| --- | --- |
| Pros | Cons |
| Ideal for small businesses, brands, and agencies | Does not check grammar and plagiarism |
| Video proofing | |
| Flexible user management | |
| Affordable pricing option | |
11. Copyscape
Copyscape is not like other proofreading programs that can spot and fix simple typos like misspelled words and grammar mistakes.
The fact that it can scan written content and detect instances of plagiarism (whether intended or not) makes it an invaluable tool for any proofreader's arsenal.
Proofreaders who are responsible for evaluating the work of other authors will find this function extremely useful.
Copyscape helps proofreaders protect authors' and businesses' brands from the damage that can be done by unintentional plagiarism.
While other programs like ProWritingAid, Grammarly, and Quillbot also provide plagiarism reports, scanning a website or blog's worth of content at once with Copyscape is the most efficient and thorough method.
Copyscape Pros & Cons
| | |
| --- | --- |
| Pros | Cons |
| It does support collaboration | No integration |
| Not Subscription Based | Only check plagiarism |
| Accurate | |
| Affordable pricing options | |
12. PaperRater
PaperRater is a proofreading software application that helps students improve their writing skills.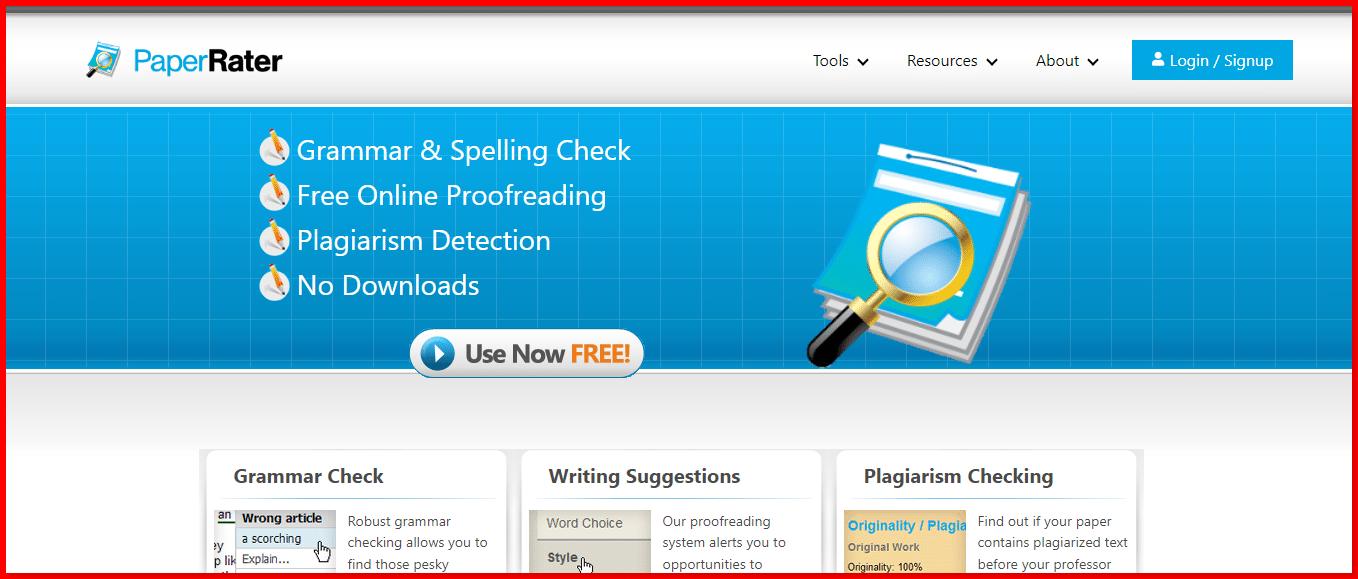 The company was founded in 2009 and is presently owned by Barnes and Noble Education.
Using advanced algorithms and natural language processing technology, PaperRater is able to detect a wide variety of writing-related issues, such as grammatical errors, misspellings, and improper word usage.
In addition, the software uses artificial intelligence to detect instances of plagiarism and typographical errors.
PaperRater Pros & Cons
| | |
| --- | --- |
| Pros | Cons |
| Excellent tool for checking grammar, plagiarism, and punctuation | Only helps student |
| Checks passive voice | No integration |
| Affordable pricing options | |
| Free version available | |
What Are The Types Of Tools For Proofreading?
Here in this section of the article, I have divided proofreading tools into one of five groups according to the platforms and purposes they serve.
1. Online Proofreading Tools
Web editors and web software enable individuals to access online proofreading tools effortlessly. You merely need to visit their website and paste your words into the provided box.
Hemingway serves as an exemplary tool in this regard. Additionally, certain platforms allow you to submit a document for review, which we refer to as full-service online forms.
Grammarly, a software, offers the ability to store your text securely in a personal cloud space, even if you're a free user. Nevertheless, there exist limitations to these computer applications.
To ensure thorough spelling and grammar checks in your manuscript, it is advisable to use MS Word alongside Grammarly.
2. MS Word Add-ons
Not many people use Microsoft Word's add-on tool for proofreading, although it functions similarly to the Chrome extension.
However, unlike the Chrome application, users need to download the Microsoft Word add-on from the Microsoft Store before using it.
In order to use MS Word on a Mac, the desktop version must be downloaded.
When individuals employ this tool to review their work, they receive suggestions while typing in MS Word, which sparks new ideas.
Moreover, this tool is often compatible with MS Outlook, enabling it to provide suggestions concerning language and style.
3. Mobile Applications
You can enhance your language and spelling effortlessly by using various phone apps available on the Google Play Store or the Apple App Store.
One highly recommended app for proofreading is the Grammarly Keyboard. It functions as a keyboard extension and provides helpful suggestions while you type in different applications such as SMS and social media platforms.
To benefit from this app, simply download it and activate it through your phone's settings.
Once enabled, you'll notice its distinctive green logo appearing in the text boxes, just like the browser application.
By using this app, you'll have a powerful tool at your fingertips to assist you in refining your writing skills and ensuring error-free communication across various platforms.
4. Desktop Applications For Mac/Windows
Desktop apps, equipped with their own word processors, offer users the ability to proofread with ease. The primary objective behind these apps is to simplify the process of editing and reviewing.
Despite their limited formatting options, you can capitalize on their file upload feature to your advantage. Simply add a .docx file, meticulously examine it for errors, and subsequently export it.
For Mac users seeking to optimize their editing tools, it is advisable to install a Word plugin.
By acquiring the PC app from the App Store, establishing a seamless connection between the two becomes effortlessly achievable.
5. Chrome Extensions
Browser extensions that function as proofreading tools offer tremendous practicality.
They operate by automatically editing your writing across all websites you visit, seamlessly integrating with popular browsers such as Safari and Firefox.
An exemplary illustration of this convenience is the Chrome extension that can identify and highlight grammatical and spelling errors while composing an email on Gmail.
These extensions possess the remarkable capability to read and analyze text entered into text fields on various platforms like Facebook, Google Docs, and more, all in an automatic fashion.
This functionality enhances the user experience by providing real-time corrections and improvements, making the process of writing and communicating online much smoother and error-free.
What Kind Of Software Do Proofreaders Use?
Professional proofreaders use a wide range of software tools to evaluate their clients' work.
First, they look over the text by hand to see if there are any mistakes. Proofreaders must get a license to show that they know what they are doing.
They also use the spell checkers that come with famous word processing programs like Google Docs and Microsoft Word, in addition to the manual review process.
After that, they either use the paid version of Grammarly or ProWritingAid, based on the type of writing they are judging.
They might also use other things like Hemingway and Ginger. No matter what kind of text they are working on, proofreaders use several software tools to make sure the final result is perfect.
Proofreading Software Vs Human Proofreader
Now let's find out which one is best for you and your team.
Proofreading Software
| | |
| --- | --- |
| Advantages | Disadvantages |
| Can be set to individual language styles, like American English, British English, or Australian English. | Cannot take into account nuances or complex ways of using words. |
| can quickly and easily check for spelling and language mistakes. | May miss mistakes that can only be caught by a human's instincts, such as mistakes that make no sense in context or differences in tone. |
| Can look at papers to see if they use the same language and format. | May suggest wrong ways to fix mistakes or flag mistakes that aren't really mistakes. |
Human Proofreading
Grammarly and ProWritingAid are two examples of proofreading tools that can help writing but cannot take the place of a human proofreader.
Before publication, every author requires a skilled human editor to assess their work. Editors are used by even well-known writers like Stephen King and George R.R. Martin.
If one's specific demands aren't met by proofreading software, hiring a professional proofreader is a possibility.
Earning a certificate in Editing and/or Proofreading from numerous institutes is necessary to become a certified proofreader.
To find any errors they might have missed, professional proofreaders use a number of software tools, including native spell checkers, grammar checkers, and applications like Grammarly, Hemingway, or PerfectIt.
Advantages:
Can find mistakes that a person would have to think about, like mistakes in context or differences in tone.
can take into account subtleties and complicated language use.
Can give feedback on the general style of writing and suggest ways to make it better.
Disadvantages:
May cost more than tools for proofreading.
A job that needs to be proofread may take longer.
May have personal views that change how they understand the text.
Final Thoughts On Best Proofreading Software
In sum, There are various proofreading tools available on the Internet today that can assist writers, students, and experts find and fixing grammatical, spelling, and punctuation mistakes in their writing.
But it can be hard to choose the best proofreading software from the many choices that are available.
Overall, Grammarly is the best proofreading software available because it has a lot of features, provides accurate results, & is easy to use.
It is a great tool for students, writers, and workers who want to improve their writing skills and turn in work that is free of mistakes.
Frequently Asked Questions
Is Grammarly better than a proofreader?
Grammarly is not as good as an actual proofreader. The computer can find typos and other mistakes in grammar, punctuation, and spelling just like a person can. Grammarly can't do these checks as well as a human proofreader can, sadly.
What is the best technique used to be a good proofreader?
Most professional proofreaders read the writing they are checking out loud as one way to do this. This makes you say every word out loud and uses your hearing, so you can hear how the text sounds when it is read.
What software do professional proofreaders use?
Professional proofreaders used to use Microsoft Word and rely on their understanding of English grammar and attention to detail. They checked the dictionary, the glossary, and books on writing style to make sure everything was right. But they now use tools like Grammarly and others that cost money. During editing, they change the font to Courier and set the spacing to 1.5 or 2 times, then look for mistakes by hand. They might print out the writing and use a red pen to point out any mistakes.
What is the best free AI proofreader?
QuillBot is an excellent proofreading tool that can be accessed via your computer, Word, or even your mobile device. Writing content is a time-consuming process, and reaching quality necessitates extensive revision. Using an online proofreading service is a vital resource for authors, regardless of their specialization or area of expertise.
Will AI replace proofreaders?
Due to the rise of AI software, it looks like the job of an editor is becoming more and more uncertain. These software programs, which are driven by artificial intelligence, are very good proofreaders that can keep getting better over time through a process called machine learning.
Is Grammarly better than a proofreader?
No, not at all, Grammarly falls short when compared to a human proofreader in terms of effectiveness. While the software does carry out certain functions similar to that of a proofreader, such as identifying grammatical, punctuation, and spelling mistakes, its accuracy in conducting these checks is significantly lower than that of a human proofreader.
How much should I charge to proofread 1000 words?
In 2023 Freelance proofreaders usually charge around $0.013 to $0.016 per word, which means $13 to $16 per 1000 words. Those who combine copy-editing services with their proofreading work tend to command higher rates in the market.
Do proofreaders use the software?
If you're in the business of professional proofreading, chances are your clients or writers are already making use of tools like Grammarly's free version. With Grammarly Premium, you have the ability to create & craft a customized style guide and provide them with downloadable reports for their uses. It's something I'm eagerly anticipating– the prospect of Grammarly introducing version control tailored to the needs of proofreaders.