Plagiarism poses a significant issue within the realms of writing and academia, as it involves using someone else's work or ideas without duly acknowledging them.
To steer clear of plagiarism, it becomes imperative to use effective tools and techniques that assist writers in detecting and rectifying any unintentional instances of plagiarism.
One such tool that garners considerable acclaim is Grammarly, an online writing assistant tool renowned for its ability to check grammar, spelling, and writing style.
However, many individuals are curious about Grammarly's effectiveness in identifying and stopping plagiarism.
In this article, I shall delve into the features of Grammarly and assess its usefulness in addressing concerns related to plagiarism.
Grammarly Plagiarism Checker: Overview
With the abundance of written content available on the internet, it has become crucial for writers to ensure that their published material is distinct from existing text found on other websites in the same language.
To tackle this challenge, plagiarism checkers have emerged as indispensable tools. These checkers compare the content against an extensive database to confirm its authenticity.
However, not all originality-checking tools are created equal in terms of reliability and accuracy.
Fortunately, there is a highly beneficial online tool called the Grammarly Plagiarism Checker. It is available in the premium version of Grammarly and can greatly assist in verifying the originality of written content.
This feature is capable of detecting instances of plagiarism and even identifying their source, making it an invaluable resource for writers seeking to maintain the integrity of their work.
| | |
| --- | --- |
| Rating | 4.5 |
| Who should use it? | Writers create online content, students complete assignments, educators grade papers, and businesses collaborate with writers and editors. |
| Key Features | The tool has a user-friendly interface suitable for beginners, checks content against billions of academic and non-academic sources, and can be integrated with Google Docs. |
| Price | The monthly subscription fee begins at $12. |
Is Grammarly Good For Plagiarism Checkers?
Yes, it's reliable, but no plagiarism software is perfect. Grammarly scans millions of websites for plagiarism.
Millions of printed documents never made it online. Grammarly can't access documents behind a paywall. So, there are times when a plagiarism checker shows no plagiarism but there is.
On the other hand, it doesn't know if you already have a citation and may show that you copied someone else's work.
How Does Grammarly Plagiarism Checker Work?
When you begin the plagiarism check in the Grammarly plagiarism checker, it will compare your text to the more than 16 billion online web pages and academic papers that are held in the databases that are owned privately by ProQuest.
An alert for possible plagiarism is displayed on the screen by Grammarly if any sentence or paragraph matches the content of any of these online web pages or academic papers stored in databases.
Also, it will show you the overall originality score as a percentage and the link to the source where the exact text was found, so you can give a citation if you need to.
How Do I Check For Plagiarism On Grammarly?
Listed below are the instructions for using Grammarly to detect instances of plagiarism in a given text.
By following these steps, one can ensure that their written work is original and free of any potential instances of plagiarism.
Step 1. First, log in to Grammarly.
Step 2. Open a new document editor and paste your content, or upload your document (.docx, .odt, .rtf, .txt file).
Step 3. You can also upload a document from the editor by clicking on the hamburger icon at the top left corner.
Step 4. Then simply click the Plagiarism button in the lower right corner of the document.
Step 5. It will take some time to look over everything. After the test, it will show the originality score and a list of the copied sentences and references.
Then you can just delete, change, or give credit to the original author for the copied work.
How Much Does Grammarly Cost?
All Grammarly subscriptions come with a feature that checks for plagiarism. So, we can find plagiarism checkers that cost money and ones that are free.
The free version has very few features, and to see the full report, we have to pay for a Grammarly subscription.
To use the Grammarly Plagiarism Detection service, we will need to sign up for the full Grammarly package, which includes Grammar, spelling, and punctuation checks, Clarity-focused sentence rewrites, Hard-to-read sentence rewrites, Tone adjustments, Word choice, Formality level, Fluency check, and more.
Both Grammarly Premium and the Business plan have full-featured plagiarism checkers.
There are three different subscription prices for premium plans, based on how often you want to be charged: monthly, quarterly, or annually.
The monthly premium plan costs $30 per month, the quarterly plan costs $60 per quarter or $20 per month, and the annual plan costs $140 per year or $12 per month.
Also, there are two kinds of Grammarly Business plans: monthly and yearly. And if we want to use Grammarly for business, we have to pay for at least three team members.
The monthly Business plan costs $25 per member each month, and the annual plan costs $12.50 per member each month.
What Is A Good Plagiarism Score On Grammarly?
Understanding the ideal plagiarism score on Grammarly is crucial for maintaining integrity in your written work.
Grammarly's plagiarism checker evaluates the originality of your text by comparing it to a vast database of online sources.
A good plagiarism score on Grammarly is typically considered to be below 15%. Achieving this score indicates that your document contains minimal or no plagiarized content.
It signifies that your writing is authentic and properly cited, ensuring that you are not infringing upon the intellectual property rights of others.
Striving for a low plagiarism score promotes ethical writing practices and fosters academic integrity.
Can I Check For Plagiarism On Grammarly For Free?
Yes, you can use Grammarly to check for plagiarism for free, but the free version doesn't have plagiarism detector features as a paid subscription.
And if you already pay for Grammarly, you automatically have access to the Plagiarism check feature. You don't have to pay extra for Grammarly to check for plagiarism.
How Can I Use Grammarly Plagiarism Checker For Free?
To utilize Grammarly's plagiarism checker without incurring any cost, it is recommended that you adhere to the following step-by-step instructions.
By doing so, you can easily and effectively verify that your written content is original and has not been copied or replicated from any external source.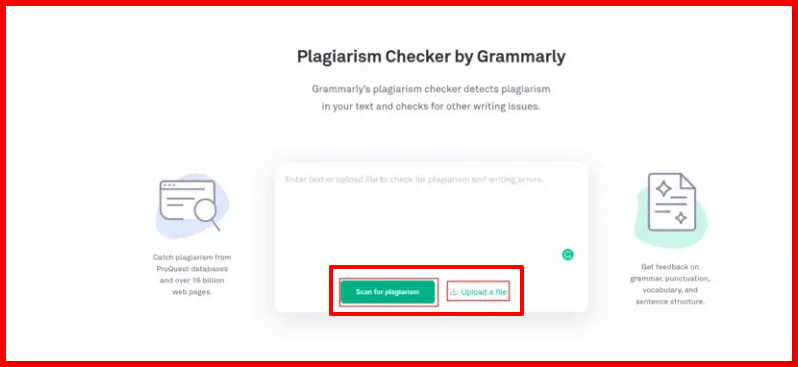 Step 1: First, Create a free account here.
Step 2: Then, Go to Plagiarism Checker Page here.
Step 3: Copy your content and paste it there or Upload your text document by clicking on the upload button.
Step 4: Then click on "Scan for plagiarism".
Step 5: After that, it will show the result, whether this content was plagiarized.
Is Grammarly Plagiarism Checker Safe?
According to Grammarly, our content is private. The Grammarly plagiarism checker won't index our content.
But Grammarly does collect and store some information, like user content, and shares it with trusted third parties.
But they do not sell the information you give them. They also use their rights under GDPR and CCPA.
So, it's safe to use but avoid sensitive information as much as possible.
Key Features Of Grammarly Plagiarism Checker
Here is a list of what the Plagiarism Checker on Grammarly can do.
1. Document Import and Export
To scan for plagiarism, Grammarly allows you to upload .docx, .odt, .rtf, and .txt files. If you have a PDF, copy and paste its content into the area.
Once you've checked for plagiarism, you can download or print your work.
To know more about it, you may read our article Grammarly report.
2. Plagiarism Percentage
The plagiarism checker shows a small percentage in the upper-right corner of the screen. This statistic does not reflect how much of your content is original but plagiarised.
You'll see a grammatical score on the right.
3. Links To Sources
Grammarly highlights your text in sources on the right. View the original document by clicking the link. You can investigate the source to cite it.
4. Grammarly Premium
Grammarly's plagiarism tool unlocks advanced grammar repairs. You can get genre-specific document suggestions in four ways:
Correctness
Clarity
Engagement
Delivery
The premium grammar checker detects passive voice, tone, sentence diversity, and inclusive language.
5. Grammarly Business
Grammarly's business version has a plagiarism checker. This plan allows up to 149 simultaneous document checks. Other features you'll like:
Admin panel
Team usage statistics
Centralized billing
Priority email support
SAML single sign-on
Plagiarism checker
Grammarly Business costs $150 per seat yearly to repair a team's grammar. You can optimize document and content workflow without multiple accounts.
Pros & Cons Of Grammarly Plagiarism Checker
| | |
| --- | --- |
| PROS | CONS |
| The tool is capable of identifying plagiarism from various sources. | The feature is exclusively accessible for content composed in English. |
| The plagiarism detection feature highlights the origin of plagiarism through links. | It experiences a delay problem for texts exceeding 1,000 words. |
| The results of the tool are highly precise and accurate. | To utilize the feature, a user must purchase a premium plan. |
| It provides an originality score to indicate the level of uniqueness of the content. | The tool does not offer any assurance against data theft. |
| The tool facilitates the quick detection of plagiarism. | |
| Additionally, the tool comes equipped with a built-in grammar and spell checker. | |
Is Grammarly Premium Plagiarism Worth It?
Yes, It Does. Grammarly Premium offers a multitude of features that include recommendations for style and tone, seamless application integration, and a plagiarism detection tool to ensure that written work is both original and free of errors.
Regardless of whether you are a professional writer or a company in need of impeccable content, investing in Grammarly Premium is a wise decision that can significantly enhance the quality of your written work.
Conclusion: Is Grammarly Good For Plagiarism?
Reviewing and testing software can be a daunting task as it heavily relies on the availability of data.
Despite the limitations, the results obtained from my testing endeavors shed some light on the accuracy of the Grammarly Plagiarism Checker.
I genuinely hope that this post has been informative in addressing the question, "Is Grammarly Good For Plagiarism?"
Your valuable insights and opinions are highly appreciated, and I kindly request you to share them in the comments section, allowing me and others to benefit from your thoughts.
Frequently Asked Questions
What are the penalties if I am caught plagiarizing information?
It depends on where you publish the contest. If a student's papers are plagiarised, the teacher may give that student a zero. If the plagiarism was purposeful, the student may be in breach of the honor code. If you publish plagiarised information online, it could hurt your SEO rankings. When it comes to plagiarism, the greatest advice is to avoid it.
Are there other types of plagiarism detection software I can use?
If you're looking to use a top-notch plagiarism checker, there are a few alternatives available. TurnItIn and Prowritingaid are among the options worth considering. Additionally, if you're searching for instances of plagiarism, you may find it beneficial to explore the databases provided by Proquest. These resources can help ensure the originality and integrity of your work.
Does Grammarly help with plagiarism?
Grammarly Premium's plagiarism checker is an invaluable feature that assists you in recognizing sections within your text that require proper referencing. Now is the perfect time to usethis tool and ensure the integrity of your work. Grammarly, as a comprehensive writing assistant, is adept at detecting not only grammar errors but also instances of plagiarism. Let Grammarly work its magic and help you produce exceptional, original content.
What Plagiarism Checker Do Universities Use?
Finding plagiarism detector alternatives that adhere to academic standards is crucial. Among these alternatives, Scribbr stands out as the ideal choice for college students. What sets Scribbr apart is its inclusion of offline sources within its comprehensive database. With Scribbr, college students can ensure the authenticity of their work without the need to invest in a Grammarly Plagiarism detector. Scribbr goes above and beyond by enabling checks against private journal papers and theses, further enhancing its effectiveness and relevance for academic writing.
Is Grammarly better than Turnitin?
When comparing Turnitin and Grammarly, it becomes evident that Grammarly offers additional advantages that enhance its value as a writing tool. Not only does it provide editing options, but it also includes supplementary features that further improve the writing experience. Moreover, Grammarly caters to a wide range of writers, including students, researchers, fiction authors, and business professionals. This versatility makes it an ideal choice for different types of written work, accommodating diverse writing needs.
Is Grammarly 100% correct?
Indeed, Grammarly proves to be precise when it comes to identifying fundamental spelling and grammatical errors. Additionally, its recommendations are more accurate in comparison to other writing applications. It has the capability to correct issues such as passive voice, diction, writing style, and punctuation placement, among others.
Also Read: