Grammarly is an artificial intelligence (AI) tool that helps writers improve their writing by identifying effective writing patterns and providing feedback on how to enhance those patterns.
However, Grammarly charges a significant amount for monthly or yearly memberships, which makes it unaffordable for some writers.
Although Grammarly is a little expensive, it is the most liked writing improvement tool for writers.
You may read our article Grammarly Review, in which I have covered each feature of Grammarly in detail.
Here in this article, I will talk about why is Grammarly so expensive and why.
So, let's get started!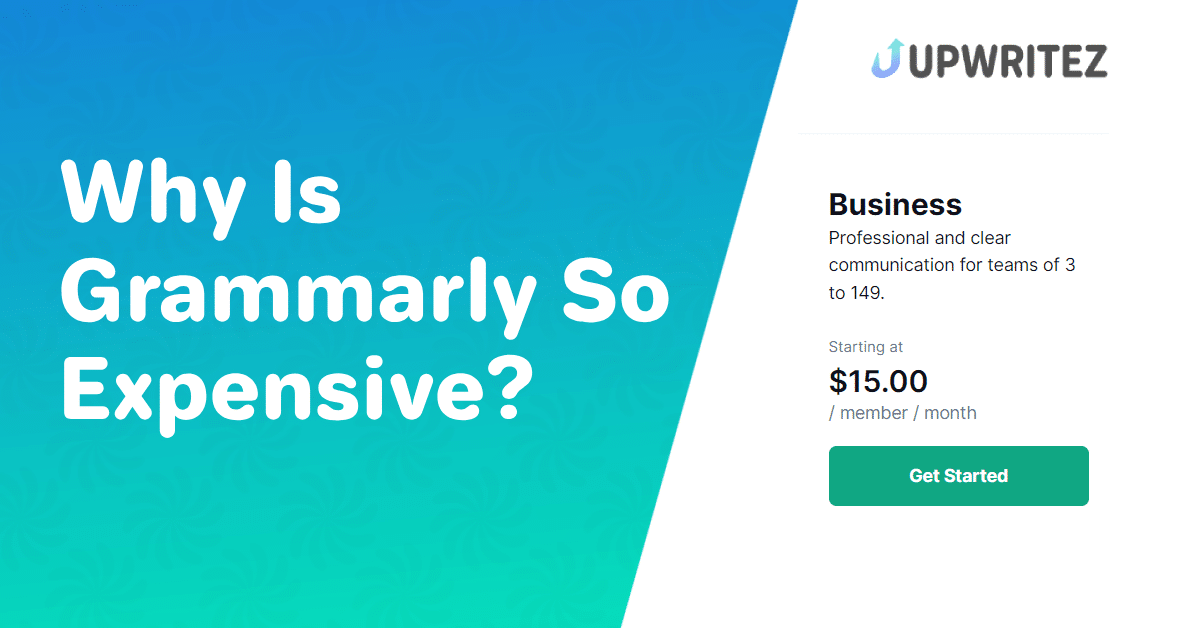 Why Is Grammarly So Expensive?
Yes, Grammarly is expensive, Because it is a highly accurate plagiarism detector, real-time grammar checker, simple user interface, and most secure writing improvement tool.
Grammarly has a basic version that is free to use.
There is an expensive premium version available for writers that have additional functionality than the Basic version.
The accuracy of Grammarly's grammar checker is one of the primary reasons for the relatively expensive cost of its monthly and annual subscriptions.
Also, Grammarly provides advanced grammar and spelling checking, which is reflected in the cost of its premium services.
There are a lot of other factors that contribute to the high price of Grammarly in addition to its features and technology.
Here I have listed below the major reasons, let's discuss them in detail:
1. Data Processing Speed
Fast data processing is another big reason why this tool is so expensive. It only takes a few seconds to read and evaluates the full text in search of corrections.
After the check has been finished, Grammarly will inform you of the percentage of the material that contains problems and will recommend different ways to correct them.
Using Grammarly, you can quickly edit and improve the quality of many thousand words in just a few hours.
As soon as you put in the complete content, the program can identify and flag all of the typos and errors within a matter of seconds after you have done so.
After they have been highlighted, you will just need to go through them and update the entire content to make it better.
2. Safety & Security
The fact that Grammarly keeps your data safe and secure is another big reason why it costs so much.
The tool doesn't share your information with anyone else, and its safety and security features are easy for users to count on.
Even though it stores your information on its servers, no one else can get to it unless you give them permission.
However, once the data has been removed from your account, there is no way that it can be retrieved again under any circumstances.
Grammarly also uses some advanced security features to keep your information safe.
This security feature also keeps your device's data safe from virus or malware attacks.
3. Features
Added features are also a big reason why prices are so high. Grammarly has a lot more to offer than any other writing tool on the market.
When consumers purchase this tool, they gain access to features such as precision, efficiency, expanded functionality, and improved outcomes.
A writer can put their trust in Grammarly's robust algorithm to spot and fix faults in their writing.
Check out some of Grammarly's more advanced features.
(A) Contextual Spelling
You can recognize misspelled words with the assistance of the contextual spelling tool, which further gives you the option to correct them with just one click.
After spotting a misspelled word, Grammarly will make corrections to the word's spelling based on the mode in which you are writing.
It is able to check for and correct over 250 different types of spelling errors without making a single mistake.
Only by using contextual technology can Grammarly provide such high-quality spell checks.
(B) Grammar & Punctuation
Grammarly finds all kinds of mistakes in grammar and punctuation.
It also tells you how to fix grammar and punctuation mistakes and makes suggestions in real-time.
For example, the tool easily finds misplaced apostrophes, commas that don't belong, and other common mistakes with punctuation.
Grammarly fixes mistakes with articles, verb tenses, and modifiers that are in the wrong place.
The tool uses an algorithm to make writing easier and clearer. This makes it easier to write without making mistakes and in a clear way.
The tool also looks for missing periods and comma splices so that the content is properly punctuated, which helps the writing flow better.
(C) Sentence Structure
Grammarly is also great because it gives suggestions for how to put sentences together correctly.
The tool shows you every wrong way to put together a sentence in your content and lets you fix it.
The four most important sentence structures that the tool offers are:
Simple sentences
Compound sentences
Complex-compound sentences
Complex sentences
Grammarly analyses the content you've provided and then applies the appropriate structure to it based on the needs of the current context.
Grammarly will alert you to make corrections if it identifies problematic parallelism, speech irregularities, missing verbs, or inappropriate adverb placement in your writing.
(D) Style
Grammarly will offer you advice on which words to use and will also edit your material to make it more understandable.
Grammarly's algorithm takes into account the style of your writing as well as the people who will be reading it, as chosen by the author.
Grammarly may help you style your writing by improving the flow and overall sense of the stuff you produce
It uses four main writing styles:
Narrative
Descriptive
Expository
Persuasive
Grammarly examines the writing style of your material and makes suggestions regarding tone based on that analysis.
This helps make content that flows well and is easy to read.
(E) Vocabulary Enhancement
The vocabulary enhancement tool helps improve the vocabulary of your content.
If you use the right words and have a good vocabulary, your writing will be more powerful and connect better with your readers.
The way Grammarly improves your vocabulary makes a strong impression and shows how well you write.
It uses short, clear, and simple words to help the reader understand what you mean.
The language enhancement feature of the tool helps you connect with your audience by using simple words to talk about their pain points.
It finds words that are used too often and suggests new phrases and words, which improves the overall quality of the content.
(F) Plagiarism Detector
Grammarly's plagiarism detector is one of the best at finding content that has been copied from websites, journals, books, and other sources.
This is made possible by the tool, which checks your text against the billions of web pages that are already online.
The plagiarism detector shows how much of that content is copied from other sources.
This lets you look over the whole article and find all the places where the tool found major plagiarism.
Grammarly's plagiarism checker is great for people who write a lot of academic content.
You can look at the work of your peers to see if you accidentally copied someone else's work.
It can also help you find information for your text.
This method helps find text that was mistakenly copied from another source without the right citations.
Here's what you need to do to check for plagiarism on Grammarly:
Go to the Grammarly Editor
On the editor page, paste the content you want to check for plagiarism
Click on the plagiarism button
The tool will run a plagiarism report and show you which parts of your content are similar to those on other websites.
4. Accuracy
Grammarly can find any mistakes you make with spelling, grammar, punctuation, or style.
Some tests have shown that Grammarly is almost four times more accurate than other language tools.
Grammarly is also great at finding spelling mistakes.
If you post content online and don't want to get in trouble for copying, you might want to use Grammarly's plagiarism checker.
The checker shows you all the copied text and lets you make changes right away.
At first, the plagiarism checker wasn't very accurate, but it has gotten better over time.
Grammarly has spent a fair amount over the past few years improving its quality.
5. Ease Of Use
The interface of Grammarly is designed to be extremely user-friendly.
This tool costs a lot because it is easy to use, has a simple user interface (UI), and doesn't have any big problems.
A writer can just start using the tool without any trouble.
After you copy and paste some text, Grammarly will tell you how to make it more precise and effective.
You should move your cursor over the suggestions, carefully read and use them, and then decide if they are right for your sentence.
The AI in Grammarly looks over your content and underlines any phrases or words that need to be clearer or better.
The tool gives you a list of words that it thinks would be better to use in your writing.
Even if you are just starting as a writer, it is easy to make corrections.
Is it Worth Paying for Grammarly?
Grammarly is worth the money because it can find most writing mistakes, from ones with mechanics to ones with style.
The Grammarly Premium Version costs $30 per month and can fix typos, passive voice, plagiarism, wrong tone, and more. Among the ways to pay for it are:
Monthly plan: $30 per month
Quarterly plan: $60 every three months ($20/month)
Annual plan: $144 per year ($12/month)
I would even say that this program is worth more than what you pay for it.
I can promise you that no other grammar checker can do a full check of your spelling, grammar, and plagiarism.
Take advantage of the fact that you can check as many times as you want, especially if you write blog posts, stories, or homework every day.
Why Choose Grammarly?
Grammarly is a tool that can assist in improving the overall quality of your writing.
You can also experiment with various writing styles to cater to the specific needs of certain audiences.
Take a look at some of Grammarly's most important features that make it such a useful tool:
It's easy to use
Correcting your grammar in real-time
Easy customization
Easy customization
Highly accurate
Where can I use Grammarly?
Grammarly can be used in a variety of contexts to improve one's writing abilities. It's a well-known program that helps with writing and works well with other modern programs.
In the beta version of Google Docs, which was made for it
On the website, you can upload content to be checked
As an iOS or Android app for your phone
As a Microsoft Office app for Outlook
As an extension for Microsoft Word
As an extension to Google Chrome
As a desktop app for Mac
Is Grammarly the Best Grammar Checker?
Grammarly is the most accurate grammar checker available. Grammarly eliminates plagiarism, spelling, punctuation, and style mistakes.
It's the ideal writing tool because it's for all writers. Grammarly can assist bloggers' content agencies to sound fluent and interesting. The plagiarism checker can boost academic writers' credibility.
It's not like other grammar checkers that just help certain writers. EasyBib is for researchers and students. SEMrush is for SEO-needing internet writers. Everyone needs Grammarly.
Pros and Cons of Grammarly
| | |
| --- | --- |
| Pros | Cons |
| Most Accurate Grammar Checker | Limited Free Version |
| Real-Time Grammar Checking | Expensive |
| Easy to Use | |
| Available on Different Platforms and Devices | |
Final Thoughts
Grammarly is an innovative artificial intelligence (AI) technology solution that delivers a lot of helpful advice and tools to those who write.
It has a wealth of capabilities, works with natural language in a way that is accomplished by machine learning and gives excellent speech accuracy.
This makes it more expensive than other tools for checking grammar on the market.
Grammarly is something that writers should
It can be a great investment if it helps you do good work for your clients and build long-term business relationships.
Frequently Asked Questions
Is Grammarly Premium overpriced?
The premium fee can be too much for casual authors. If you only write occasionally but want all of the features of Grammarly Premium, the $30 per month price tag might be too much for you.
What is the lowest Grammarly price?
If you buy a one-year license for the individual plan, it will cost you the least. This comes out to $144 per year or $12 per month. But not everyone can pay that cost all at once. If you can't, you can choose between making payments every three months or every month. The quarterly plan costs $20 per month and costs $60 every three months.
Does Grammarly offer a student discount?
Yes, Grammarly provides students discounts who sign up for either a yearly or a quarterly plan. By taking advantage of a concession on Grammarly, you may cut your costs by at least 20%.
Related Read: