The success of a website heavily relies on the quality and attractiveness of its written content. In the present competitive landscape, crafting truly impactful content is becoming increasingly challenging.
However, novice AI bloggers can significantly benefit from leveraging the Best Ai free writing software that harnesses the power of artificial intelligence (AI).
Additionally, it is crucial to employ top-notch AI tools for content detection to safeguard your content against unforeseen circumstances.
What Is AI Writing Software?
AI, also known as artificial intelligence, falls under the domain of computer science and endeavors to bestow robots with intelligence akin to that of human beings, encompassing their capacity for learning and reasoning.
Within this field, a broad spectrum of applications and platforms seek to emulate human behavior.
One notable application of AI technology involves software that employs algorithms to replicate human writing styles.
This software scrutinizes the writing style of the user and subsequently generates content suitable for various online platforms.
By employing the program more frequently, its predictive capabilities are enhanced, resulting in the creation of more captivating and engaging material.
Consequently, the generated content does not exhibit the characteristic traits of computer-generated text.
Top Tools
Best For
Free Plan
Premium Plan
Copy AI
Copywriters & bloggers.
2,000 Words/Month
90+ Tools
Chat (better than ChatGPT)
29+ Languages
Lifetime Free Plan; Unique price of $36/mo for unlimited words
Rytr
Creating long-form content.
5,000 Characters/Month
30+ Templates
Plagiarism Checker
30+ Languages
Lifetime Free Plan; Pricing starts at $9/mo
Writesonic
Bloggers and content creators.
25,000 Words/Month
100+ AI Templates
AI Article Writer
AI Art
Lifetime Free Plan; Pricing starts at $12.67/mo
Creaitor AI
Copywriters & bloggers.
20,000 Characters/Month
70+ AI Assistants
40+ Languages
Lifetime Free Plan; Pricing starts at $9/mo
Quillbot
Paraphrasing small sentences.
125 Word Limit
2 Modes (Out Of 7)
Lifetime Free Plan; Pricing starts at $9.95/mo
Grammarly
Grammar checking.
Grammar, Spelling & Punctuation
Tone Detection
Lifetime Free Plan; Pricing starts at $12/mo
List Of The Best Free AI Writing Software
When making the list, I mostly looked at the free versions of each tool and thought about how easy it was to use and how well it worked.
The task was hard because there were so many choices, but I got rid of the ones that were too expensive or took too long to use.
Our goal is to use tools that help us write faster and better without getting in the way.
1. CopyAI
CopyAI is an online platform that offers a diverse range of automated creative tools to overcome writer's block and kick-start your writing projects using AI-generated templates.
The platform also provides a comprehensive long-form document editor, enabling you to streamline your thoughts and expedite the writing process.
One of its standout features is its exceptional ability to produce compelling product descriptions. By leveraging AI-powered insights and suggestions, the platform assists you in crafting engaging content.
In addition to its resemblance to ChatGPT through the chat interface, CopyAI distinguishes itself by incorporating a notes field on the right side of the screen, allowing you to conveniently save your responses.
Unlike ChatGPT, the Copy Chatbot has the capability to extract public data from websites.
This functionality empowers you to personalize emails based on LinkedIn information, summarize YouTube videos by simply providing a link, and even search PubMed for relevant links and summaries while working on academic papers.
Copy AI Key Features
CopyAI has a free version that will always be free and doesn't require a credit card.
The platform has free tools like an email subject line generator, an Instagram comment generator, and a business name generator that don't require you to sign up.
Users can easily make copies for their writing projects with the help of the 100+ themes that are available.
It has a simple, easy-to-understand design that makes it easy to use.
Users can make different kinds of copy, such as digital ad copy, content for social media, copy for websites, eCommerce copy, content for blogs, and sales copy.
It works in more than one language, so it can be used by more people.
Each piece of material on the platform is aimed at the right audience.
It has a process for writing good product descriptions that are driven by AI.
With the newly added long-form document editor, users can put all of their ideas in one place and organize them.
2. WriteSonic
Writesonic is a writing tool that has some of the same features as Jasper but provides you with more ways to customize it.
It has a ChatGPT-style interface called Chatsonic and an art tool called Photosonic that makes art on its own.
Chatsonic has a drop-down menu where you can choose a persona for the AI. It also has tools like web scraping and text-to-speech conversion. You can switch between DALL-E and Stable Diffusion with Photosonic.
It has a tool called "bulk edit" that lets you upload an Excel file and have all of the changes made at once.
The vanilla editor has a large library of prompts that can be rated by users, and you can save your own questions.
The interface for writing is easy to use, with a full-screen view and links to Surfer SEO. You can export to WordPress with just one click, and there are hints to help you write copy for landing pages and Twitter threads.
The free plan gets you 10,000 words, and students can save 30% on paid plans. The cheapest paid plan, which includes 60,000 words per month, costs $12.67 per month.
WriteSonic Key Features
Quickly and easily creates professional-quality promotional materials for your company.
Blog posts and optimized articles are generated automatically and in a matter of seconds.
An AI-driven article and blog writer, it can automatically develop high-quality content-related pieces with the ideal tone, flow, structure, and voice.
Just a few clicks and you'll have powerful marketing copy.
3. Sudowrite
Sudowrite is a distinct AI writing tool that puts the user's experience first and gives them a wide range of visual tools for writing stories.
It has a clean, easy-to-use design and speeds up the writing process by using prompt templates and big buttons to do things like writing, describing, and rewriting for you.
The site is mostly for story writers, and it has a wide variety of prompts that can help you come up with ideas for characters, plot twists, and different types of stories, like romance and thriller.
The setup for writing is clean and clear, and there is a prompt window on the right side of the writing area. The drag-and-drop interface is also incredibly effective.
The things that make it stand out are its many unique features. Its feedback prompt pretends to be from a reader, giving users a chance to evaluate their own work.
The idea prompt in Sudowrite comes up with new words and character names to make stories more interesting, and the visual prompt makes art based on the writer's descriptions.
Also, a canvas feature has a separate brainstorming area where users can come up with different plot points, character secrets, and plot turns to get ideas and use them as a reference.
Sudowrite Key features
Brainstorming Tools
Revision Tools
Best for longer-form writing
Rewrite Tool
4. Rytr
Rytr is an affordable platform that uses AI to make a lot of material for many different niches.
It has an easy-to-use interface, so it's a great place to start if you're new to writing tools that use AI.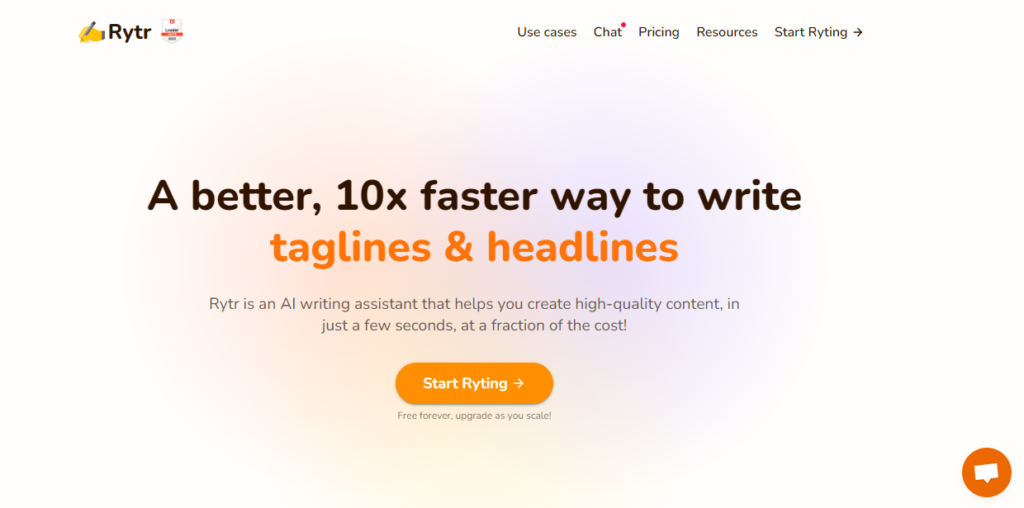 The free plan lets you use up to 10,000 characters (not words) and comes with images made by AI.
It will cost $39 if you want to use as many characters as you want. Also, it has a built-in plagiarism checker to make sure that the text it creates is original.
This is something that many AI copywriting tools don't have.
Rytr Key Features
The free AI article writer can be used to create blog post concepts and frameworks.
Simplifies writing with over 40 examples and templates.
Numerous Layout Alternatives – Present Your Work with Style!
It comes with over 20 different voice tones to assist you convey the proper feelings to the reader.
Improves writing quality and requires less editing according to proven scientific formulas.
The ideal keywords and content briefs can be found with the help of an SEO analyzer.
Editing text; a computer programme will finish your sentences for you.
Shopify and WordPress may now communicate with one another thanks to the Rytr API.
Quickly refresh your online profiles, inboxes, and blogs with this Chrome extension.
5. Scalenut
Scalenut offers an innovative solution that merges AI writing technology with SEO research, providing an all-in-one tool for writers looking to optimize their content for search engine rankings.
Comparable to its competitor's SEO Surfer integration, and sets itself apart by combining the features of two separate tools into one, simplifying the process for users.
By entering a desired keyword, the document editor focuses on that keyword, and its left panel displays competitors for that keyword.
The tool also comes with a Google Chrome extension and integrates with WordPress for direct publishing.
However, due to its complex interface and focus on SEO, it may not be the best fit for those without prior knowledge of SEO or experience with Google Search Console.
Nevertheless, for those seeking a comprehensive tool that includes SEO capabilities and unlimited word count, Scalenut's free forever tier with a 2000-word cap and growth plan with unlimited words makes it an excellent choice.
Scalenut Key Features
The free version doesn't have a trial term and it doesn't run out of time.
Analysis of search engine optimization (SEO); built into the platform; doesn't need integration.
Long papers can be written with the help of tools that use artificial intelligence.
Robotic writer.
Briefs that were made up.
There are no limits to how many words you can use.
6. QuillBot
Quillbot is a great tool for AI writing tool. One of its best features is the paraphrasing tool, which lets you quickly type in text or share a whole document, then rephrase and change the tone of the text in a few seconds.
Quillbot's co-writer is mostly made for academic writing and study, but it has some great features that help with content creation and research.
The research feature of the co-writer can find similar articles on the Internet and list their main points and keywords, which you can use to organize your own article.
It also has a citation generator that makes it easy to put these pieces in a bibliography.
One problem with the co-writer is that you can't add your own ideas to the tasks to make them more personal.
Aside from the co-writer, It also has a spelling checker, a translator, a summarizer, and a plagiarism checker. Many other AI writers don't have this last feature, but it's a great way to see if your work is original.
Quillbot has add-ons for Word that make it easy to work right in a text. It also has a Chrome extension that lets you use it on any website.
Quillbot has a free version and an annual plan that costs $99/year. For the tools it has, this is a great deal.
If you wish to know more about Quillbot and how it works then you may read my comprehensive Quillbot review,
Quillbot Key Features
Paraphrase
Grammar Checker
Plagiarism Checker
Summarizer
Citation Generator
Translator
7. Jasper
Jasper is one of the best AI to writing tools. It has raised more than $130 million and wants to be an all-in-one tool that can make both copy and art.
The platform has a free trial, but there is no real free tier, and it has a lot of great tools for people who pay for it.
Chat and a large library of writing ideas are built into the interface to help users get past writer's block and make it easier to come up with content.
In the platform's library, there are writing ideas for different types of writing, such as movie scripts and technical blogs.
With Jasper's Chrome plugin, people can use generative AI on any website, so they don't have to switch apps as often.
There is an extra cost for the platform's ability to make images. Another big selling point for Jasper is that it has a supportive group of copywriters on Facebook.
But the real responses are the same as those from other GPT API-powered AI writing tools, so there may be cheaper ways to get the same results.
Jasper Key Features
Social Media Post Creation
Variety of content templates
8. Grammarly
Grammarly has remained the premier provider of advanced grammar and spelling-checking tools since its inception in 2009.
Its AI-powered grammar tool is very customizable and can interact easily with numerous writing programs such as MS Word and Google Docs to help with online writing and eliminate linguistic problems.
This free AI writing assistance, in addition to supporting British, American, and Australian English, provides other language alternatives to help users improve their writing skills.
It also detects plagiarism and offers original writing ideas to help you enhance the quality of your article.
But Grammarly's free version does not have plagiarism checker features, but its premium version is expensive to have. If you want to try Grammarly Premium for free, you need to upgrade your plan.
Grammarly's user-friendly browser plugin is one of its most appealing features.
The plugin allows users to do Grammarly tests while writing in Google Docs or sending emails, making it simple and efficient to use.
If you wish to know more about it, then read our article Grammarly review.
Grammarly Key Features:
User-friendly Interface
Multi-language Support
Easy Integration with Other Writing Apps
Long-form Content Editor
Punctuation Correction
Readability Tracking
9. Creaitor AI
Creaitor AI, an artificial intelligence writing tool, has over 100,000 users. It differs from other comparable products in that it has an in-built SEO tool for content optimization.
It develops high-quality articles and enhances your writing skills at a low cost by utilizing powerful GPT-3 technology. Furthermore, it allows you to easily translate your material into multiple languages.
You can format your text in any way you like using Creaitor's long-form content editor. Furthermore, highlighting a specific piece of the text allows the AI to improve the material even more.
Creaitor AI, in addition to being an AI writing tool, also works as an AI copywriting tool for freelance marketers.
It can help you create a variety of material, including but not limited to email subject lines, landing page copy, and blog entries.
Creaitor AI Key Features
Use semantic keywords with NLP to rank higher on search engines.
Long-Form Editor
More than 70+ Templates
25+ Languages supports
10. Smart Copy
Smart Copy is a great AI writing tool to get past writer's block and other problems with marketing.
This AI writing tool makes it easier to come up with ideas, make changes, and come up with great content that will keep your audience interested for a long time.
This tool has an AI writer that can write content in different forms and lengths, like blog posts, social media updates, emails, and even poems.
Smart Copy has a web app and a Chrome extension that let you automate copywriting jobs in the browser. The team behind the tool is also working on desktop tools to make writing even easier.
Smart Copy Key Features
Fully Customizable Templates
Optimized Page Options
Original Content and Ideas
Auto Image Optimizer
Integrations and Webhooks
Supports 30+ languages
How Do AI Writers Work?
Artificial intelligence is the process of putting together literary neural networks by combining machine learning techniques with artificial intelligence.
AI software teaches these networks how to read the text and try out new things on their own.
Because it does the same thing over and over again, the machine is able to learn and copywriting with a very high level of accuracy.
Why should I use an AI writing tool?
Consider AI as a tool that facilitates your duties, as opposed to a threatening technology that could eliminate your position.
AI can increase your productivity and facilitate your work process, allowing you to produce content and allocate time more effectively.
Integrating AI-powered content writing software into your writing process can provide substantial benefits.
Rather than challenging the necessity of using AI writing tools, it may be more appropriate to consider why you shouldn't.
Are AI writing tools better than humans?
Artificial intelligence has the ability to generate content; however, when it comes to creativity and offering distinct perspectives, it falls short compared to human writers.
While AI can provide reasonably accurate responses when provided with specific and well-formulated questions, its ability to answer more general inquiries is limited to providing similarly generic responses.
Therefore, human writers tend to excel in such scenarios. On the flip side, human writers require more time and can be more costly compared to AI-generated content.
What Are The Advantages Of Using Free AI Writing Software?
Cost-effectiveness: By utilizing free AI writing software, individuals or businesses with budget constraints can save money on expensive writing tools and professional writers. It offers a cost-effective solution without compromising quality.
Time efficiency: AI writing software generates content rapidly, saving precious time compared to manual writing or research. This is especially valuable when there's a need to produce substantial amounts of content within tight deadlines.
Increased productivity: With AI writing software, you can automate repetitive writing tasks, freeing up your time to focus on other essential aspects of your work. This enhances productivity, enabling you to accomplish more in less time.
Language support: AI writing software often includes grammar and spelling checks, which aid in improving the quality of your writing. It can detect errors that you may have missed and provide suggestions for better phrasing, enhancing the overall readability and professionalism of your content.
Versatile writing styles: Free AI writing software typically provides a variety of writing styles and tones, allowing you to tailor your content to different audiences or purposes. Whether you require a formal, informative piece or a creative, engaging article, AI software can generate text that aligns with your specific requirements.
Creative Ideas: When facing a creative block or lacking inspiration, AI writing software can generate ideas or offer topic suggestions based on your input. This feature proves particularly useful for content creators, bloggers, or anyone seeking fresh perspectives.
Multilingual Capabilities: Some AI writing software supports multiple languages, enabling you to create content in different languages or translate existing content. This is advantageous for businesses operating in global markets or individuals aiming to reach a broader audience.
Constant Improvement: Free AI writing software regularly updates with new features and improvements based on user feedback. By utilizing such software, you can benefit from ongoing enhancements and advancements in AI technology, ensuring that your writing tool remains up-to-date.
Conclusion: Best AI Free Writing Tools
Several free AI-powered writing tools have made writing simpler than ever before thanks to technological advancements.
These instruments can significantly enhance writing quality and output. Grammarly, ProWritingAid, Jasper, and Quillbot are among the finest available free writing tools.
These tools provide services such as typo detection, synonym suggestion, plagiarism detection, and improved readability.
Due to the low cost and simplicity of these tools, authors on a limited budget can benefit greatly from employing them.
Frequently Asked Questions
Is there an AI that writes stuff for free?
Rytr is an artificial intelligence writing assistant that enables you to write material of high quality in just a few seconds at a fraction of the expense of traditional methods! Free forever, with upgrading options as your business grows!
Is there any free AI writer QuillBot?
The Co-Writer from QuillBot is a versatile writing assistant that lends a hand in various writing endeavors, be it academic, professional, or recreational. One of its most remarkable aspects is that it comes completely free of charge. What sets the Co-Writer apart from other AI writing tools is its exclusive range of features, available only within QuillBot's suite of resources.
Is Writesonic free forever?
Absolutely! Writesonic provides free forever choices that will always be available at no cost. This package is ideal for businesses (whether large or small) that need access to our most fundamental tools.
What is the AI everyone is using to write?
ChatGPT has become a sensational success from OpenAI, captivating users worldwide. The company's headquarters are situated in the vibrant city of San Francisco. This remarkable online tool, available at no cost, has undergone extensive training using countless pages of diverse written content sourced from various corners of the internet. As a result, it possesses an exceptional ability to comprehend and provide responses to text-based inquiries in virtually any desired manner or tone.
Is free AI writing any good?
Indeed, free AI writing can be equally proficient compared to paid AI writing, as it predominantly relies on the same vast pool of information.
Sudowrite stands out as the top AI writing software and tool, specifically designed with fiction writers in mind. Its user-friendly interface makes it a breeze to navigate and utilize. If you're looking for a robust AI tool specifically tailored for novel writing, Jasper is your best bet. However, if budget is a concern, I recommend exploring Rytr as a more affordable alternative. In addition to these primary options, you might find the AI writing tools Grammarly and Wordtune helpful in enhancing your writing process.
What is the best free AI for writing essays?
Three of the most user-friendly and dependable tools available are PerfectEssayWriter.ai, MyEssayWriter.ai, and FreeEssayWriter.net. Powered by artificial intelligence, these tools are designed to streamline the process of content generation, offering invaluable assistance to users in overcoming writer's block while also providing helpful suggestions for enhancing the overall quality of their writing. With these AI-powered tools, individuals can effectively save time and effort.
Are free AI writing tools really free?
Several AI writing companies provide various pricing tiers depending on the features they offer. Some of these companies provide a free trial period, while others have a free-forever plan with certain limitations. The latter refers to AI writing tools that are available for use at no cost, as long as the company doesn't alter its pricing structure. Every AI writing software tool mentioned in this article is completely free to use indefinitely.