If you want to utilize Grammarly while writing a project in Microsoft Word, follow this instruction to download, install, and add Grammarly to Word on Mac.
Grammarly is a grammar-checking service and software that allows users to correct errors in an English paragraph.
As a result, if you want to create error-free grammar in Word for Mac, you can use Grammarly for Mac desktop.
You may read our Grammarly review article, In which you will get an in-depth analysis.
Microsoft Word is one of the greatest word processing applications for Mac computers for getting the task done as quickly as possible.
Word handles everything simply, whether you want to create your semester project or annual report for your business.
Nobody enjoys reading grammatical faults in a tiny or large text, including your instructor, professor, and so on.
In other words, whether for school, college, or the workplace, you must write error-free English. Grammarly is meant to save you from those embarrassing, sloppy circumstances.
You may download both the Grammarly Word add-in for Mac and the Grammarly Word add-in for Windows in a matter of seconds.
Grammarly for Gmail, on the other hand, can be enabled by installing the Chrome extension.
The best part is that you don't need a Premium subscription to install Grammarly for Word on Mac it does, however, help to improve your writing.
In other words, a free account holder has access to the same features as a paid account holder.
To use Grammarly in Word, you must first download the Grammarly Word add-on for Mac. You don't have to worry about purchasing or spending money on it because it's free.
How To Add Grammarly To Word On Mac?
To add Grammarly to Word on a Mac, do the following:
Open Microsoft Word on Mac
Go to Insert > Get Add-ins to install Grammarly add-ins
Search for Grammarly and click the Add button
Click the Continue button to continue the installation
Click the LOG IN TO GRAMMARLY button to sign in to your account
Write your paragraph and click the Open Grammarly button
Find and rectify grammatical mistakes
To begin, launch Microsoft Word on your Mac computer and navigate to Insert > Get Add-ins to install the Grammarly add-in.
It brings up a window where you may look for Grammarly. Do so, then click the appropriate Add button.
It displays a popup window asking you to accept teams and conditions. When you're through reading, click the Continue button.
After completing the Grammarly Word add-in installation for Mac, you must log in to your account. To get started, click the LOG IN TO GRAMAMRLY button on the right-hand side and input your credentials.
When you're finished, you'll notice a Grammarly section on the right side of your screen. If you don't see it, moving to the Grammarly tab accomplishes the same thing.
As soon as you begin writing, Grammarly begins scanning your content to show you all of the errors in your paragraphs.
As a result, if you make a mistake, you'll be able to find it on the right-hand side, in the Grammarly area.
Click on each corrected text or word for more details and to correct the error you made.
If you want, you can also download the Grammarly desktop software for Mac. There is no need for a Grammarly add-in for Excel, Word, or Pages for this.
How To Install Grammarly On Mac
Here is the step-by-step guide to installing Grammarly on Mac:
Step 1. Navigate to https://www.grammarly.com/native/mac and click the "Download Grammarly for Mac" button.
Step 2. When the program has finished downloading, a new window will appear with the Grammarly logo and your Application folder.
Step 3. To begin the installation, drag the Grammarly logo to the App folder.
Step 4. When you open the Grammarly software, you will be asked to sign in; click on the link to go to the sign-up page.
Step 5. You may sign up using your Facebook profile, or Gmail account, or by making an account using your name and email address.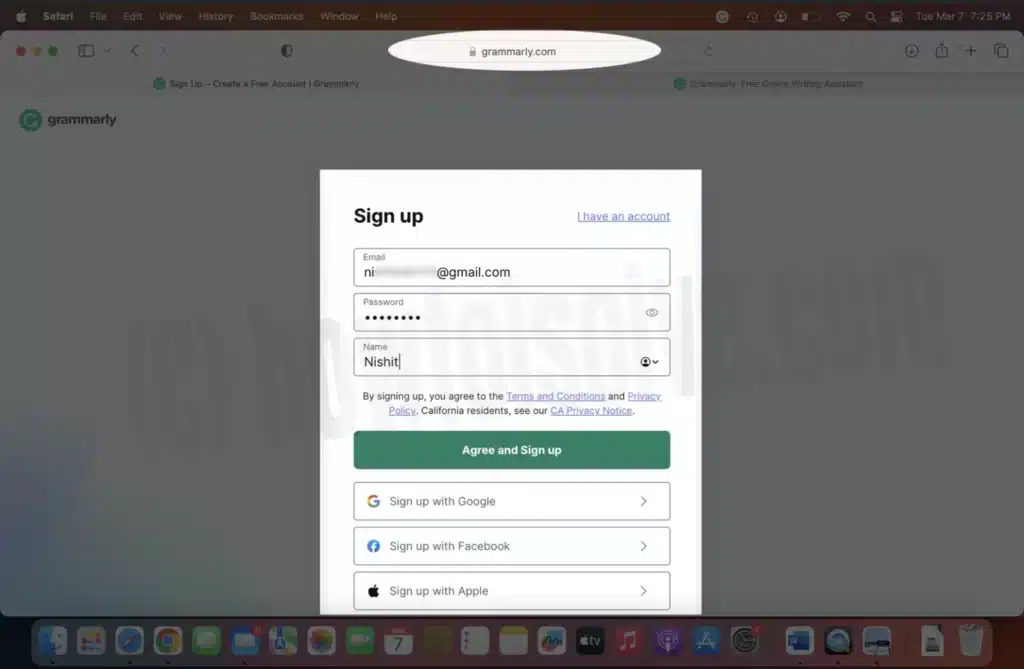 Step 6. You are now an official Grammarly user; you can upgrade to the pro edition if you choose, but if you only want to use the free version, click "Continue to your account".
Step 7. You will be invited to take a tour, which is highly advised so that you can fully comprehend what this program has to offer.
Step 8. You will also be asked if you want to add the Grammarly extension to your browser, which we recommend.

Most PCs come with an internet browser pre-installed, and the Grammarly Editor is compatible with Google Chrome 37+, Safari 8+, Firefox 38+, Internet Explorer 11+, and Microsoft Edge.
The browser extension enables the application to review anything you type on the web, allowing you to write error-free.
Grammarly will highlight them with an underscore and provide a correction suggestion if you hover over them.
How Can I download The Grammarly Add-in On Mac?
The answer is Yes, You need to follow these instructions to install Grammarly for Microsoft Word on your Mac if that is your preferred method:
Open a brand-new, blank Microsoft Word document on your Mac
Open the Insert menu and from the drop-down menu, choose either Get Add-ins or Store
Type Grammarly into the search box, and then press the Enter key
Click the Add button next to where Grammarly for Microsoft Word is listed
Frequently Asked Questions?
Can I use Grammarly on Word Mac?
On the Mac, Grammarly for Microsoft Word is now available. Grammarly is now available in Microsoft Word! That means you can see and use Grammarly's suggestions for improving the strength and clarity of your writing without having to leave the document you're working on.
Can you add Grammarly to Mac?
Yes! Simply download Grammarly for Mac and install it.
How do I install Grammarly in Word?
How to Install the Grammarly Word Plugin To get the free MS Office Grammarly plugin, go to the Grammarly website and select "Get the add-in." Click the file in the lower left of your browser window once it has finished downloading. Select "Get Started" from the welcome window that appears.
Where is the editor in Word on Mac?
Click the Editor button on the Home tab. In the Editor window, select a category, such as Spelling or Grammar, to study the ideas and take action depending on the advice provided.
Where did Grammarly go in Word?
In Word, open any text document, locate the Grammarly tab in the toolbar, and select Open Grammarly. If prompted, log in with your Grammarly credentials. On the right, you should see the Grammarly sidebar.
How do you download Microsoft Word on a Mac?
To get Office, sign in. Go to www.office.com and select Sign in if you aren't already logged in. Sign in using the account you used to install this version of Office. Follow the steps that correspond to the kind of account you used to sign in. The installation of Office on your device is now complete.
Why Grammarly is not working in Word?
Follow these steps to resolve these problems: Click File > Options > General in Microsoft Word or Outlook. Select Optimize for compatibility in the User Interface Options section. If the problem persists, restart Microsoft Word or Outlook.
How do I download and install Grammarly for free in Word?
Scroll down to Grammarly for Microsoft Office on the Grammarly Apps screen and click "Install."
Why did Grammarly disappear from Word?
This usually happens when the Grammarly add-in is turned off or disabled manually. If the Grammarly tab is missing from Office Word, you can use the instructions below to reactivate the Grammarly tab and make it work again.
Related Read: