Combining WordPress with Grammarly for free ensures that the online grammar tool improves your knowledge and professionalism.
As you use Grammarly, you will witness improvements in your writing skills. Begin your journey by signing up for a complimentary Grammarly account.
Even though there isn't a dedicated WordPress version of Grammarly, you can still use it to check your posts and pages.
Just sign up for a Grammarly account, add the add-on to your favorite browser, or download the desktop program. This way, you can get the most out of both services.
I've been relying on Grammarly as a blogger and content writer for quite some time now.
It has proven to be an invaluable tool for me, especially when it comes to working with WordPress websites.
Scroll down the page to know in-depth about Grammarly for WordPress.
How To Use Grammarly With WordPress?
Using Grammarly in conjunction with WordPress can greatly improve your writing by offering valuable suggestions on grammar, spelling, punctuation, style, and clarity.
To help you understand how to use Grammarly with WordPress effectively, here is a step-by-step guide:
Step 1. Install the Grammarly Browser Extension:
Launch your preferred web browser (such as Google Chrome, Firefox, Safari, etc.).
Visit the Grammarly website at www.grammarly.com.
Access the top navigation bar and select "Apps," then choose "Browser Extension."
Follow the provided instructions to install the Grammarly browser extension tailored to your specific browser.
Step 2. Sign In to Grammarly:
After successfully installing the browser extension, locate the Grammarly icon within your browser's toolbar.
If you already possess a Grammarly account, sign in using your existing login credentials.
If you don't have an account yet, click on "Sign Up" to create a new one.
Step 3. Open Your WordPress Editor:
Log in to the admin panel of your WordPress website.
Navigate to the desired page or post where you wish to utilize Grammarly.
Click on either "Add New" or "Edit" to access the WordPress editor.
Step 4. Enable Grammarly on WordPress Editor:
Within the WordPress editor, you should spot the Grammarly icon located in the text toolbar, typically positioned at the top.
Click on the Grammarly icon to activate Grammarly for your content.
Step 5. Start Writing and Receive Suggestions:
Commence writing your content directly within the WordPress editor.
As you write, Grammarly will automatically scan your text for grammar, spelling, and other writing-related issues.
Any detected issues will be highlighted by Grammarly, accompanied by suggestions on how to enhance your writing.
Step 6. Review and Implement Suggestions:
Pay close attention to the underlined words or phrases that Grammarly highlights.
Click on the highlighted area to view the suggested corrections or improvements.
Grammarly will present alternative suggestions, explanations, and examples to assist you in making better choices.
To accept a suggestion, simply click on it, and the correction will replace the original text within the WordPress editor.
Step 7. Customize Grammarly Settings:
Grammarly offers the option to customize its settings to align with your writing style and preferences.
Click on the Grammarly icon situated in the text toolbar of the WordPress editor.
In the Grammarly pop-up window, you can make adjustments to settings such as tone, goals, writing genres, and more.
Step 8. Save and Publish Your Content:
Once you have reviewed and implemented the suggestions, feel free to continue writing or make any additional changes as necessary.
When you are satisfied with your content, click on the "Save" or "Publish" button within the WordPress editor to make your content live on your website.
Is There Grammarly for WordPress?
To utilize Grammarly with your WordPress website, visit the Chrome plugins store at https://chrome.google.com/webstore/ and install the Grammarly browser extension.
Perform a search for "Grammarly" and click "Add to Chrome" and "Add Extension" to download and install it.
After installation, you will see the Grammarly logo on your toolbar. The browser extension provides basic proofreading for text boxes on any website, including Google Docs and your WordPress blog dashboard.
If you want to make the most of the service, sign up for Grammarly Premium.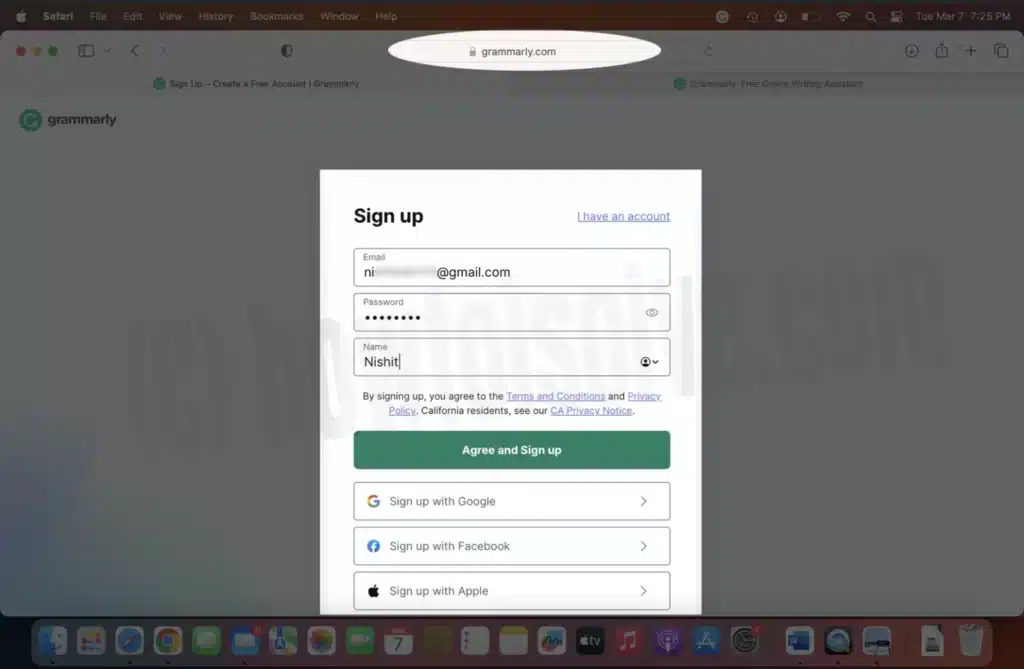 With a membership, you gain access to advanced grammar checks that can detect repeated words, prepositions at the end of phrases, sentence structure, passive voice, and more.
Our content marketing company, which produces over 300 articles per month, uses Grammarly Premium daily.
If you have a Grammarly subscription and are logged in, keep the grammar checking enabled for your WordPress website. You can turn it on or off for specific domains by clicking the Grammarly button on the toolbar.
Furthermore, you can upload new files to Grammarly, which will be saved to your account and made accessible through the website or desktop application.
How to Use Grammarly for WordPress Content Creation?
Here I have listed a simple step-by-step guide to using Grammarly for WordPress content creation:
Step 1. Log into your WordPress dashboard and create a new post or page before using Grammarly on your website. Go to Posts >> Add New to do this.
Step 2. If you followed the steps above to install Grammarly in your browser, when you open the post editor (either the standard editor or the Elementor editor), you will find the Grammarly icon at the upper right of your screen.
Step 3. Grammarly will instantly check your text for typos and other errors as you type. The error icon, normally green, will turn red when an issue arises.
The number of mistakes in your message will be displayed in red on the symbol.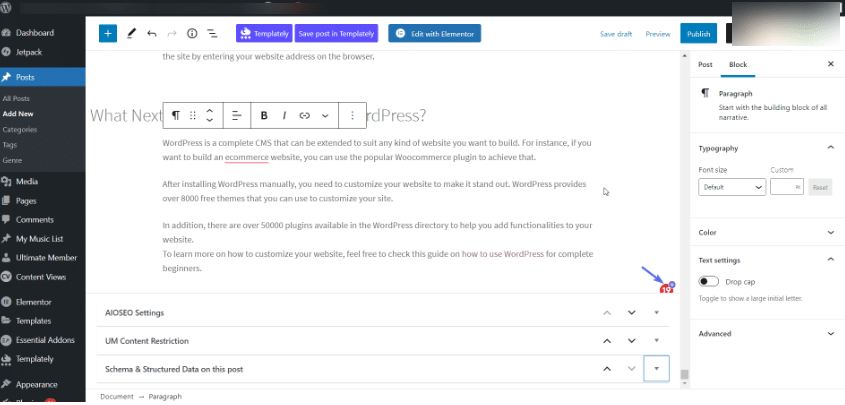 Step 4. When you click on the red option, the Grammarly editor will open.
Step 5. You have the option to accept or reject Grammarly's proposed edits in this editor by selecting the Delete icon. You can also fix the mistakes in the post in WordPress. Moving your mouse over a word with a red line shows you how to fix it.
Step 6. You might prefer to ignore the error in certain situations because Grammarly's suggestions aren't always accurate. You can just click Dismiss to dismiss it in such circumstances.
Step 7. Your article's overall readability score is displayed on the upper left of the editor. After editing an article, you have the option of saving it as a draft or publishing it immediately.
Are Grammarly WordPress Suggestions Always Correct?
The answer is no. Grammarly is an effective tool that checks for spelling and grammar mistakes online. Still, there are times when you might need to turn off its grammar tool.
For example, when writing technical material, there are often words that are not in the dictionary. Web hosting or complex terms, like "config file," are great examples.
Even if the word is spelled right, Grammarly might mark it as a grammar mistake.
It may sometimes suggest a different word that has nothing to do with what is being talked about.
If you are looking to remove a word from the Grammarly dictionary, you may read our complete guide Grammarly remove word from the dictionary.
Helpful Suggestions for Integrating Grammarly with WordPress
If you're using WordPress and want to use Grammarly, you should install a classic editor plugin rather than using the newer Gutenberg editor.
Grammarly's free plugin is available after the traditional editor plugin is installed and active.
Some users may encounter difficulties due to plugin conflicts; in such cases, they can use the Grammarly website or mobile app to check their text for grammatical errors.
It's possible that formatting and HTML alterations will be lost if you copy and paste text from WordPress to Grammarly and back.
For many people, the Grammarly add-on for Chrome is the best option. If you find Grammarly to be important, you can either get your friends to sign up or start your own Grammarly team.
For those on the go, there's also the Grammarly Keyboard.
Final Words On Grammarly For WordPress
To put it simply, Grammarly for WordPress proves to be a valuable aid for bloggers and authors as it enables them to promptly assess their grammar and spelling while writing.
This tool seamlessly integrates with the WordPress system and requires minimal time for installation and utilization.
It assists writers in producing superior content by preventing embarrassing errors.
WordPress users can benefit from Grammarly's comprehensive grammar and punctuation checks, along with its suggestions regarding word choice, tone, and style.
Furthermore, it aids authors in avoiding plagiarism by allowing them to compare their work with an extensive library of previously published materials.
Frequently Asked Questions
Can I use Grammarly in WordPress?
Even though there isn't a specific Grammarly plugin for WordPress, you can still use the service by adding the Grammarly browser extension. Chrome users can do this by going to https://chrome.google.com/webstore/ and looking for the plugin they want to install.
Why does Grammarly not work on WordPress?
For Grammarly to work, you have to log in to WordPress through the /wp-admin page (https://domain.com/wp-admin/post.php). Even if you go back to the regular editor, Grammarly should still work fine. If you use https://wordpress.com/post/domain.com to get to WordPress, you can't use Grammarly right now.
How do I check grammar in WordPress?
You may get a more thorough grammatical check by going to JetPack > Settings. The spelling, style, and grammar guide can be found under the "Writing" tab. From this menu, you can activate specific proofreading settings, such as the application of style rules.
How do I install Grammarly on WordPress?
Firstly, you need to visit the Grammarly extension page and locate the "Add to Chrome" button. Upon clicking it, a notification will appear, providing you with an overview of the extension's features. Following that, a new tab will promptly open, taking you to the Grammarly website. At this stage, your Grammarly Chrome extension will be fully set up and ready to be used!
How do I check grammar in WordPress?
To view spelling suggestions, simply right-click on the underlined word. In case you don't see any underlines beneath the misspelled words, please ensure that the spell-check feature is enabled in your browser settings. The steps to enable it may vary depending on the browser you're using, but typically, you can find the option in the Settings section of your browser.