Grammarly Premium is a highly beneficial service that provides assistance to numerous individuals.
It is used by creative writers, students, and professionals alike to effectively proofread various types of written works.
By having an account, users gain the ability to download the Grammarly app and conveniently access it on up to five different devices concurrently.
Here in this post, I have comprehensively addressed all the details concerning the How Many Devices Can Use Grammarly Premium?
Grammarly Premium is a valuable service that helps many people.
If you like to know more about Grammarly and how it works, then read our article Grammarly review.
How Many Devices Can Use Grammarly Premium?
Grammarly is a widely used writing assistant that assists people in refining their writing abilities and elevating the overall excellence of their written work.
Grammarly Premium presents advanced functionalities and supplementary advantages to its users.
If you're contemplating an upgrade to Grammarly Premium, a common query that might arise concerns the number of devices on which you can utilize it.
To use the Grammarly Editor on a computer other than the one you usually use it on, just sign in to your Grammarly account at https://app.grammarly.com/.
If you want to put Grammarly on your new device, please follow these steps:
Grammarly For Windows
To get more benefits from Grammarly's suggestions, you can simply install it on your Windows or Mac system.
Prior to installing Grammarly for Windows or Grammarly for Mac, ensure that your computer fulfills the necessary requirements. Rest assured, both versions of Grammarly are available for use on both Windows and Mac operating systems.
Click on this link to get the app: https://www.grammarly.com/desktop/windows.
Click on the file you downloaded and follow the on-screen instructions to finish the installation. Then, Grammarly should show up in your system tray, which is at the bottom right of your screen.
Open any app or website and start typing. You should see the Grammarly widget float in the middle of the screen, and Grammarly will start checking your text automatically.
Grammarly For Mac
By using Grammarly for Windows or Grammarly for Mac, you can effortlessly access a wide range of writing tips and suggestions across various applications and websites.
This functionality ensures that your written communication adheres to the highest standards of grammar, syntax, style, clarity, concise, and impactful content.
Prior to installing either version of Grammarly, it is essential to verify that your computer meets the system requirements.
This precautionary measure guarantees optimal performance and helps prevent any potential technical issues.
Before proceeding with the download and installation of Grammarly for Windows or Grammarly for Mac, it is advisable to verify the compatibility of your computer with the application.
Click here: https://www.grammarly.com/desktop/mac/ to get the app.
Just double-click the file you downloaded and then follow the instructions on the screen to finish the setup. Grammarly should now be on the main menu bar of your computer.
When you start typing in almost any app or website, the Grammarly widget will pop up and start checking for mistakes.
Grammarly For iPhone
Grammarly makes sure that no matter where you are, your writing is always polished.
Grammarly for iPhone can help you with your writing, whether you're making a short text, writing an important email, or making changes to a document you're working on.
With Grammarly for iPhone, you get access to the Grammarly Keyboard for iOS, the Grammarly iPhone Editor, and the Grammarly browser extension for Safari on your iOS device.
You only have to install it once.
Go to the App Store on your iOS device and search for "Grammarly" to start the setup process.
Tap the Install button when you find Grammarly to add it to your phone. Keep in mind that you can use Grammarly in this app in three different ways: as an editor, as a keyboard, and as an extension in Safari
After the app has been installed, click the Get Started button to start using it. If you already have a Grammarly account, choose login to an existing account and enter your credentials. If not, you can create a new account by clicking Sign up using the email
Grammarly For Android
Thanks to its many writing suggestions and smooth integration, the Grammarly Keyboard makes it easy to type in many apps on your mobile device.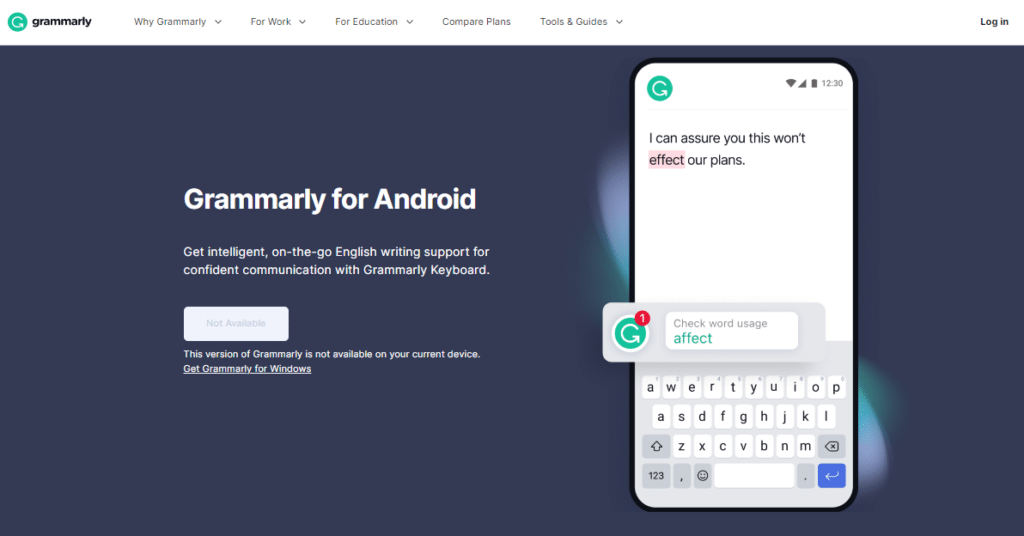 Whether you need to write an urgent email, an important Facebook post, or an important LinkedIn message, you can write with confidence on your phone thanks to the keyboard.
Before you download and install the Grammarly keyboard on your Android device, make sure that it is supported by Grammarly.
Grammarly works with mobile phones and tablets that run Android 7.0 (Nougat) or later.
Visit the Google Play Store on your Android device and search for Grammarly to begin the installation process.
Finally, after finding the Grammarly Keyboard item, tap the Install button to begin downloading the program, and comply with the rest of the on-screen instructions to set it up.
You may start using the app by tapping its icon after installation. Choose Log in to your existing account and enter your Grammarly credentials if you already have an account.
To sign up for Grammarly using your email address, select Proceed. Tap Continue with Facebook or Continue with Google if you'd rather sign up with one of those services instead of entering your personal information.
Grammarly For iPad
With the Grammarly app for iPad, you can use the Grammarly Editor and Keyboard from the same app.
Make sure your iPad can run iOS 14 or later before you download and install Grammarly for iPad. This will make sure it works with your tablet.
You can also use the Grammarly browser extension for Safari on your iPad if you have iOS 15 or a newer version.
Go to the iPad's App Store and search for "Grammarly" to start the setup process. Then, click on Get to start setting up the program.
To begin using the app when it has been installed, select the Get Started button.
Choose Log in to your existing account and enter your details if you already have a Grammarly account.
If you haven't already done so, please select a registration method if you don't already have an account with us.
The Benefits of Grammarly Premium
If you've used a Grammarly-free account, you're probably aware of how useful the program can be.
A premium subscription unlocks a plethora of additional capabilities, including 400 different additional checks.
Some examples are:
1. Correctness
By using Grammarly Premium, users can receive top-notch feedback on their writing.
The platform thoroughly evaluates punctuation and spelling consistency, fluency, grammar, spelling, and punctuation.
However, grammar, spelling, and punctuation checks are only available with a free account.
2. Engagement
Engagement checks are exclusive to paid subscribers and not accessible with free accounts.
To ensure your work captivates and resonates with your audience, the platform examines sentence diversity to maintain an active flow.
Additionally, it identifies engaging words that will grab readers' attention.
3. Plagiarism
Maintaining plagiarism-free writing is crucial, particularly for academic reports.
A plagiarism checker is also provided with a premium account.
What Are The Restrictions Of Grammarly Premium?
Grammarly Premium offers amazing features compared to its free version.
However, it's important to bear in mind that Grammarly's plans and features can change over time.
Therefore, for the most up-to-date information, it's recommended to refer to Grammarly's official website or reach out to their support.
There are certain general limitations or restrictions that you might experience with Grammarly Premium:
Length limitations: Grammarly has a maximum document length it can effectively analyze. For extremely long documents, there may be limitations or incomplete checks.
Word processing software compatibility: Although Grammarly integrates with popular words processing software like Microsoft Word and Google Docs, there might be differences in functionality or limitations across different platforms or versions.
Advanced writing suggestions: While Grammarly Premium provides advanced writing suggestions, it may not identify every possible error or offer context-specific feedback in all instances. Some intricate or nuanced writing issues may still require manual review or further editing.
Plagiarism detection limitations: Grammarly Premium includes a plagiarism checker, but it might not detect all instances of plagiarism. To ensure the originality of your work, it is advisable to cross-reference multiple plagiarism detection tools or conduct additional checks.
Language limitations: Grammarly primarily focuses on English grammar and language usage. While it can be beneficial for non-native English speakers, it may not offer the same level of support or functionality for other languages.
Dependency on an Internet connection: Grammarly operates as a cloud-based service, meaning it requires an active Internet connection to function. Offline access to Grammarly's premium features may not be available in all cases.
How To Use Grammarly?
Grammarly is an invaluable tool for enhancing your writing skills.
To use Grammarly effectively, start by installing the Grammarly extension or app on your preferred device.
Once installed, Grammarly automatically checks your text for spelling, grammar, punctuation, and clarity issues across various platforms.
You can either write directly in the Grammarly editor or copy and paste your text into it. As you type, Grammarly underlines errors and suggests corrections in real-time.
Click on the underlined words or phrases to view suggestions and make necessary changes.
Additionally, Grammarly provides explanations and suggestions to help you understand and improve your writing.
Regularly using Grammarly will undoubtedly elevate your writing proficiency.
Here I have shown how you can make use of Grammarly:
Using A Browser Extension
Grammarly presently has downloadable extensions for Microsoft Edge, Safari, Chrome, and Firefox.
You will need to utilize your browser's store to download and install the free add-on. After that, you can log in to Grammarly with your premium account credentials.
Using Microsoft Office (Windows OS)
To use the platform with Microsoft Windows, you must first download a Grammarly add-in. There are also system prerequisites to consider in order for the add-in to function effectively.
Using Microsoft Office (macOS)
Grammarly is compatible with the Mac operating system if you have Microsoft Office installed. Similar to Windows, you will need to download a Mac-specific add-in.
Using the Desktop App
The Grammarly desktop app is a simple way to acquire complete control over your content.
It lets you download the app, which will then become an installed program on your computer.
It runs on Windows 7, 8, 8.1, and 10, as well as macOS 10.9 and later.
Using iOS
Good news for iPhone and iPad users who use their tablets for proofreading articles and papers! You're in luck because you can now access the "Grammarly Keyboard" on the App Store.
This feature allows you to write your documents while the keyboard automatically scans for possible revisions.
Using Android
To use Grammarly on Android, simply download the Grammarly Keyboard from the Google Play Store.
Enable the keyboard in your device's settings, and start typing!
Grammarly will automatically check your grammar, spelling, and punctuation, ensuring your writing is error-free, all with the convenience of your Android device.
Conclusion
In sum, Grammarly allows you to connect up to five devices, giving you a lot of editing choices.
You can access your account from these five trusted devices at any time, whether you're a free or paid subscriber.
Unlimited devices for business accounts and premium customers might be advantageous in the future.
Frequently Asked Questions
Is Grammarly Premium a one-time purchase?
Grammarly's Premium service can be subscribed to on a monthly, quarterly, or annual basis.
Is Grammarly Premium good or bad?
The paid versions of Grammarly, Premium, and Business, are beneficial. We've tried over two dozen different plagiarism and grammar checkers, and Grammarly is the clear winner. Using our link will also get you a 20% discount.
Can two people share Grammarly premium?
Yes, up to five devices can use Grammarly under your membership. So, if you want to use Grammarly on your new device, you don't need to buy a new subscription or sign up for a new account.
Related Read: