Grammarly is a great online tool that helps writers and online producers improve their writing skills and save time.
As you type in a word processor, it checks for language and grammar errors. Microsoft Word makes it easy to get to the Grammarly add-in.
If you would like to know more about Grammarly, You may read our article the Grammarly review.
If you're looking for a guide that will show you how to uninstall Grammarly from Word, you might find one here. In this post, I have given you a detailed, step-by-step guide.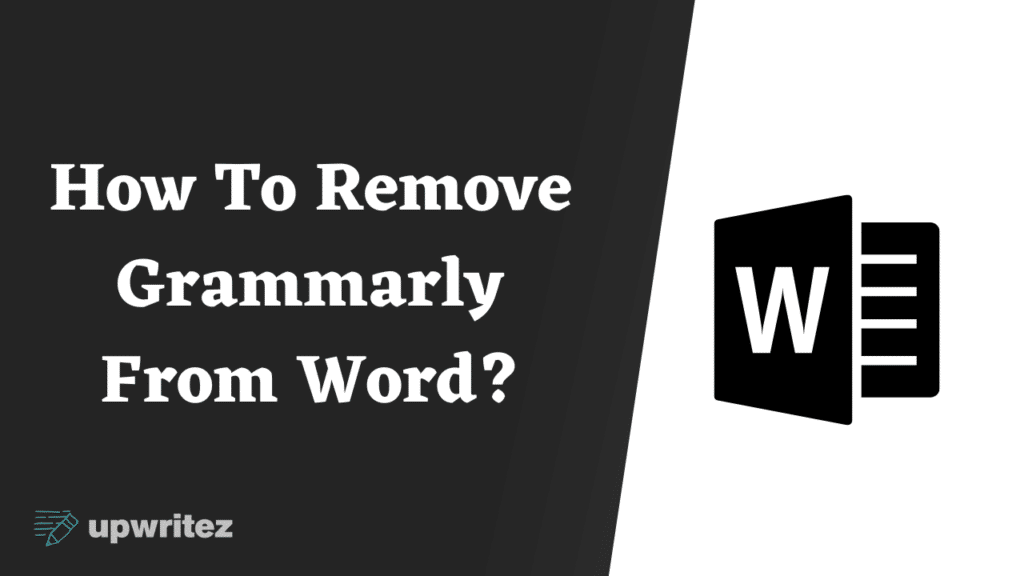 How do I remove Grammarly from Word?
Before Grammarly can be taken out of Microsoft Word, the add-in that makes it work must be uninstalled. Here's what you need to do:
Step 1. Click on the File tab when Word is open
Step 2. Choose Options
Step 3. Select Add-Ons
Step 4. Choose Disabled Items from the drop-down menu next to Manage
Step 5. Find Grammarly on the list of things that can't be used and click on it
Steps To Remove Grammarly From Microsoft Office
Right-clicking the Start button in Windows 10 allows users to access the Apps and Features menu (located in the bottom-left corner of the screen).
To remove the Grammarly extension from Microsoft Office, select Tools > Uninstall Grammarly from the menu bar.
The Grammarly add-on for Microsoft Office can be uninstalled from the Control Panel in Windows 7.
Under Programs & Features, locate Grammarly for Microsoft Office Suite, then use your right mouse button to pick the Uninstall option.
If you are using Windows 7 or 10, follow these steps to uninstall Grammarly for Microsoft Office.
If you would like to continue utilizing Microsoft Word, we additionally provide a Windows version of Grammarly that is capable of being integrated with the program.
On the other hand, if you are working on a large writing job, we strongly suggest using Grammarly Editor.
Go to Control Panel
Click Programs and Features
Right-click on Grammarly for Microsoft Office Suite
Select Uninstall.
How To Remove Grammarly From Word (Mac)?
Below, I've included a step-by-step guide for removing Grammarly from Microsoft Word on a Mac:
Step 1. Open Microsoft Word on your Mac
Step 2. In the Insert menu, navigate to My Add-ins
Step 3. Then, in the top-right corner, click the three dots next to Grammarly
Step 4. In the drop-down menu, click Remove
In case you need to Install it, check out our article on how to install Grammarly in Word on Mac.
Frequently Asked Questions
How do I disable Grammarly?
If you want to stop using Select Add-Ins for Android, please do the following:
Step 1. Open the Settings menu on your Android
Step 2. Go to Language and Input, then Keyboards, and Manage Keyboards
Step 3. Then you should turn Grammarly off
Why is Grammarly disabled in Word?
If you're working in Microsoft Word, Excel, or PowerPoint and the Grammarly widget isn't there, click the Grammarly icon in your taskbar. Right-click its icon to change how it works for you. To let Grammarly work in Microsoft Word, Excel, or PowerPoint, choose it from the list of Banned Applications and then click the Remove button.
What happens if you delete Grammarly?
When you delete your account on Grammarly, all of your personal information, including any papers you may have stored in the Grammarly Editor, will be removed from the service. This action cannot be reversed in any way.
How do I turn off Grammarly in Outlook?
Go to File > Options > Add-Ins in Outlook. Select "COM Add-Ins" under "Manage:" and click "Go." Click "Remove" next to "Grammarly for Outlook." Click "OK," and then open Outlook again.
Related Read: