There are several extensions for Grammarly that let you add the spelling and grammar checker to multiple devices. Find out How To Add Grammarly To Multiple Devices.
If you have an account with Grammarly, you can add it to up to five different devices. Consider Grammarly for Business if you want more tools.
For further reading, please check out our in-depth Grammarly review.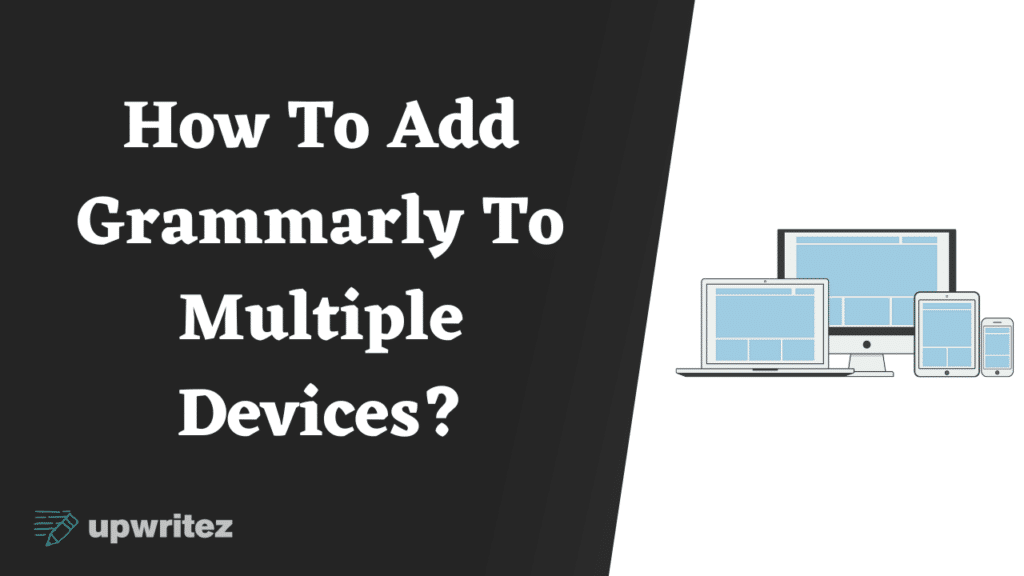 Can I Use Grammarly On More Than One Device At A Time?
Well, we're here to give you a correct answer to the same question.
Your Grammarly subscription gives you access to the software on five separate devices simultaneously.
Yes, after you have registered an account with Grammarly, you will enjoy the pleasure of being able to access your Grammarly account on up to five different devices at the same time.
Your Grammarly account can be accessed on a variety of devices, including laptops, desktop computers, tablets, and even smartphones.
The most important prerequisite is a working connection to the internet.
How To Add Grammarly To Multiple Devices
You can connect up to five devices to your Grammarly account. It's a simple matter to incorporate them. Start by logging into Grammarly at Grammarly.com.
Then, proceed with the appropriate procedures for your widget. Observe these directions.
1. Add Grammarly to a Windows Device
First, install Grammarly for Windows. You need to follow the installation procedures after downloading it. The app will appear in the lower right corner of your screen.
Once Grammarly is operating on Windows, you may start typing. The Grammarly device will appear and check your work.
This only works on Windows 10 and later.
Once installed, the grammar checker desktop program checks Microsoft Office and social media pages. Add Grammarly to MS Word and other programs.
2. Add Grammarly To A Mac Device
If you're using a Mac, you can download Grammarly specifically for Mac. Simply follow the steps provided to install the application on your device.
Once installed, you'll find the Grammarly icon located on the top menu of your Mac. It functions by automatically checking your text as you type, whether you're working within an application or browsing a website.
It's important to note that Grammarly for Mac is compatible with macOS 10.12 or later versions.
So make sure your operating system meets this requirement in order to enjoy the benefits of Grammarly's real-time text checking on your Mac.
3. Add Grammarly To An iPhone
If you want Grammarly on an iPhone or other iOS device, visit the App Store. Search for the app and click "Obtain" to get it.
You must customize the program once downloaded. Sign in to Grammarly and follow the on-screen instructions. Then you may check your spelling and grammar on Safari or Grammarly.
4. Add Grammarly to an Android Device
Go to Google Play to get "Grammarly Keyboard" for Android. Install the software by clicking "install."
Reconfigure the keyboard. Open the app and log into Grammarly. Click "Add Grammarly Keyboard."
The toggle switch appears. On, OK.
Now, touch "Switch Input Methods" and select Grammarly. This makes Grammarly's keyboard your default when typing. Once configured, it will immediately check for typos and grammar.
Tap the globe icon on the keyboard and select "Grammarly Keyboard"
5. Add Grammarly as a Browser Extension
First, Log into Grammarly and add the Firefox, Safari, or Chrome extension.
Instead of installing Grammarly on a new device, you can use it as a browser extension.
Sign in to your Grammarly account and add the Firefox, Safari, or Chrome extension to utilize the grammar-checking tool while typing online.
Is Grammarly for Business Worth It?
Grammarly Business can be highly beneficial if you have a sizable workforce and require specialized tools for your business needs.
It offers a broader range of features compared to both Grammarly Free and Grammarly Premium and additionally allows you to add an unlimited number of devices.
If you manage more than five devices, investing in Grammarly Business is a worthwhile choice. However, if you have fewer devices to manage, Grammarly Premium may be sufficient to meet your requirements.
For occasional grammar checks without the need for plagiarism detection, Grammarly's free edition is perfectly suitable. Regardless of your specific needs, Grammarly offers a tool to cater to every requirement.
Final Thoughts
In the end, Yes, we can say that the Grammarly premium account can be used on more than one device.
Signing up is required to use the account on multiple devices. To sign up, you can use your phone number, email address, Facebook account, or Google account.
You must use a secure password and an account that has been verified.
Frequently Asked Questions
Is Grammarly free for everyone?
Grammarly's free version is a great resource for spotting and fixing frequent errors. This can help you save time and look more professional by checking your work before you send it out into the world. There's even more thrown in for free.
How do I install Grammarly for all users?
Step 1. Click twice on the file called GrammarlyAddInSetup.exe.
Step 2. When you see the "Welcome to Grammarly" window, hold down the Shift and Ctrl keys on your keyboard and then click "Get Started."
Step 3. Check the box next to Install for all users, then click Next:
Is Grammarly premium worth it?
Whether Grammarly is worth the money for you or not depends on your situation. If all you want to do is improve your writing a little bit, the free plan should be enough. But Grammarly Premium is a must-have if you are a professional writer or run a business that values clean, consistent writing.
How much does Grammarly cost for 1 user?
The best deal is to buy a one-year license for the individual plan. This adds up to $144, or $12 a month, over a year. But we know that not everyone has the money to make the full amount at once. The quarterly plan costs $60 for three months and has a $20 monthly charge.
Related Read: