Are wondering does Grammarly use AI? In this article, we'll talk about how AI can help you write.
Grammarly is a popular program that checks your language and grammar. It uses powerful AI to automatically check your grammar and spelling as you work to improve your writing.
It's a good way to check your grammar and spelling, and it uses a program that uses artificial intelligence.
Grammarly's powerful artificial intelligence (AI) points out grammar and spelling mistakes, giving users the chance to fix them if they are wrong.
Since the program is based on artificial intelligence (AI) and not on human interaction, writers may find that it doesn't always catch mistakes correctly. This makes it a great addition to the tools of any writer.
Does Grammarly Work With AI?
Grammarly's AI system employs a fusion of machine learning techniques and a wide range of natural language processing methods.
These approaches facilitate the system's ability to scrutinize and comprehend human language at various levels of complexity.
For instance, it can analyze and process language at the level of individual characters and words, as well as grammatical structures and sentences, and even whole paragraphs or lengthy texts.
Such a comprehensive analysis is crucial to providing a more effective and accurate writing assistant tool.
What Is Generative AI Grammarly?
Grammarly has recently introduced a new feature called GrammarlyGO, which aims to expand its communication assistance beyond mere revisions.
With this latest feature, users can rewrite, compose, ideate, and reply to messages instantly, leveraging on-demand generative AI communication assistance.
GrammarlyGO provides personalized writing assistance that caters to your unique voice, writing purpose, and setting while also upholding the tool's security standards.
To learn more about the features of GrammarlyGO, you can refer to the Grammarly blog post.
The beta version of GrammarlyGO will be available from April for Grammarly Premium, Grammarly Business, and Grammarly for Education customers, as well as select users of the free plan in specific markets.
Developers seeking to integrate GrammarlyGO within the Grammarly Text Editor SDK can apply for beta access from early April.
How Grammarly Trained Its AI Program
Artificial intelligence, including Grammarly's AI, needs to be taught.
To train the AI, the Grammarly team used text databases that researchers had marked up in a way that the AI could understand. The AI then plugs the rule into the system once it understands it.
These sentences come up on their own. This means that they make mistakes on purpose, which the system can then look at and fix.
Because of this, Grammarly is so good at finding problems that happen in real writing. If you try to trick the system by making up a mistake, it might not catch it as easily because it's not from a natural sentence.
Once the rule is in the system, Grammarly will tell writers who use it to make those changes. Again, Grammarly keeps getting help from people.
When writers agree to the change or don't, the AI system knows. If enough people don't follow a suggestion, the program will change it for the next person.
How Grammarly's Advanced System Works
Grammarly is a writing aid that does an analysis of your writing and offers ideas for ways to enhance it.
One simple click of the mouse is all the user needs to make modifications to the item. As a result, it makes use of its sophisticated AI program to provide writers with assistance in rapidly and easily making adjustments to their work, thereby enhancing the editing workflow.
The use of artificial intelligence is essential to the completion of this procedure. Grammarly analyses a piece of writing using a sophisticated processing technique.
This highly developed system makes use of grammatical rules and patterns.
They are then combined with machine learning, deep learning, and natural language processing to produce an AI system that is efficient at addressing grammar issues.
Have a look at our Grammarly Review if you're interested in learning more about the program itself.
Let's take a look at each of this tool's components to have a better grasp of the AI that is within it.
1. Deep Learning
Deep learning helps the machine learn by using the artificial intelligence program's neural network. Even though this needs help from people to get going.
Over time, the machine will figure out patterns and make suggestions on its own, without anyone watching.
Deep learning is awesome, but it doesn't make much sense. So, for Grammarly to make a good grammar-checking program, it needs to combine it with machine learning and natural language processing.
2. Machine Learning
Machine learning is a technique that trains computers to learn independently from data and patterns, with relatively little input from humans.
Because it does not require any particular input from a person of any kind, Grammarly is able to do its functions in a very efficient manner.
3. Natural Language Processing
Natural language processing looks at many different parts of how people talk. It will look at each word, each character, the way sentences are put together, each paragraph, and the whole text.
This process then teaches the computer how to understand and process writing to help improve writing based on basic grammar rules.
For Grammarly, researchers put natural sentences into the system as examples of human language. This writing was the most like what users would type into the program when it went live.
Benefits Of Using Grammarly's AI
Even though it's interesting to learn how AI works, most writers are more interested in how it helps them.
When you copy and paste a piece of writing into Grammarly or turn on the Grammarly app on your browser or word processor, it scans the text right away and marks any possible mistakes.
If you think the adjustment should be made, all you have to do is click on the proposal, and it will be implemented.
You may find ratings for various critical readability and tone metrics on the side of the page. Grammarly can also make suggestions for rewriting difficult sentences, which you may choose to accept or reject with the click of a button.
These realizations will significantly speed up the process of editing your own work, however, you will still need to evaluate their accuracy.
Writers can also upload the app to email services such as Gmail, where they will receive functionality that is functionally equivalent and appears as follows: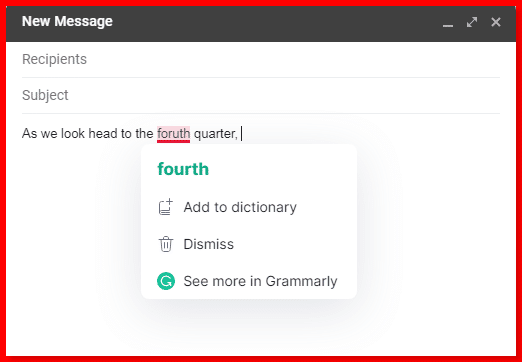 Whether you're writing in a browser, an email software, or a word processor, Grammarly's powerful AI makes writing jobs much simpler.
Frequently Asked Questions
What Is Grammarly AI Detector?
Grammarly, the AI-powered writing tool, has announced the launch of a new generative AI feature called GrammarlyGo. This feature enables users to brainstorm ideas, compose, edit, and personalize the text. Initially created as a grammar checker in 2009, Grammarly has since expanded to include writing suggestions for clarity, conciseness, and tone adjustments.
Does Grammarly detect AI?
Grammarly now includes a plagiarism detection feature, but it is not equipped to verify content generated by artificial intelligence. And Similar to its initial technology, Grammarly's tone detector leverages AI and machine learning to scrutinize a document, email, or text.
What Are the Grammarly AI Alternative?
There are several AI-powered alternatives to Grammarly currently available on the market, including Copy.ai, WordAi, Writer, Jasper, Ginger, and Writesonic.
Does Grammarly detect ChatGPT?
While ChatGPT is a reliable AI-based writing assistant, GrammarlyGo provides additional features such as tone-setting capabilities. In some cases, Grammarly may be a better option due to its higher accuracy in identifying grammatical errors, seamless integration with other writing tools, and faster article editing capabilities.
What Is Grammarly NLP?
Grammarly combines the expertise of computational and analytical linguists with large-scale statistical methods to tackle natural language processing challenges, blending language rules and heuristics.
What algorithm does Grammarly use?
Grammarly's AI-powered algorithm utilizes contextual analysis to enhance your writing beyond spell-checking. It focuses on improving your writing's fluency, cohesion, and vocabulary by considering the context in which words are used.
Does Grammarly use neural networks?
As stated on the Grammarly website, they have a decade of experience in creating an exceptional communication assistant and do not rely solely on a large deep neural network language model to solve all problems.
Is Grammarly an app that improves your writing with the use of artificial intelligence?
Grammarly has introduced a new writing assistant feature called GrammarlyGo that will use Artificial Intelligence (AI) to enhance its services, providing writers with the option to use AI to revise and enhance the quality of their work. This is similar to ChatGPT, which has been the subject of controversy.
What NLP model does Grammarly use?
Grammarly is currently looking to expand its NLP/ML team by hiring applied research scientists, machine learning engineers, and analytical/computational linguists. Additionally, the company has shifted to a hybrid working model that prioritizes remote work.
Also Read: